15 Websites That Analyze Your Spotify Data: Discover Your Music Universe: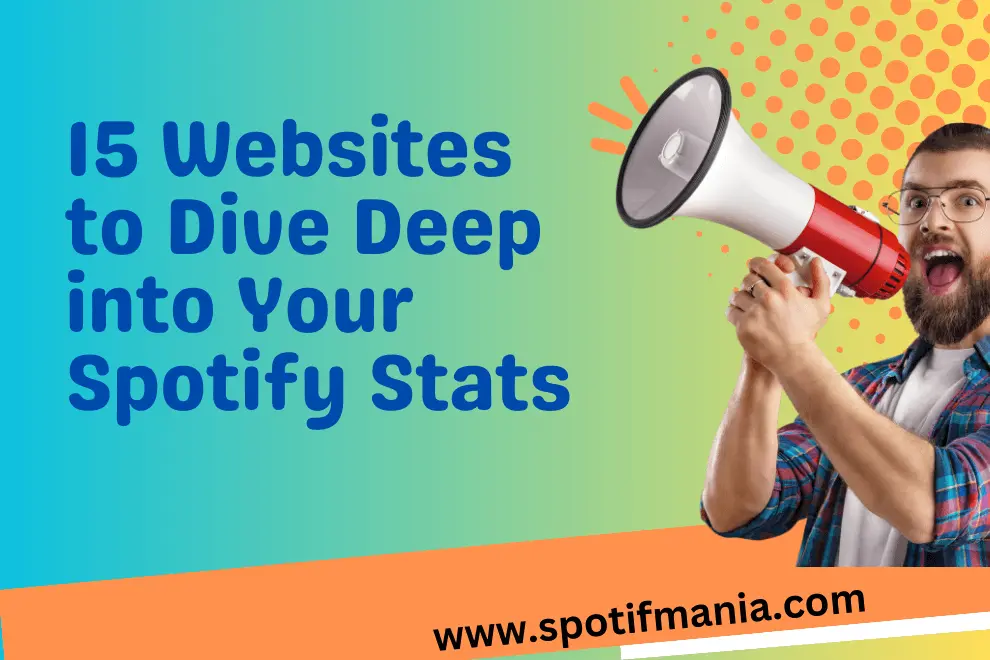 Exploring your personal Spotify data is like opening a musical portal to your inner self. What's your most frequently visited musical genre? Are your favorite artists more underground than a hidden treasure chest? Getting detailed statistics about listening habits can be a challenge. While Spotify automatically puts together your monthly top tracks and favorite artists, it does not deliver any further statistical insights beyond that.
I've scoured the depths of the web and rounded up top 10 websites that analyze your Spotify data. If you're the kind of individual eagerly anticipating Spotify Wrapped or frequently examining your listening patterns for deeper self-understanding, these tools are a perfect fit for you.
How to Analyze your Spotify Data:
If you want to explore your listening patterns more comprehensively, such as discovering your most-played songs or comparing your musical preferences with others, there are number of online platforms available to analyze your Spotify statistics. These websites vary in tone and approach, offering a range of experiences that will enable you to gain fresh insights into your music interests.
1.Spotify Obscurity Rating:
If you're wondering how unique or unusual your Spotify listening habits might be, then Obscurify is the perfect app for you. It's a free web app that assesses the uniqueness of your music when compared to other listeners and ultimately allots you a percentage called obscurity percentage. The obscurity percentage is a measure that gauges how 'uncommon' your Spotify listening preferences are when compared to other users in your area.
Within this application, you'll discover some fascinating insights into your listening patterns, such as:
You'll come across a graph that shows how your music preferences measure up to those of other Obscurify users. Plus, it provides separate insights for your music choices in the past 6 weeks and your all-time favorites.
The website also lets you in on the vibes of the songs you groove to. It breaks them down into categories like happiness, danceability, energy, and acousticness.
Down the lane, you'll also receive a compilation of unique and lesser-known tracks that you can easily turn into a customized Spotify playlist. Furthermore, you have the option to share your Obscurify results with friends using a unique and specific link.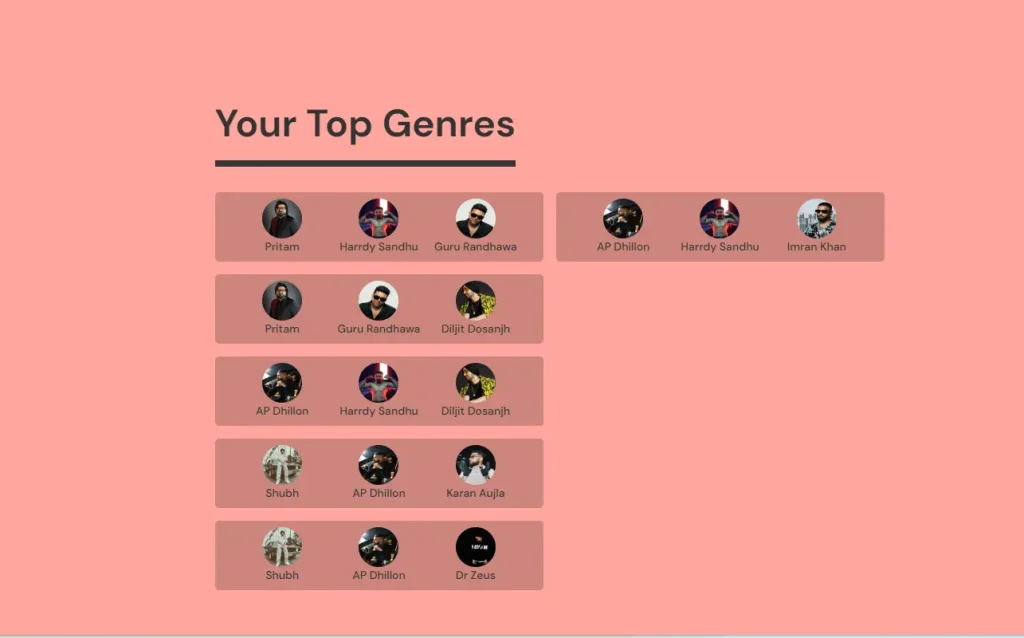 2. Icebergify:
Icebergify compiles the top 50 artists from your recent, intermediate, and long-term music listening habits and arranges them based on their level of popularity. If an artist is widely recognized and loved, he'll be placed at the very top of the list.
This tool could also bring in artists you haven't checked out in a while. And if you haven't been listening to any artists from a particular popularity tier, that tier will be left empty on your list.
This tool analyzes your music habits using various Spotify data points such as streams, shares, saves, likes, and followers. It then sorts artists by their popularity, so you'll find the mainstream ones at the top and the more niche or less known artists toward the bottom of your list.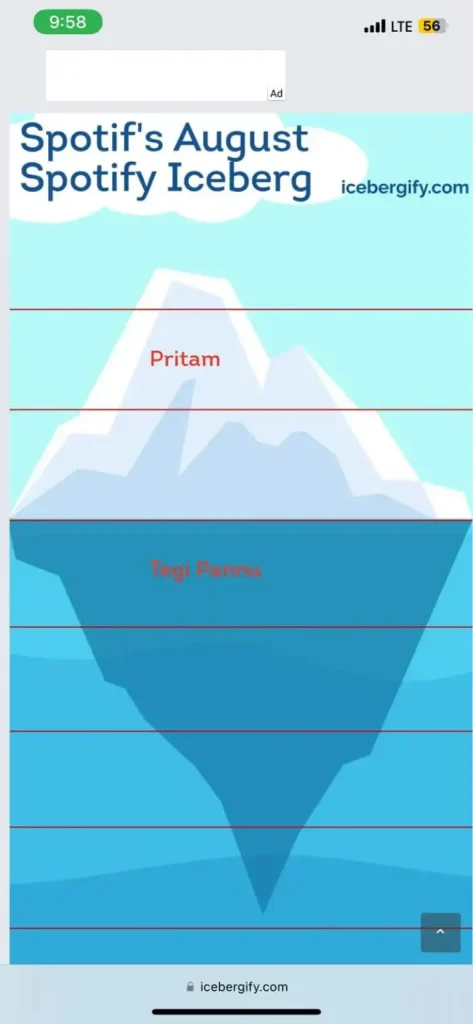 3. Stats.fm
Stats.fm is more than just another statistics tracker; it's your personal DJ for dissecting your Spotify listening habits. Whether you're curious about your most-streamed songs, favorite artists, or beloved genres, Stats.fm has got you covered. Here's a breakdown of the valuable insights you can glean from this remarkable app:
Most Streamed Songs, Artists, and Albums
Stats.fm puts your top tracks, artists, and albums front and center. It not only tells you what you've been playing the most but also ranks them based on minutes streamed and the number of streams. It's like having your very own music chart tailored to your tastes.
Favorite Genres
Do you ever wonder which musical genres dominate your playlists? Stats.fm provides a snapshot of your favorite genres, giving you a better understanding of your diverse musical palette. Whether you're into indie rock, electronic beats, or classic jazz, this app unveils your musical identity.
Recent Streams
Stay up-to-date with your latest musical discoveries. Stats.fm keeps track of your recent streams, helping you identify the freshest additions to your playlist. It's a great way to keep your music collection dynamic and ever-evolving.
Track Moods
Music has the power to evoke a wide range of emotions, and Stats.fm recognizes this. It categorizes your tracks by mood, allowing you to explore the emotional landscape of your music library. Whether you're in the mood for a chill session or a high-energy workout, Stats.fm has the perfect playlist for every mood.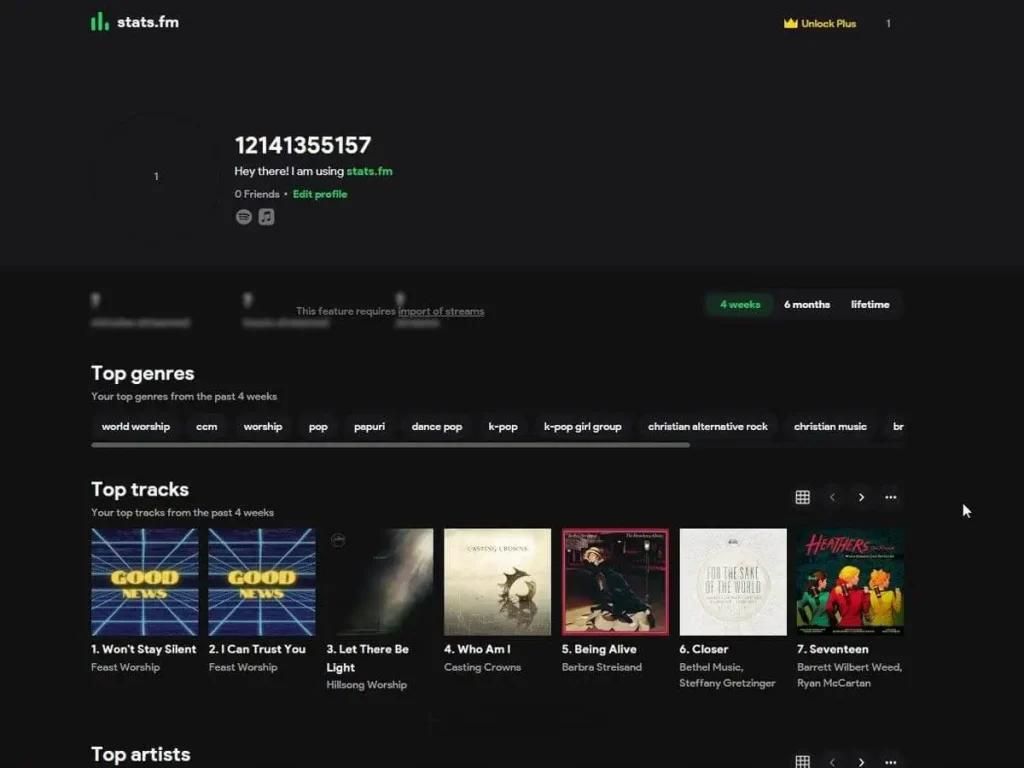 4. Spotify Pie:
Create your monthly genre pie using this website developed by UCLA student Darren Huang. Spotify Pie takes a close look at your recent Spotify listening history and transforms it into a visually appealing pie chart that presents all the music genres you've enjoyed in the past month. Beneath the chart, you'll also discover your most frequently listened-to genres and your favorite artists of the month. It's a fun and shareable way to capture your musical journey.
5. Zodiac Affinity
Zodiac Affinity offers a unique approach to understand the connection between your zodiac sign and your musical choices. It's a free online tool that helps you to discover your favorite tracks according to the 12 zodiac signs.
It doesn't provide any fancy statistics, unlike some other apps on this list. Instead, it offers you a list of five songs from your Spotify collection that aligns with your zodiac sign.
To use Zodiac Affinity, simply visit their website and log in with your Spotify account. Once you're in, pick your zodiac sign, and the app will reveal five of your favorite songs that resonate with the sign you've selected.
6. Volt.fm
Volt.fm isn't just another statistics tracker; it's your stage to showcase your Spotify listening habits to the world. This web-based app offers you the opportunity to create a public profile page that beautifully encapsulates your musical identity. Here's what Volt.fm has in store for you:
Share Your Spotify Playlist
Imagine having a platform where you can instantly share what you're listening to on Spotify. Volt.fm makes it possible. Your public profile page becomes your musical diary, allowing you to let others in on your current musical obsessions.
Play Favorites
One of the standout features of Volt.fm is the "Play Favorites" button. It's your way of inviting others to step into your musical world and listen to your favorite tracks with a single click. It's like curating your very own radio station for your friends and followers.
Dive into the Stats
Volt.fm is not just about sharing your music; it's about diving deep into the data behind your listening habits. Here are some of the statistics you and your visitors can explore:
Top Genres, Artists, Songs, and Albums: Volt.fm highlights the cream of your musical crop. It showcases the genres that define your tastes, the artists you can't get enough of, and the songs and albums that have captured your heart.
Listening Habit Analysis: Ever wondered how your mood influences your music choices? Volt.fm provides an insightful mood analysis, showing which moods dominate your playlists. You can also explore obscurity, release date, and song length analysis to gain a comprehensive understanding of your musical journey.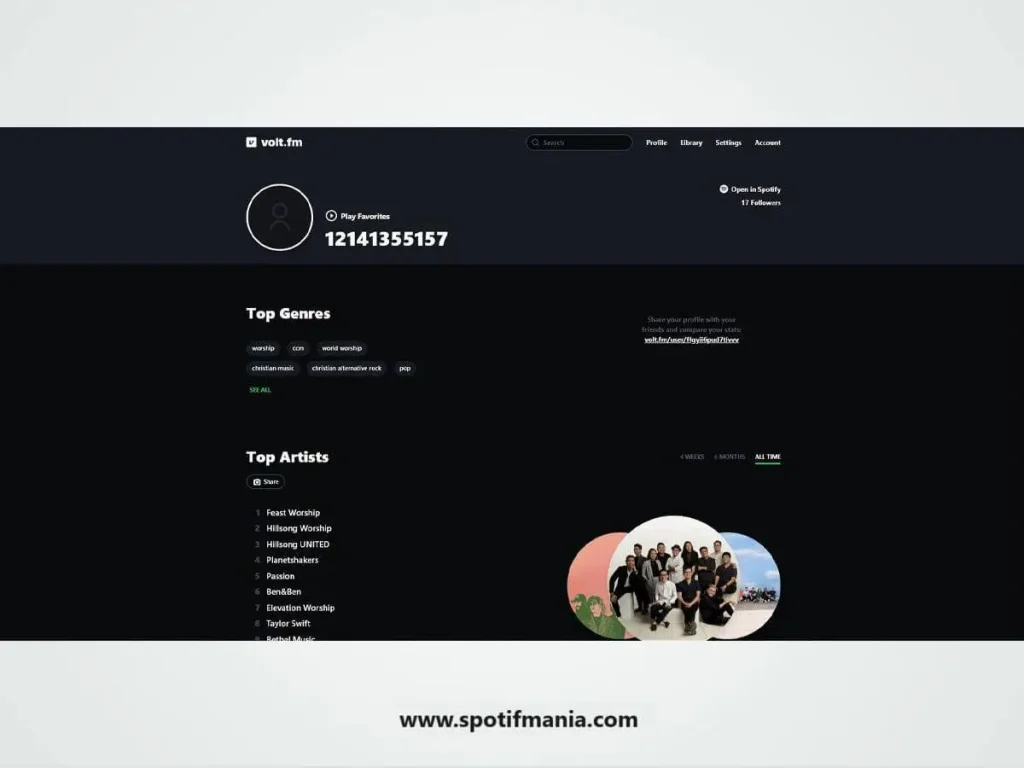 7. N-Gen Art Spotify for TOP 10
The n-gen Art platform is a dynamic art canvas that allows you to create a wide variety of artworks using your Spotify data and other datasets, including fitness information. It's not just a place to create art; it's a space for showcasing your creativity and engaging with a community of like-minded individuals. The uniqueness of n-gen Art lies in its ability to continuously generate new artworks based on changes and additions in your data, resulting in what is known as dynamic art.
Creating Your Art:
To create your Spotify Top 10 Art on n-gen Art, follow these steps:
Visit the n-gen Art website and click "Create With Spotify."
Connect your Spotify account and grant the necessary permissions.
Select a template from the available options (currently, two templates are available).
Your unique Spotify Top 10 Art will be instantly generated based on your Spotify data.
Customize your artwork with various options, such as changing the view or background color.
Exploring Customization
N-gen Art offers customization tools to tailor your artwork to your personal taste. Experiment with different datasets to create diverse and unique artworks.
The Future of n-gen Art:
As n-gen Art continues to evolve, expect more templates and art styles to be added. The platform holds promise for a vibrant and artistic future where music data becomes a canvas for creativity.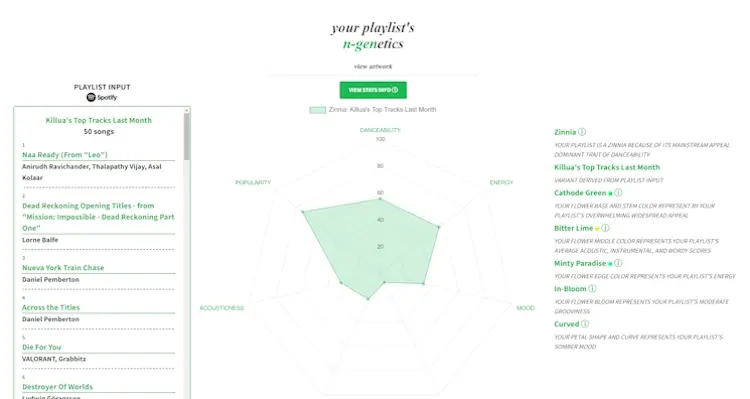 8. MuiscScape
MusicScape constructs a sonic landscape inspired by your recent music selections. For an amazing landscape construction it takes into account factors like mood, musical mode, energy level, and key. This analysis results in an auditory canvas, a symphony that's uniquely yours, a reflection of your sonic journey.
Musiscape visualization appears with some interesting details, such as:
The background color, giving clue about the overall mood of your playlist.
A sun or moon, depending on the current time in your area, adding a touch of day or night.
Spiky or smooth mountains that adapt in sync with the beats of your music, providing a visual representation of the rhythm and energy of your tracks.
Additionally, you'll notice that the quantity of mountains varies based on your recent activity over the past day. These mountains also shift in color, reflecting the primary musical key found in your favorite songs.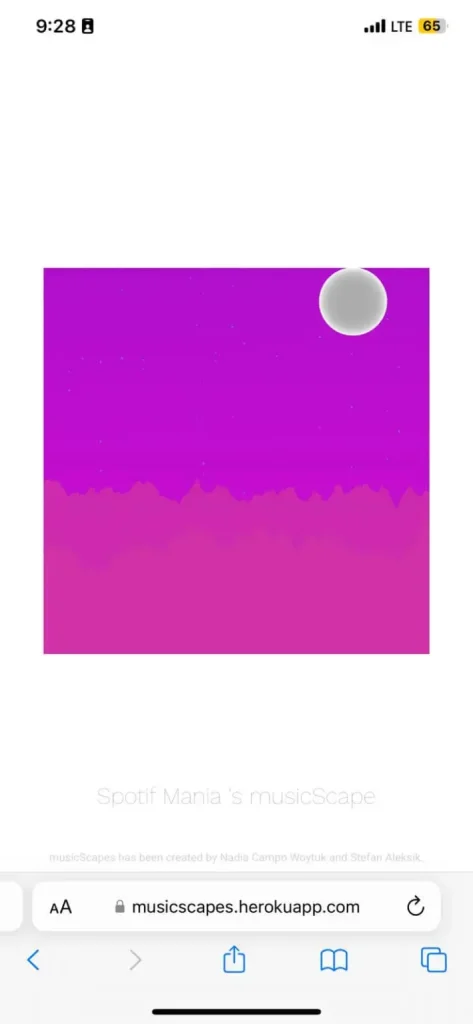 9. Spotify Stats:
Stats for Spotify is more than just an app; it's a portal to delve into the rich tapestry of your music-listening habits. With this free third-party application, you can gain a deep understanding of your listening history over different timeframes, including the last four weeks, six months, and all-time records. Let's embark on a journey through the statistics it offers:
Top Tracks
Have you ever wondered which songs have dominated your Spotify playlist in the past month? Stats for Spotify reveals your top tracks, offering a musical snapshot of your recent favorites. It's like revisiting the soundtrack of your life, one track at a time.
Top Artists
Beyond individual tracks, your favorite artists define the melodies that resonate with your soul. Discover who has been the most influential in shaping your musical journey over the last few weeks. It's a tribute to the musicians who've provided the soundtrack to your life.
Top Genres
Genres are the colors on your musical palette, and Stats for Spotify showcases the genres that have painted your recent listening habits. Whether you've been immersing yourself in the soothing tones of jazz or dancing to the beats of electronic music, this app unveils your genre preferences.
Recently Played Tracks
In the ever-evolving landscape of music, your recent listens tell a story of your current state of mind and emotions. Stats for Spotify provides insights into the tracks that have accompanied you in your daily life. It's a musical diary of the present moment.
Your Musical Journey Unleashed
Using Stats for Spotify is a breeze. Just follow these simple steps:
Visit Stats for Spotify.
Log in with your Spotify account.
Click "Agree" to authorize the app.
Start exploring your statistics.
Once you're logged in, you'll have access to your Spotify statistics across the categories mentioned above. The app offers a user-friendly interface, making it easy to navigate and uncover the insights hidden within your music library.
10. Receiptify
Receiptify transforms your favorite songs into Groovy musical receipts, each one a unique representation of your musical preferences. You have the flexibility to choose from your top tracks of the last month, the past six months, or even your all-time favorites. Just log in with your streaming service details, choose your filters, and your music receipt is ready to share or print. It's a fun way to connect with your music collection and discover your musical preferences.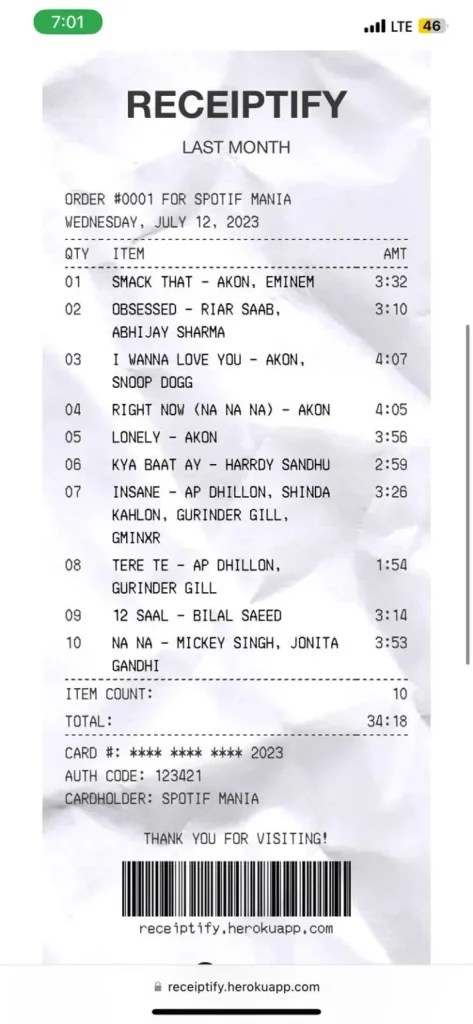 11. MusicTaste.Space
MusicTaste.Space isn't just another Spotify stats app; it's a portal to explore the rich tapestry of your musical universe. This innovative platform offers a variety of features that allow you to unravel the secrets of your Spotify habits and connect with fellow music lovers. Let's take a closer look:
Top Tracks and Artists
Ever wondered which tracks and artists dominate your Spotify playlist? MusicTaste.Space provides you with insights into your top tracks and artists, giving you a snapshot of your musical preferences. It's a fantastic way to discover what songs and musicians resonate with you the most.
Lockdown Playlists
Lockdowns and quarantine periods have influenced our music choices, reflecting our emotions and experiences during challenging times. MusicTaste.Space offers a glimpse into your lockdown playlists, showcasing the songs that accompanied you through these unique moments in history.
Exploring Moods
Music has the power to convey a wide range of emotions, and MusicTaste.Space recognizes this. It categorizes the moods of the songs you've listened to, allowing you to explore the emotional landscape of your music library. Whether you're in the mood for introspection, relaxation, or motivation, this feature helps you curate playlists that match your feelings.
Obscurify Score
Do you ever wonder how unique your music taste is compared to others? MusicTaste.Space calculates your "Obscurify Score," which measures the obscurity of your music choices. It's a fun way to see just how adventurous you are in your musical explorations.
Favorite Genres
Genres are the colors on your musical palette, and MusicTaste.Space showcases your favorite genres. Whether you're into rock, hip-hop, electronic, or something more eclectic, this app unveils the genres that define your musical identity.
12. Instafest
Instafest works like your personal music festival planner. It compiles a Coachella-style lineup featuring the artists you've been grooving to the most on Spotify. As you keep enjoying their tunes, you'll notice their names grow larger and more prominent on your customized festival list. It's like having your very own music celebration, curated just for you!
You won't receive any statistics about your listening habits, except for a basic rating scale of 0 to 100. It actually reflects the unique nature of your "festival" – the lower the score, the more exclusive and specialized it appears to be. But the good thing is, you can opt to keep this information hidden from your poster if you prefer.
To create your lineup on Instafest, all you have to do is visit their website and log in using your Spotify account.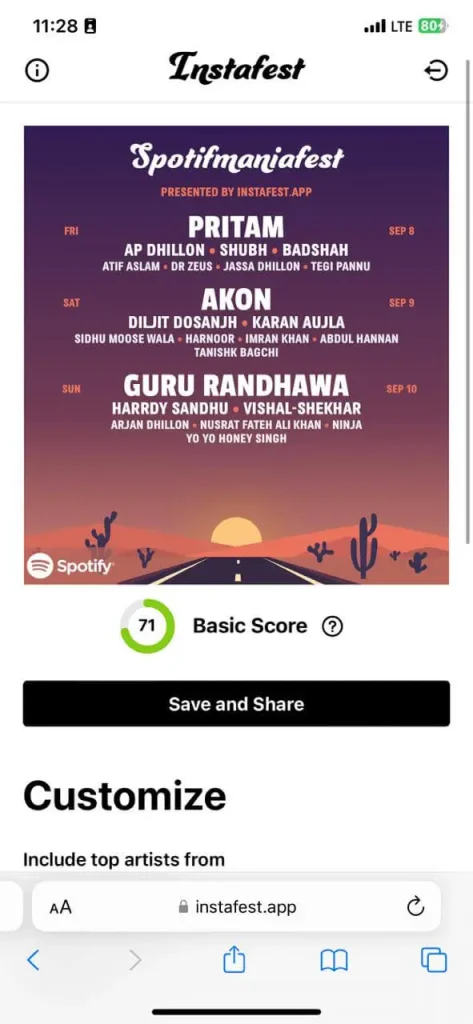 13. Spotify Favorite Music Guru
Favorite Music Guru is a unique tool designed to enhance your music experience. This personalized recommendation engine suggests music based on your listening habits and preferences, including options like Spotify++ and Spotify Premium APK versions.
This tool scrutinizes your listening history, and creates playlists specified for you. Surprisingly, it represents an extensive repository of over 300 million playlists and an unparalleled library, comprising 44 billion hours of musical content.
Its algorithm takes into account your music listening habits, the time of day you listen, and your favorite music genres. It uses this information to suggest music that perfectly matches your musical preferences and profile. Furthermore, this functionality keeps advancing, enhancing its capacity to recommend music that resonates with your tastes.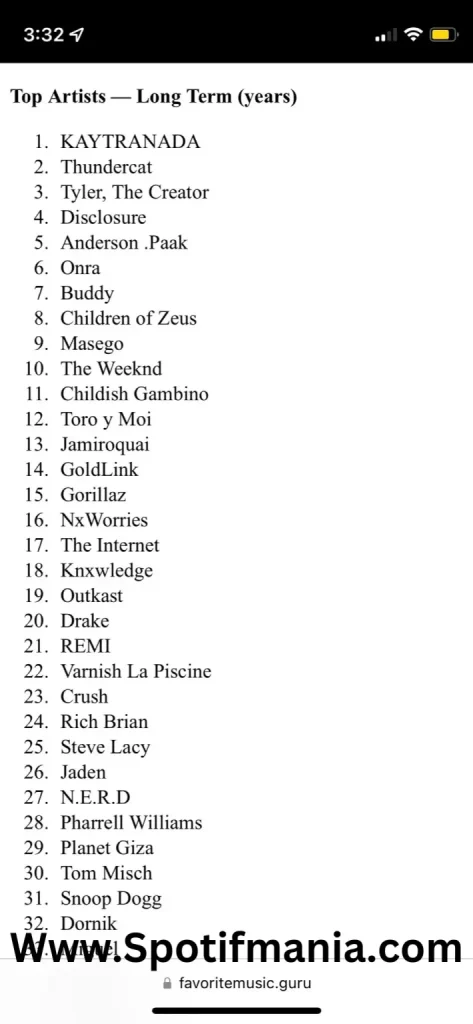 14.How Bad is Your Spotify
Back in 2020, the "How Bad is Your Spotify" test took the internet by storm because of its AI's brutally honest appraisals. This website analysis your favorite tunes and artists, tosses a couple of questions in your direction, and then playfully pokes fun at your choices.  It can get a tad bit impolite at times. Even if your musical choices are off the beaten path; "How Bad is Your Spotify" has a way of placing you into intriguing stereotypes.
To get started, visit the website, click "Find Out", then use "Log in with Spotify" to sign in. Answer a few questions, await the results, and prepare for some playful music taste ribbing.
 The website explicitly mentions that it doesn't employ genuine artificial intelligence, only a pseudo-sophisticated, music-appreciating AI, all in good fun.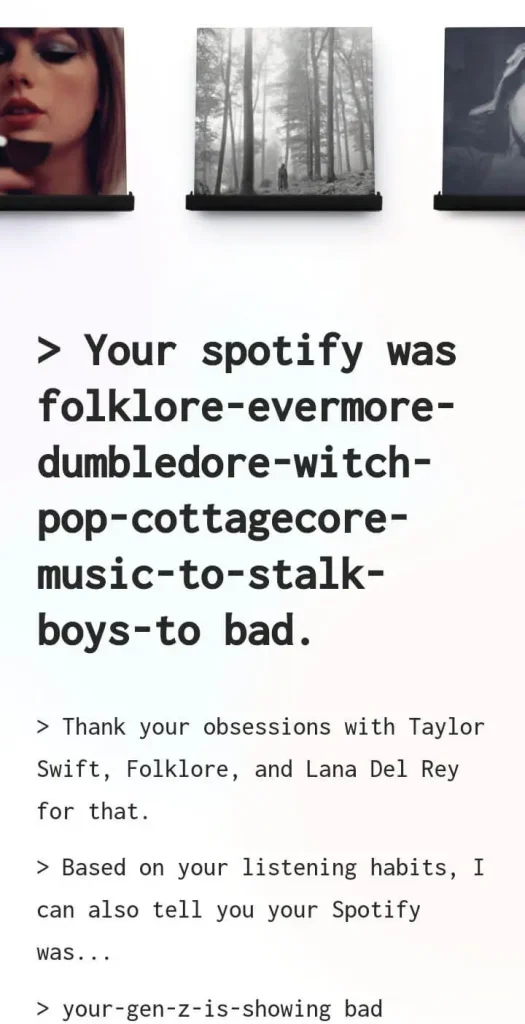 15. Discover Quickly
Discover quickly is your compass pointing towards the next big hit in your playlist. This tool organizes your playlists, top songs, and favorite artists using various criteria, such as popularity and danceability. Moreover, it showcases Spotify's unique and highly specific genres, including "deep metalcore," "acid house," and "charred death."
When you hover over songs, you will get a sneak peek of their sound. Just click on a song to access more details, receive suggestions for similar artists and songs, and save your favorite ones to create a personalized collection.
With this tool, you can easily create a playlist based on your preferred genre or even generate a playlist featuring songs from a completely random genre.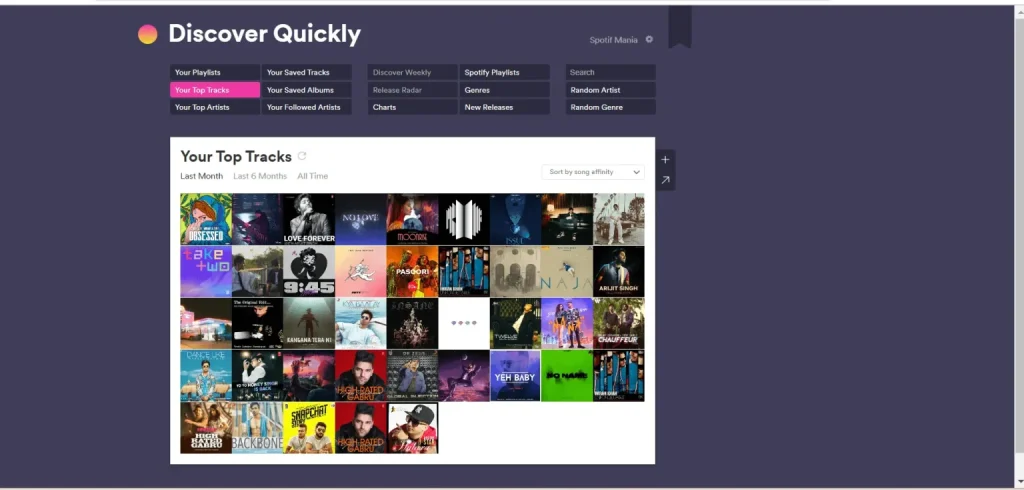 Conclusion
In a nutshell, these 15 websites take your Spotify experience to the next level. They're like musical detectives, helping you unfold the secrets of your own music choices. Whether you're curious about how unique your preferences are, want a visual pie chart of your favorite genres, or even a personalized playlist that aligns with your zodiac sign, these tools are here to enhance your musical journey. They're your ticket to a deeper connection with your music, making your Spotify journey even more exciting.