Spotify Icebergify: How to create Spotify Iceberg 😶‍🌫️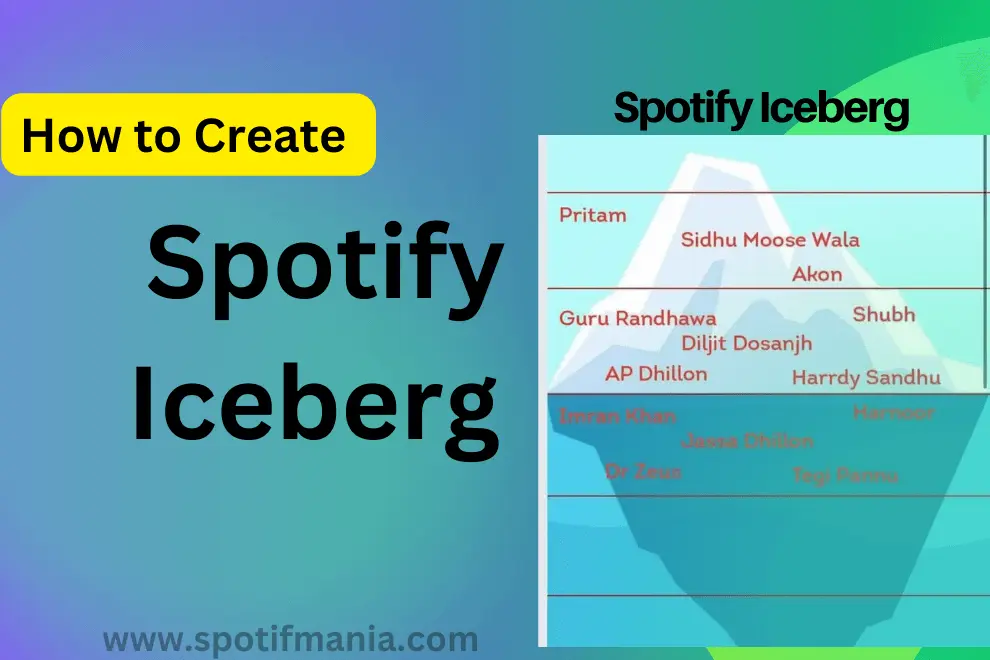 As a social media and music enthusiast, you must have come across some peculiar musical iceberg posts on your wall. These musical icebergs are an innovative approach to visualize your specific Spotify listening behaviors. These Icebergs display compilation of names of different artists placed at different levels. You might recognize some of them while others may be new to you.  In this article you will discover how you can create your own Spotify Iceberg and share it with your social circle online.
What is Icebergify?
Icerbergify is an incredible app developed by Akshay Raj, a young student studying Data Science and Computer Science at Rice University. It analyzes your Spotify music library like Spotify Color Palatte and ranks all artists according to your most-listened-to artists based on their popularity. Not only does it highlight your most-listened-to artists, but it also showcases the top-rated bands or musicians you've immersed yourself in like Spotify MusicScape. Icerbergify, as its name indicates, makes an iceberg of your music history and provides a captivating snapshot of your music journey.
It takes your top music choice like Spotify Obscurity and Spotify Pie, arranges them so, finely on the tip of the Iceberg, you'll find those top picks, the artists you've listened to the most. And as you go down, the lesser-known artists start appearing. You can also share your musical Iceberg with your friends.
Icebergify is an amazing gateway to explore your Spotify musical tastes. Unlike Spotify Wrapped, which you can only access once a year, Same as Spotify Receiptify, Icebergify gives you insights into your musical journey anytime you want. So, if you're an audiophile and love trying out new trends in the musical world, Icebergify is a must-try.
How does Icebergify Work
Spotify Iceberg is working on the "Iceberg Theory". Just like an Iceberg, it's got a hidden side too. It's more than just showing you your most-listened-to artists. It crawls deeper inside your music library just like Spotify Discover Quickly, to search and analyze the artists you listen to and categorizes them based on their popularity or obscurity.
Basically, the more popular an artist is, the higher up on the iceberg they'll be placed, and the more obscure or lesser-known they are, the deeper they'll be submerged in the icy depths of the iceberg.
To customize your Iceberg experience, Icebergify collects data from your top artists, similar to Spotify's Zodiac affinity feature. However, while Zodiac affinity curates playlists based on your zodiac sign, Icebergify delves into a broader scope. This encompasses not just your recent music choices, but also those from both recent and more remote periods. As a result, your Iceberg offers a comprehensive blend of all-time favorites, past musical passions, and current interests, providing a multifaceted reflection of your musical journey.
If you're curious to know how bad is your Spotify Choices, you might find it interesting to explore the Pudding's cool website. This platform offers insights that could shed light on your musical preferences and provide a unique perspective on your listening habits.
Spotify Instafest is your ticket to infusing the festival vibe into your music preferences. It offers an immersive and festival-worthy journey that's sure to satisfy your musical cravings.
if you're on a quest to decode your music habits and unearth your top artists, Favorite Music Guru is your go-to resource
Besides tracking your listening history, Icebergify also explores your likes, your saved tunes, shared tracks, playlists, and various other factors. This way, it ensures that your Iceberg truly represents your musical journey.
Apart from your individual Spotify statistics, this platform also evaluates and classifies your artists according to their respective levels of popularity and the prevailing demand. Suppose you're a devoted listener of both Beyonce and Nate Smith music. The Beyonce would perch on top, while Nate smith might find its spot at a lower level. It's simply because the Beyonce have a massive following and is more popular as compared to Nate Smith.
How to create a Spotify Iceberg
Spotify Icebergify represents a third-party platform like Spotify Zodiac Affinity that operates through seamless integration with Spotify's API. This integration is fortified with robust safety measures, ensuring a secure and trustworthy user experience.
Follow these simple steps to get your Iceberg chart of top artists within minutes:
Step 1: Open Icebergify Website:

Just access the Icebergify website using your web browser. The homepage should load shortly. On the homepage, locate and tap the "Create yours" button for Spotify iceberg generator. This action will take you to the Spotify login page.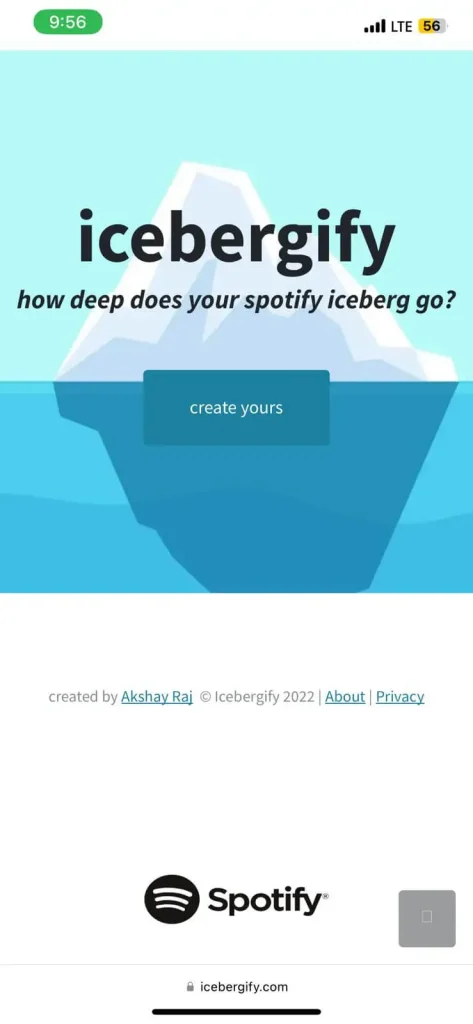 Step 2: Fill in Spotify Credentials and Agree to Terms:
After tapping "Create yours" and landing on the Spotify login page, provide your Spotify account credentials. Once logged in, you'll be directed to the Icebergify agreement page, where you can see the data Icebergify requires access to. Click the "Agree" button to proceed.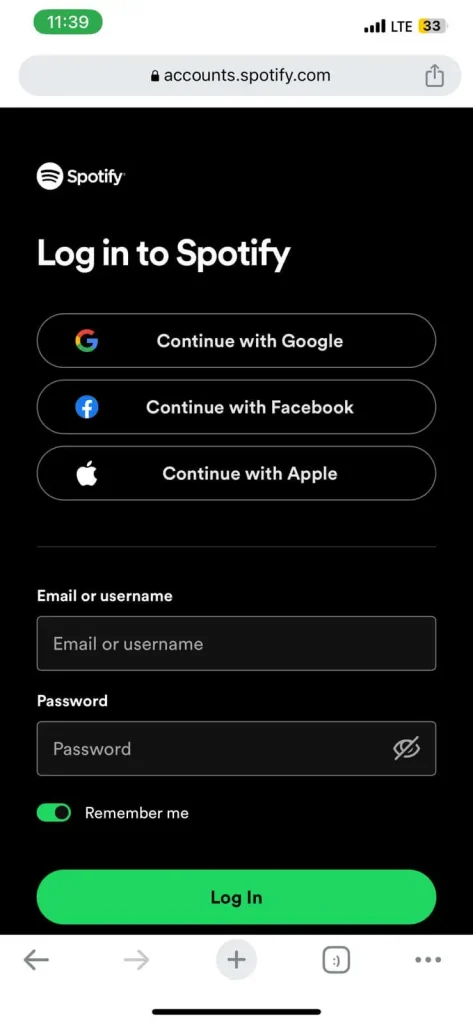 Step 3: Fill in Spotify Credentials and Agree to Terms
After tapping "Create yours" and landing on the Spotify login page, provide your Spotify account credentials. Once logged in, you'll be directed to the Icebergify agreement page, where you can see the data Icebergify requires access to. Click the "Agree" button to proceed.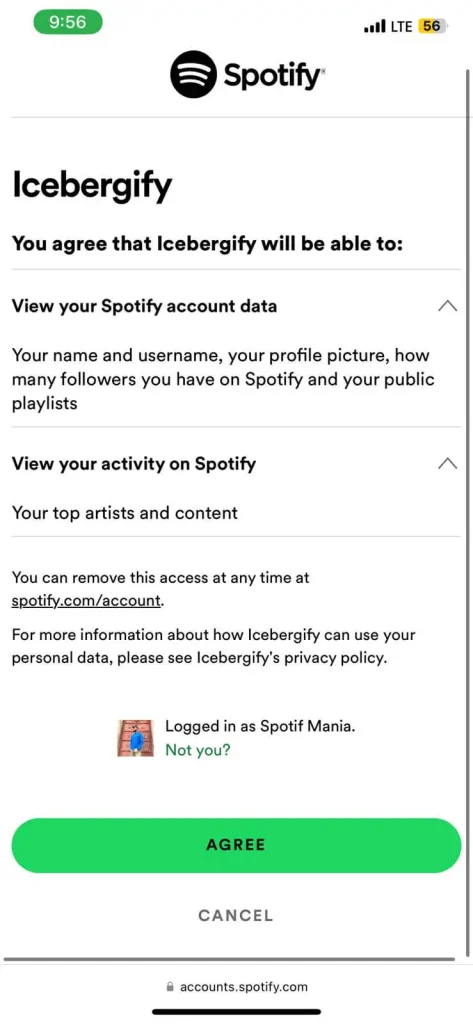 Step 4: Get you Spotify Iceberg of one month:
Once you log in, you'll have access to your current month's Spotify Iceberg in which top artist of last month is shown in the form of iceberg.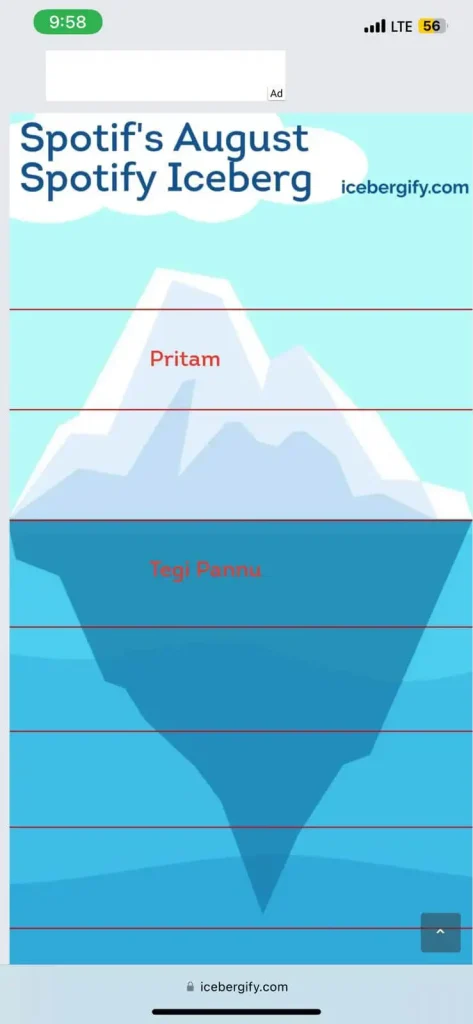 Step 5: Get your All time Iceberg of Spotify:
If you want a more detailed and comprehensive view of all time your favourite artist on Spotify, just click on the "click here to see your all-time iceberg", button located at the top. It will show you a broader picture of your Spotify use over time.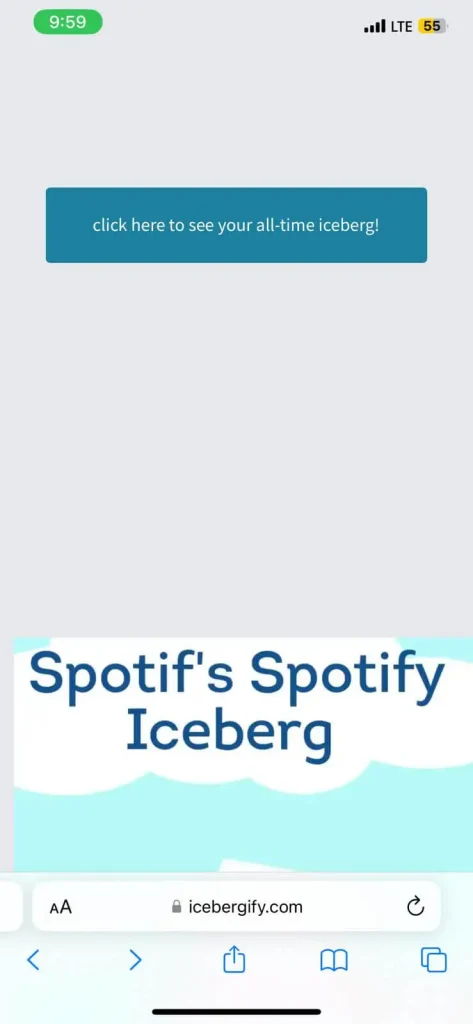 Features of Icebergify:
Long-term Analyzing Ability
This fantastic tool can wade into your Spotify history in two different time frames,
short-term (one month)
and long-term (twelve months)
So, you can explore your music habits over various periods and get a comprehensive picture of your listening trends.
Switch Spotify Account
If you've changed your mind and don't want to use icebergify, you can disconnect your Spotify account from the Iceberg website anytime you want.
Allocation based on popularity
Icebergify also sorts and ranks your favorite artists or singers according to their popularity. The chart positions the most famous singer you've listened to right at the top of the Iceberg. For example, if I take a look at my Iceberg chart, Kendrick Lamar would be on the very top as compared to Gunna even if I've spent the same amount of time listening to both artists.
Blank Level Indicator
If you're listening to a particular singer or band that's not too popular, it'll show a blank patch on your Spotify Iceberg chart.
Easy to Share on Social Media
This web app creates a super elegant Spotify iceberg as an image for you. The only thing is, it doesn't have a built-in share function. Just take a screenshot, copy, or save the image, and then share it on your favorite platform.
Pros & Cons of Spotify Iceberg:
How Does My Spotify Iceberg Chart Look Like:
Wanna take a look into my Spotify iceberg?
In my Spotify Iceberg. as you can see on the top of Iceberg, Guru Randhawa, Diljit Dosanjh, Hardy Sandhu, and even Akon, reflecting my penchant for their music. Meanwhile, nestled in the lower layers are equally cherished artists including Dr. Zeus, Imran Khan, and Harnoor, whose tracks have consistently adorned my playlists, offering a diverse musical journey.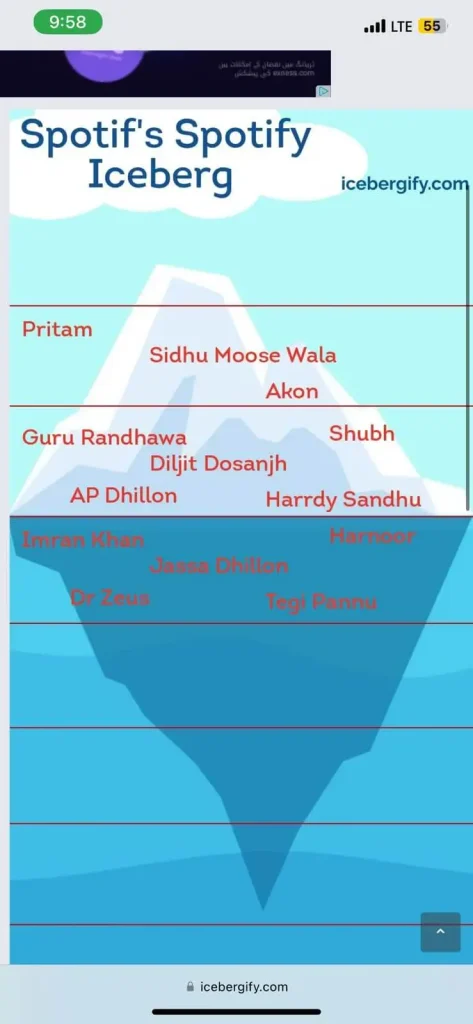 What if Spotify Iceberg is not Working:
While using Icebergify website, you might face some internal server errors (those annoying internet 500s). It's all because of its wild popularity and the crazy amount of traffic it draws in.
While we wait for the official fix, here are a few tricks you can try to get around the issue and generate your beloved iceberg:
Try Refreshing the website
To resolve the issue, I will recommend you to refresh the website several times until the iceberg become visible on your screen. Refreshing the browser approximately 3-4 times will eventually display the iceberg.
Clear Browser Cookies
An alternative approach is to clear your browser's cookies and cached data, which may accumulate over time. For Chrome users, follow these steps:
Go to the Settings menu in your Chrome browser.
Navigate to the "Privacy and Security" section.
Locate the "clear browsing data" option.
From the menu, choose the time range you want to clear, and select "Cookies and other site data" and "Cached images and files" options.
Click on the "Clear data" button to delete the cached data.
Once it is done, try accessing the Icebergify website again.
Connect/ Disconnect VPN
If you are connected to a VPN network, it may affect your ability to access the Icebergify website. In this situation, please disconnect from your VPN service and try to login again. If you are not currently using a VPN, you can consider downloading one of the top VPN apps to gain access to the Spotify Iceberg.
FAQs:
Conclusion
If you're all about the music life and love sharing musical things with your friends and family, then Icebergify will be the best present for your musical soul. Although some users have faced technical challenges, the platform still remains a fascinating web app for Spotify users to explore the popularity rankings of their favorite artists and bands.