Spotify Receiptify: How to Create a 'Spotify Receipt'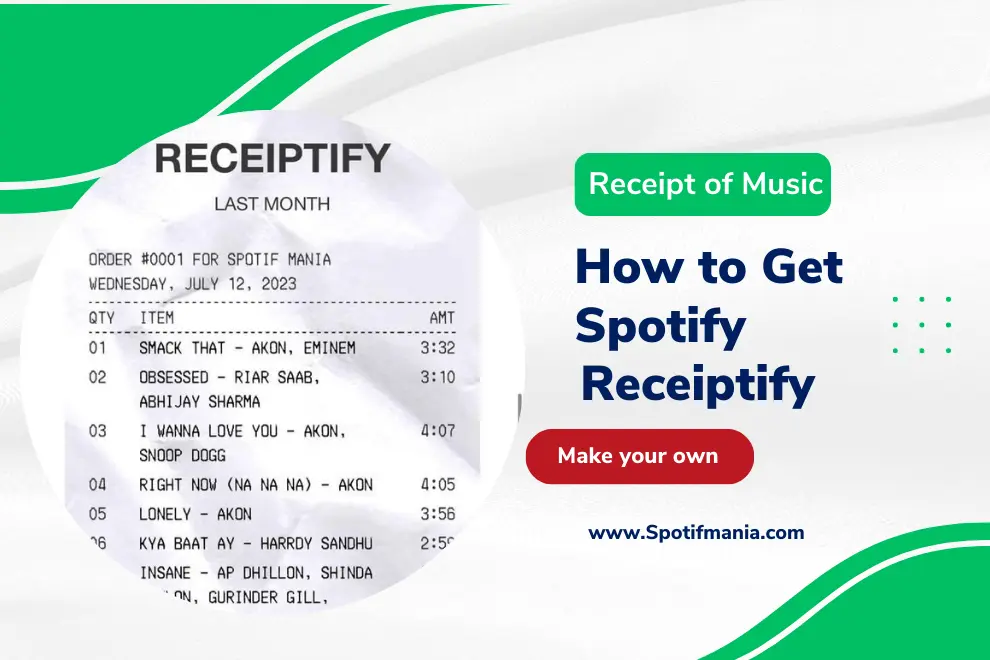 In the ever-evolving world of digital music streaming, audiophiles have a genuine fascination with gaining insights into their personal music preferences. As a music lover, you might have shared your Spotify activity with other sites, visualize and comprehend the evolution of your auditory journey. Everyone goes a bit wild each year for Spotify Wrapped. We can't wait to see our musical diary for the year.
Following the popularity of Icebergify, Wrapped, Spotify Color Pallet, Pie Chart from Spotify and Spotify Obscurity, another trend is gaining traction on social media. Receiptify is the latest in the series of Spotify's usage-based viral phenomena like Zodiac Affinity. It's a super cool website that turns your most-listened-to tracks into eye-catching shopping receipts, just the kind of thing you'd love to show off on your Instagram feed.
Michelle Liu, the creator of the site, got this fabulous idea from an Instagram account called @albumreceipts, which, by the way, was inspired by another account – @yvesguardian. They do this unique thing, putting album track lists on a mock-up of a shopping receipt. Now, Michelle thought she could add a twist to this. With her creation, Receiptify, you can now see more than just tracklists.
How To Do Receiptify:
Instant Answer:
Visit Receiptify site and sign into your Spotify. Once there, you'll be asked to authorize the tool to use your data. Once you've done that, you're all set to craft a receipt that's uniquely aligned with your music tastes. Download a image and share on your social media.
It's a sort of sneak peek at your streaming habits and personalized "receipts" with the top most played tracks like Spotify Discover Quickly. It also adds up the total playtime of these songs and pops it in the "total" section of the receipt. And it's not just a one-time thing. It can show you this for the last month, the past six months, or even all of time. 
How does Receiptify work?
Receiptify takes all the songs you've been jamming to on apps like Spotify, Last. Fm, and then 'receiptifies' it. Like some of the previous Spotify trends, it checks out what you've been listening to, crunches the numbers, and then serves it up in receipt format.
This tool creates three kinds of receipts for you.
Receiptify is an open-source tool, meaning you can find the code right in their website's "About" section. And don't worry; it fetches all the data from legit and official resources.
If you're curious about understanding your Spotify top artist patterns, the Spotify Iceberg website offers insightful charts in the form of iceberg. Moreover, for a unique twist, consider transforming your Spotify music collection into captivating landscapes with Spotify MusicScape. Experience the fusion of music and visual artistry like never before.
For an enriched musical adventure, explore Spotify Instafest. it offers a festival-inspired experience and give festival atmosphere to your music taste.
Favorite Music Guru acts as your personal music analyst, this tool discovers your top artist in the music mentors and Gurus.
How to Make Receiptify of Spotify?
Receiptify, third party tool allows Spotify users, whether free or premium, to transform their most-played tracks into an aesthetically pleasing receipt format. The backend of the Spotify API utilizes advanced algorithms to identify the most played songs in a user's library, similar to the "How bad is your Spotify " feature. It's a fun, engaging way to share your music taste with friends and followers across various social media platforms. But how exactly does one navigate this feature?
Whether you're a seasoned Spotify user or a newcomer to the platform, this guide will help you make the most of Receiptify and its unique music sharing capabilities.
Step 1: Access the Receiptify Website:
Navigate to the Receiptify website either by conducting a search on any search engine or by directly entering the website's URL into the address bar. Proceed to log in to your Spotify account.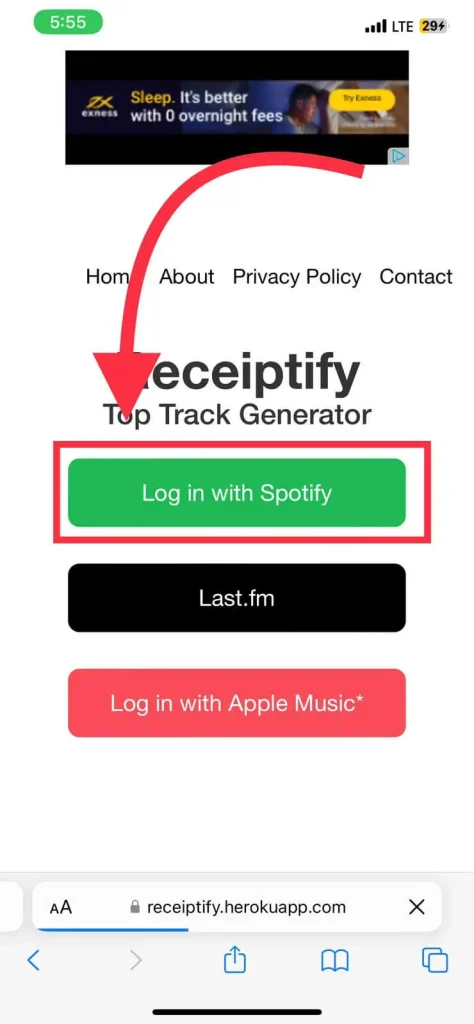 Step 2: Agree with Terms & Condition:
After you've logged in, there will be a set of terms and conditions. If you're comfortable with what's outlined there, go ahead and give your agreement by Pressing "Agree" button.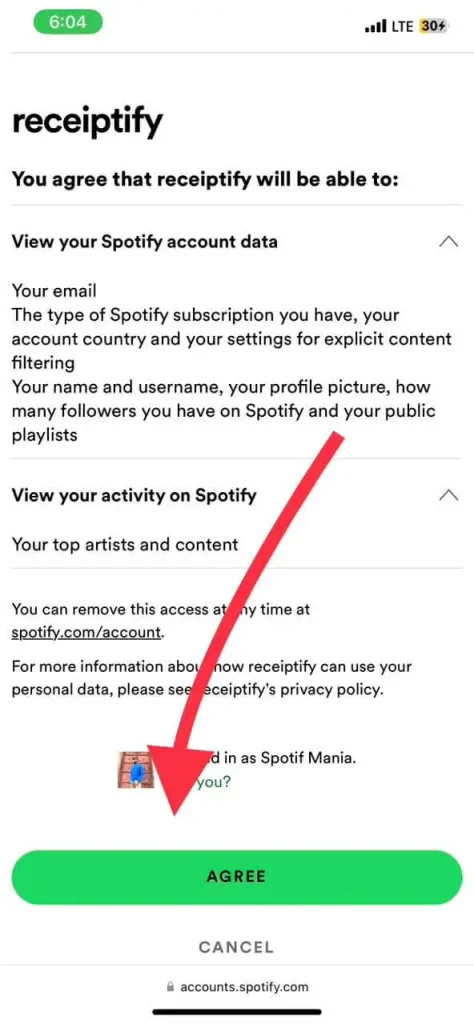 Step 3: Select Preferences:
Utilizing this API-integrated platform, you have the ability to generate receipts for your top 10 or 50 tracks, artist, genres and searched album as well You can opt to choose from the previous month, the past six months, or even your all-time favorite tracks.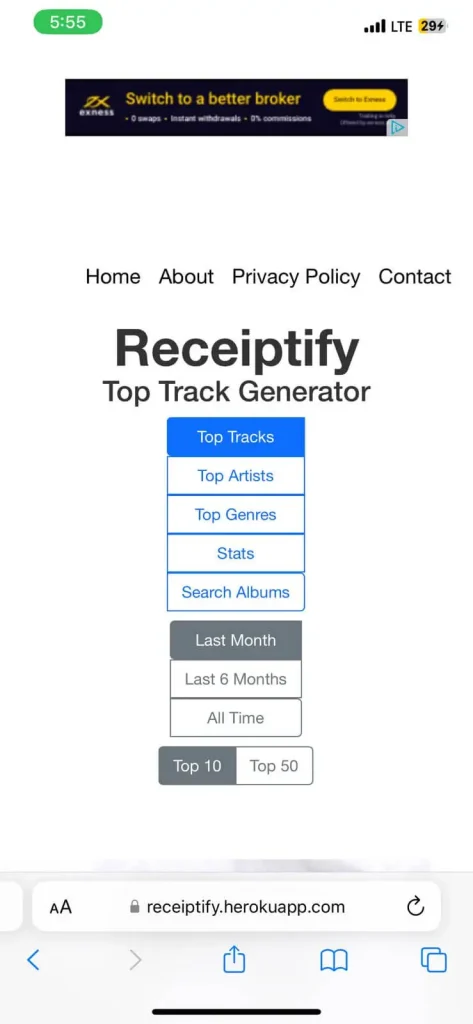 Step 4: Obtain Your Receiptify Image:
Simply click on the "Download Image" button, and your distinct spotify receipt playlist of most played songs will be promptly downloaded to your device. This process is exceptionally convenient and enables you to effortlessly share it with your acquaintances.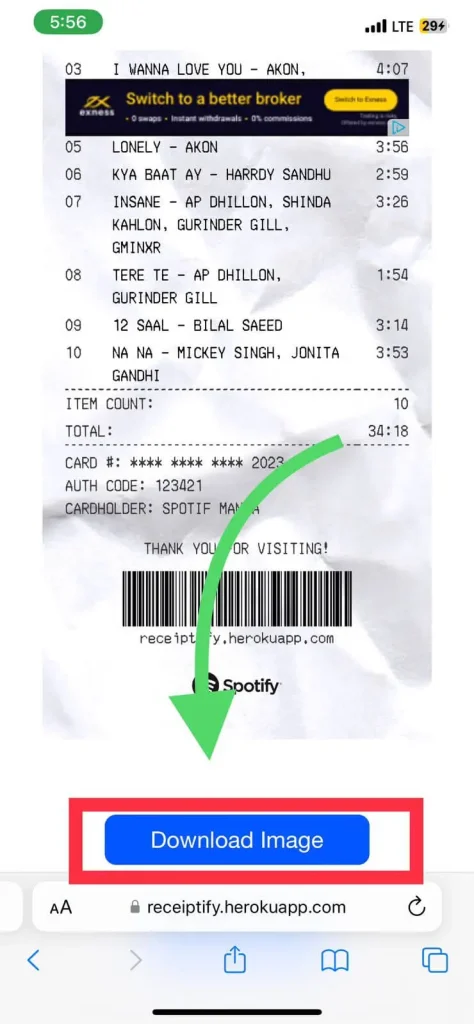 How to Get Receiptify on Spotify:
Introducing Spotify Receipt Playlist of most played songs an innovative feature that enables users to curate playlists based on their unique Spotify usage. It is reliable Platform that works this Spotify API integration and safe to use This feature generates playlists from your top songs, favorite artists, and preferred genres, providing an encapsulated snapshot of your musical taste.
The Receiptfy tool goes a step further, crafting a visually appealing receipt-styled overview of your 'Spotify Stats'. This includes your most listened-to tracks and artists, popular genres, and even albums you've sought out in the Spotify search bar. The data-driven insights Receiptfy offers act as a personal scorecard of your Spotify journey.
The customization doesn't end here. With the option to filter your data based on the last month, the previous six months, or your entire Spotify history, you can tailor your Receipt Playlist to reflect your evolving musical preferences. Lastly, you can choose whether you want a Receipt Playlist featuring your top 10 or top 50 tracks. This is a chance to rediscover your favorites, or perhaps find trends in your listening habits.
My Spotify Receipt Most Played Songs:
Let me show the picture of my Spotify Receipt of favorite songs and music choices. Through this unique feature, I can provide you with a glimpse into my musical journey. Let's dive into the highlights.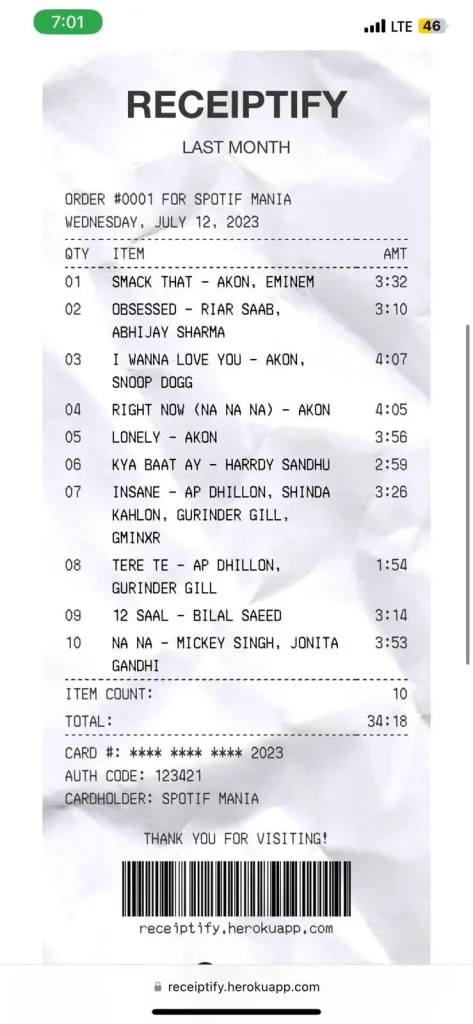 As you Shown in picture, at the top of my Receiptify ticket is "Smack That" by Akon ft. Eminem, a track that holds a special place in my heart. Its presence in my musical repertoire is significant, as it accompanied me during my travels, creating memorable moments.
Following Akon's "Smack That," you will discover the captivating song "I wanna Love You" by Akon & Snoop Dog. This vibrant track resonates with me, with its energetic beats and catchy melody, drawing me in every time I listen to it.
On third, "Kya bat Hai" by Hardy Sandhu claims a prominent position on my Receiptify. This powerful song captivates my attention with its thought-provoking lyrics and intense musical arrangement. It has become a standout favorite in my music collection.
Create your own personalized Spotify Receiptify and share it with friends on social media platforms. This is an excellent way to express your unique musical taste and engage with others who share your passion for music.
How to share your Spotify Recipet on Social Media:
Sharing your newly created Spotify recipet on social media is incredibly effortless. Simply click the blue 'Download Image' button situated below the receipt, and the image will be promptly saved to your device's photo library. Then, navigate to your preferred social media app such as Facebook, Instagram, TikTok, Snapchat, or Threads. Upload the saved photo and share it just like any other image. The process is remarkably straightforward, allowing you to effortlessly create and share your distinctive Spotify receipt with ease.
FAQs: