what is Spotify color palette? How to create Spotify color palette?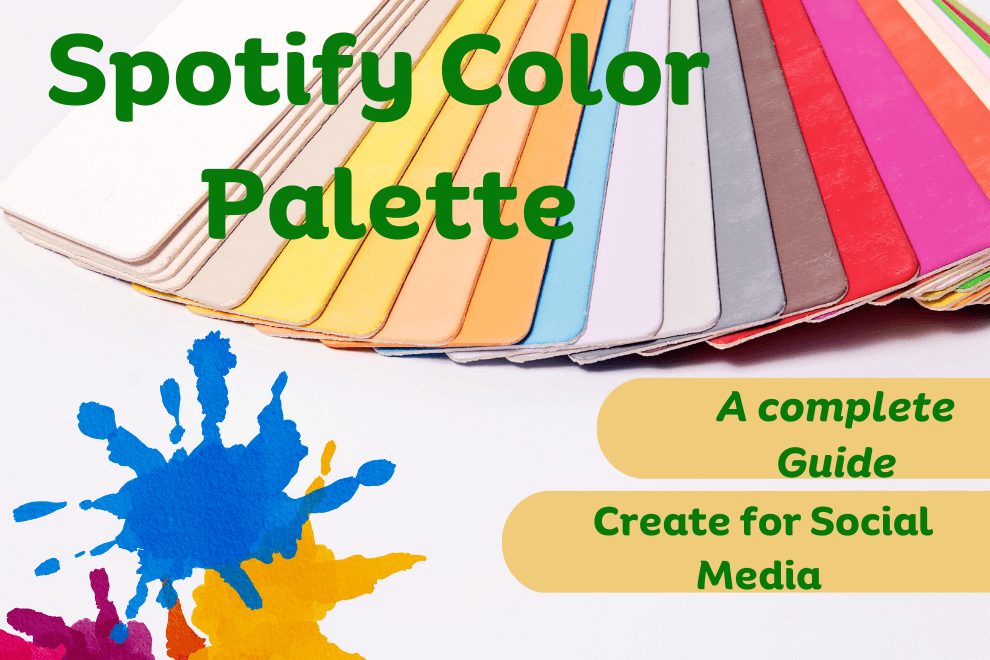 The Spotify Color Palette is a third-party platform created by a software developer named Israel Medina from Texas, United States. The platform is linked to the popular music and podcast streaming site, Spotify. Like Spotify MusicScape, Spotify's Wrapped, Spotify Obscurity and Zodiac Affinity feature, the platform evaluates the top songs you've listened to most over the past six months and creates a personalized color palette based on your musical tastes. This color palette reflects your personality in different shades and can be shared on social media.
How to Get Color Palette Of Spotify?
Generating Spotify Color Palette is quite easy you can make your color wheels and sheets like Spotify Discover Quickly, in few steps:
How does Spotify Palette work?
This tool is third part app that worked on API integration with Spotify like Spotify analyzer and "Judge Your Spotify". It works on basic types of moods, including happy and calm and categorizes your Spotify listening history from the past six months into a personalized color palette. You can Explore your music taste with the website's additional resources and share your color palette with your friends.
Do you Know?
Spotify Pie, Spotify Iceberg, Spotify Instafest, Spotify Zodiac Affinity, Spotify Pie chart and Judge my Spotify are tools just like Spotify Color Palette. These tools utilize the Spotify API to collect user data and transform it into captivating formats. One standout tool is Spotify Receiptiy, which creatively presents a personalized selection of top tracks and artists as an electronic bill. It's a unique and engaging way to experience your music preferences.
Spotify Instafest and Favorite Music Guru open doors to diverse music adventures. Spotify Instafest immerses you in festival vibes, while Favorite Music Guru dives into your music habits, revealing top artists as your musical mentors
Type of Color Palette
Red palette: When you listen to the most energetic songs
Orange palette: when You listen to mostly danceable songs
Pastel palette: when You listen to energetic & danceable songs
Yellow palette: when You listen to happy & cheerful songs (high valence)
Your color Palette is assigned to you three types of songs Energetic, Danceable and Valence(positivity)
you can clearly see in the yellow palete that color is assign on Danceability, energy and Valence.
Other Features of Color Palette on Spotify
With a simple click on the icon, this website offers you three exciting options.
Each image offers an opportunity to learn more about the artwork by clicking through to its respective Google Arts & Culture page
Each image offers an opportunity to learn more about the artwork by clicking through to its respective Google Arts & Culture page
This website does not allow you to share media like images and color palettes, but you can take a screenshot and upload them on social media profiles for your friends.
Why My Spotify Color Palette is not Working?
To ensure that you see a color palette in Spotify Palette, it's important to have a substantial listening history on Spotify. The Palette uses data from the tracks you've listened to in order to generate a personalized color palette. If you haven't listened to a sufficient number of tracks, the Palette may not have enough data to generate the colors for you. But if you you're still experiencing issues with Spotify Palette, there are several fixes you can try to Fix your Spotify playlist color palette.
Switch to a different web browser: If you're using a specific browser.
Disable browser extensions: Some browser extensions or add-ons might interfere with the functioning of websites.
Update your browser: Ensure that your web browser is up to date.
Use private browsing mode: Open Spotify Palette in a private or incognito browsing window.
FAQs:
Conclusion:
Spotify palettes are an interesting way to showcase your music preferences visually. Nonetheless, given that there are only four possible outcomes, exploring other tools for a more extensive analysis may be worthwhile.
Unlock the Spotify experience with these must-know topics for every die-hard music lover!