MusicScape Spotify: What is & How it Works!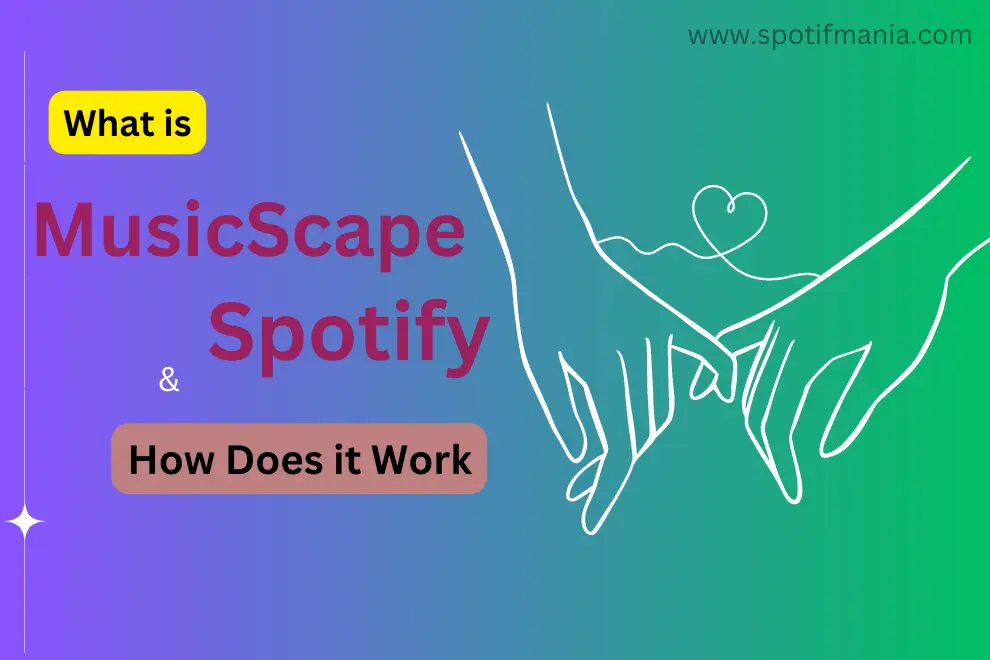 In the symmetry of life, when we are lost in the chaos of worldly dilemmas, some things fill our souls with happiness and serenity; that's where music and art come in. Music helps us to connect with our emotions, breaking through time and space and building a dreamy castle of joy where we can dance, sing, and dangle.
The same can be said about art, as it has a unique capacity to evoke feelings and connect with our inner selves. Now, just imagine if there was a method to capture that euphoric sensation you experience while listening to your favorite song and translate it into a stunning work of art!

MusicScape, a web app similar to Zodiac Affinity, Spotify Pie & Spotify Instafest utilizes Spotify API integration to read Spotify stats and data and to create mesmerizing landscapes from your music playlists. With simple steps, you can embark on this phenomenal journey where your Spotify music genres transform into stunning and picturesque scenes. This article delves into the beautiful embrace of music and art, showcasing the unique connection between the two.
How Does MusicScape Work:
MusicScape is a unique platform that analyzes your Spotify listening history just like Spotifycolor pallet & how Obscure my spotify. MusicScape collects all the music you've been enjoying in the last 24 hours and creates a vibrant landscape that is based on your music taste. The colors of the landscape reveal your music preferences. If you're a fan of cheerful music, your landscape will be more vibrant in appearance.
You can convert your Spotify listening history into a billing receipt and assess the quality of your Spotify taste by visiting Spotify Receiptify and How Bad Is My Spotify, respectively.
Are you yearning to turn your music preferences into a festival-ready adventure? Enter Spotify Instafest, the ultimate solution that lets you infuse your music taste with the festival vibe.
If you're keen on unraveling the mysteries of your music habits and unveiling your top artists, look no further than Favorite Music Guru. This innovative platform wears the hat of a personal music analyst, bringing your favorite artists to life as trusted musical mentors.
Key Features of MusicScape:
If you enjoy using 3rd party apps, MusicScape is sure to captivate you. Similar to Discover Quickly & N Gen Spotify top 10 platform, MusicScape collects your data, but instead of creating images from your playlists like Discover Quickly, it generates mesmerizing landscapes. In this article, I've explored the app's exciting features to enhance your playful experience with this incredible application.
Mountain formation
In MusicScape s landscape, mountains rise in response to the tunes you have listened to and resonated with. The contours of these peaks represent the energy that emanates from each melody you've jammed. If the songs exude high energy, your mountains stand tall and spiky, while mellow tunes shape them into gentle, rolling slopes.
The number of mountains can vary depending on your recent activity level within 24 hours. Additionally, their color tones undergo changes influenced by the prevailing musical key present in your favorite songs.
My landscape unfolded sharp, towering summits. It was just because my listening history had been heavily graced by the sounds of Justin Bieber and his collection of high-energy anthems.
Color of mountains
My favorite feature! The colors of the sky and mountains are decided by the song's europhile, emanating from the song's predominant keys.
As of now, my landscape is adorned with a mesmerizing backdrop of pink hues, brought forth by Ariana Grande's soulful melody, "Thank u, next." The blending of vibrant pink paints perfectly complements the mountains that rise gracefully before me.
Night and Day mode
Night and day-time are determined by the song's 3rd-degree mode (Minor or Major modes). Minor and Major modes give unique vibes to the music and shape the ambiance of the landscape accordingly. When I started listening to songs in minor mode, my landscape magically switched to dark mode. This fantastic shift makes you recount the transformation of your own world.
To create your Spotify top artist iceberg, simply head over to the Spotify Iceberg website. There, you can explore enlightening musical insights through intuitive charts and data visualization.
How to Use MusicScape?
Using MusicScape is as simple as can be! To get started, follow these easy steps:
Step 1: Visit MusicScape website:
Visit to MusicScape website by search it on any search engine or typing URL in any search engine.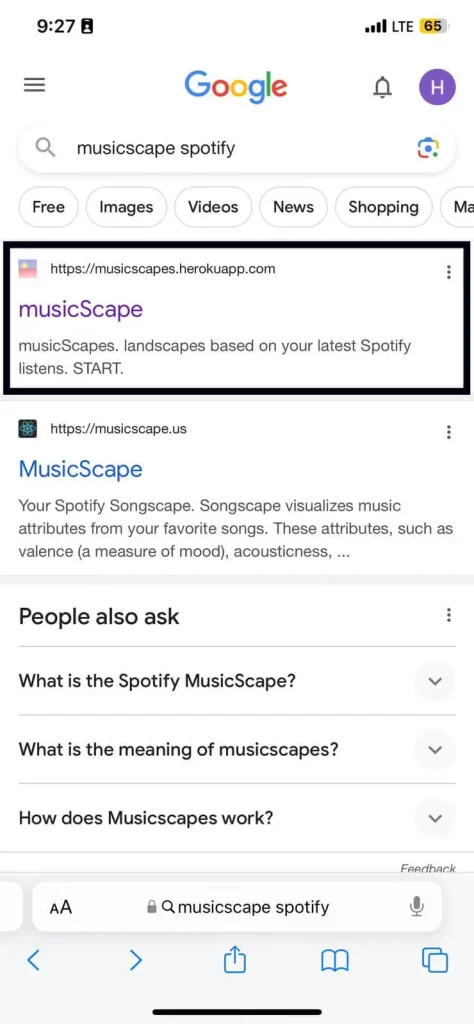 Step 2: Sign in and Connect:
Sign in to the MusicScape website and connect your Spotify account seamlessly.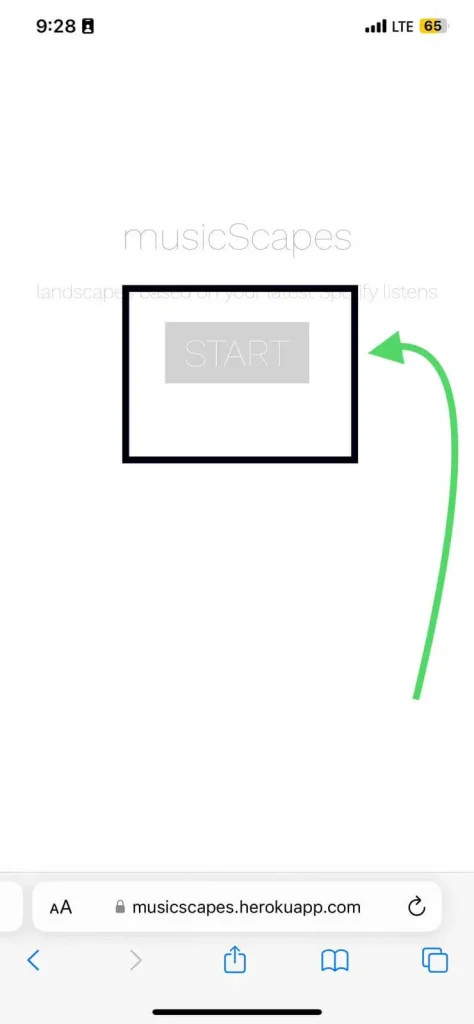 Step 3: Open the App Interface Once your Spotify account is connected, the app's interface will automatically open up.
Step 4: Start Linking:
Hit the "Start" button to initiate the linking process between your Spotify and MusicScape.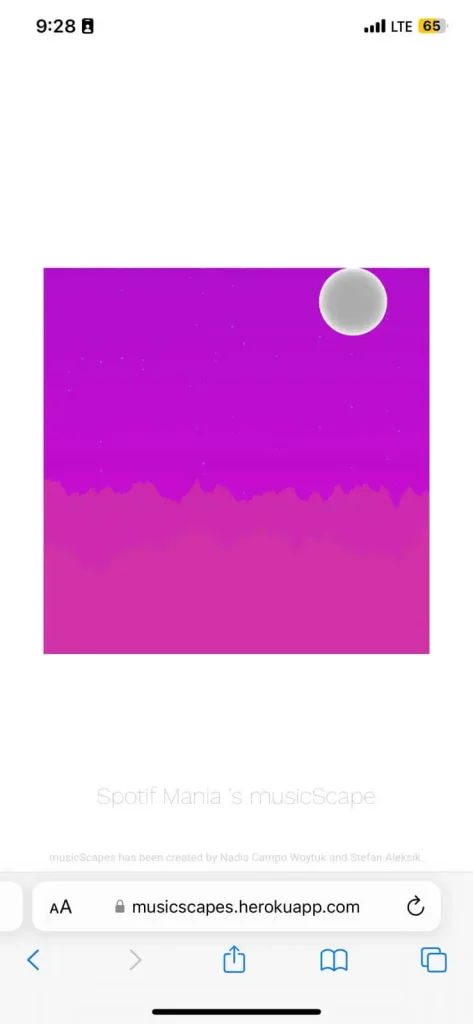 Step 5: Immerse in the Landscape With just one tap, you'll be fully immersed in the stunningly generated landscape that complements your music journey. Enjoy the experience!
Are MusicScape and SongScape the Same thing?
MusicScape and SongScape might have similar names, but the fact is, they are pretty different when it comes to how their algorithm works. MusicScape presents your music taste in terms of landscapes; on the other hand, SongScape does it differently; it gives you color patterns that represent your unique music taste. Here, I've whipped up a comparison of these two.
| Feature | MusicScape | SongScape |
| --- | --- | --- |
| Type of App | Web app | Visual representation |
| Functionality | Presents music taste as landscapes | Represents music taste with color patterns |
| Data Source | Evaluates Spotify listening history | Analyzes your playlists |
| Appearance | Landscape appearance varies with music type | 3-dimensional block with different colors |
| Color Patterns | Colors determined by the genre of music in the last 24 hours | Represents music taste based on energy, genre, and acousticness |
How to Disconnect MusicScape from Spotify
Yes, disconnecting MusicScape from your Spotify account is a piece of cake! Since, MusicScape is a third-party app, it works only when it'll connect with spotify. You can disconnect it, whenever you want. you can discconnect all third part apps such as Spotify Obscurity via this method
1: Log In to Your Spotify Account on Your Mobile/Laptop.
On the top right corner click on your "Name", a drop-down section will appear. Scroll down and select "Account". After selecting account you'll be able to see all your account's information here.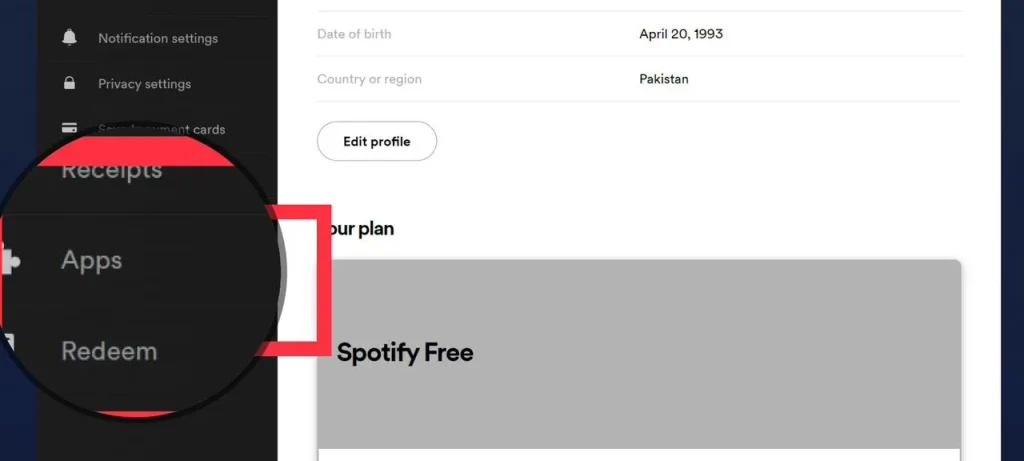 2: Tap on "Apps" and Then Click on "Remove Access"
After landing on 'Account" page, keep scrolling down and select "Apps" click on it, you'll see all the apps that are connected to your Spotify account. Search for MusicScape in the list and tap on "Remove Access".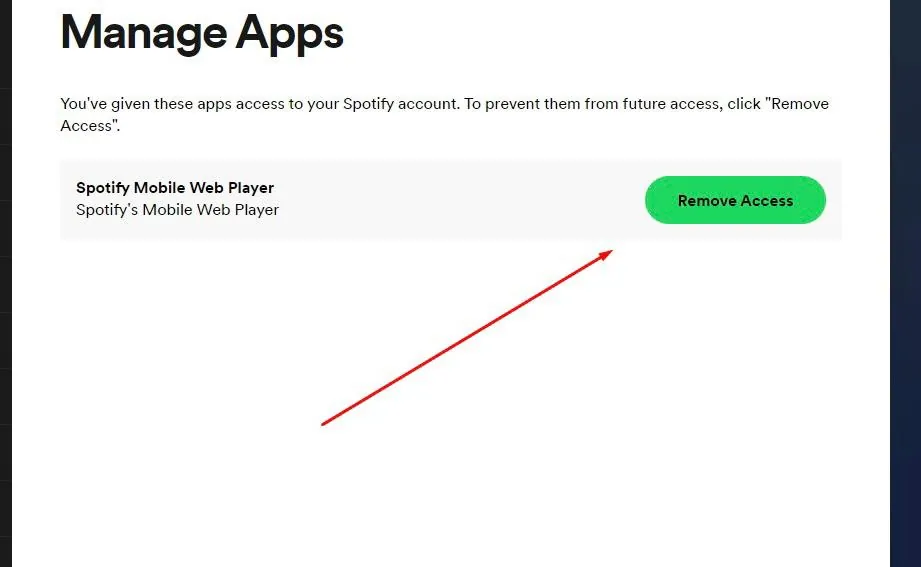 Now, this app will no longer be connected to your Spotify account. You're all set!
How My MusicScape Looks Like
Welcome to my MusicScape world! Let me give you a little tour of how my MusicScape's landscape looks like:
When you see my MusicScape, the background of the landscape is this pink color, which totally represents my music taste as I've been listening to happy, and cheering music.
Right now, My MusicScape is in night-time mode because my music preferences tend to be in the minor mode.
My music taste is mostly jagged, so mountains showing on my landscape are more spiky.
There's just one mountain showing up on my landscape. Well, that's because I've been a bit less active during past 24 hours.
The presence of brighter pink-toned mountains suggests that I've been immersing myself in songs primarily in the Key F.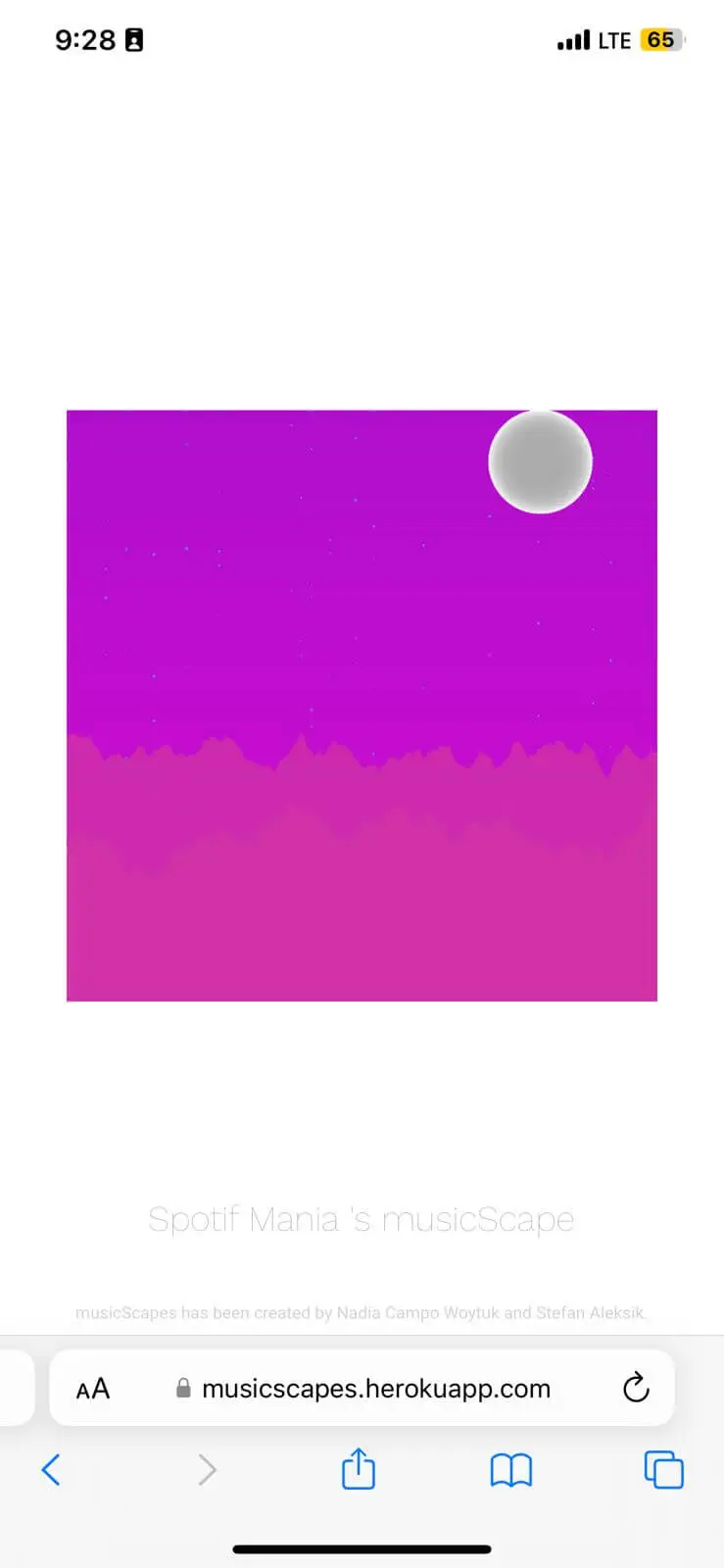 FAQs:
Conclusion
In conclusion, my exploration of Musicscape has revealed an amazing correlation between music and the visual landscape. The revelation that brighter pink-toned mountains indicate a strong affinity for songs highlights the interplay between our auditory and visual senses. This f discovery adds a new dimension to our understanding of how music influences our perception of the world around us. So, why wait? Go ahead and try it, you'll love it more than you expected.