Spotify Blend 🎵🎶 ! What Is And How To Use It?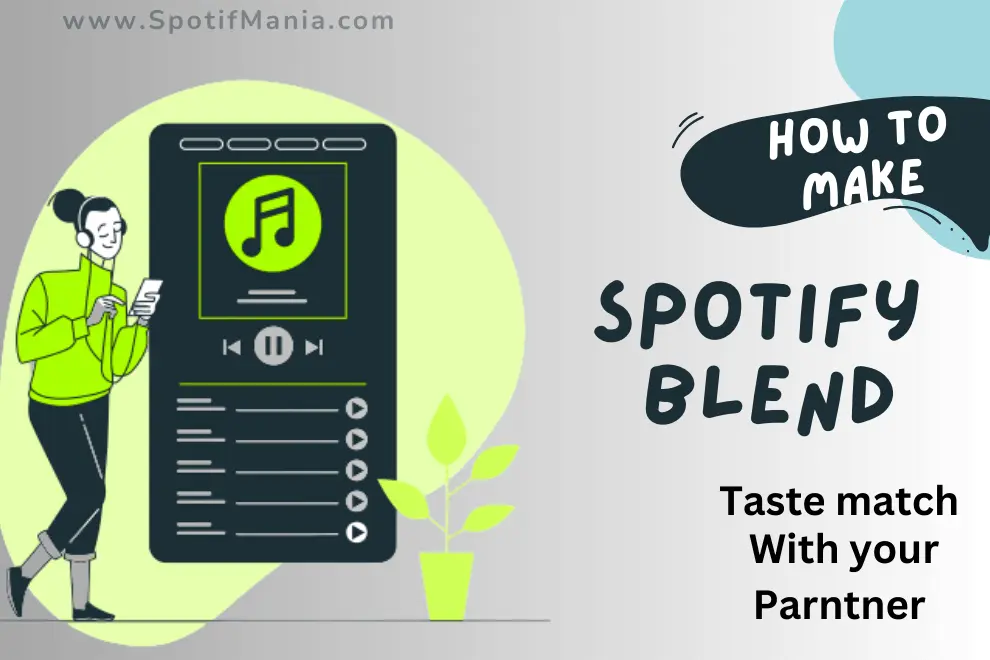 Imagine a world where you and your friends can seamlessly swap playlists, immersing yourselves in each other's musical realms. If you've ever found yourself craving a peek into your friends' music preferences, you're not alone.
I always want to know what music my friends listen to as most of my friends are music enthusiasts. This is where Spotify Blends comes in. It allows you to create a shared playlist with up to 10 friends based on your and their Music Taste. Do you want to know more about it?
What Is Spotify Blend?
Spotify Blend is a feature launched by Spotify on its platform to make it easier for multiple people to share their music. This feature also known as "Taste Match" & allows you to create a playlist with up to 10 of your friends and mix it up with everyone's songs and music tastes to create a unique playlist that has the songs that are your and your friend's favourites. 
This way, you get to listen to different types of songs every day and know what type of music your friends like. It's worth mentioning that other than your and your friends' music, Spotify recommends other songs based on all of your music choices to help you discover new music.
How Deos Spotify Blend Works?
Spotify Blend allows you to make a shared playlist with your friends and your favorite artists. Its algorithms are programmed to analyze the listening habits, preferences, and histories of both users, identifying commonalities and patterns in your and your friend's music choices. Additionally, Spotify Blend takes genre preferences, artists liked, skipped tracks, and overall listening history into account.
Using this data, Spotify Blend makes a playlist that combines tracks from both users' libraries, aiming to strike a balance that resonates. Every single day, the playlist is updated based on the music tastes of all of the members added to the blend. This way, you get to experience a new taste of music every single day.
Some Benefits of Spotify Blends:
Discover New Much Taste:
Through the Spotify Blend feature, you can stay connected with all of your friends and listen to the songs and types of music they're into. It's a great way to discover new music and get to know your friends' tastes.
Explore Favourite Music of Friends
When your and your friends are connected with one Playlist, you can explore the type of music they like. They're playing music in real time, and you can listen to it.
Personalised Playlist
Spotify Blend uses the participants' listening habits to create a personalised playlist. This means that you'll get a mix of songs that you all love, as well as some new recommendations. You can discover a lot of new music this way.
New Songs every day
I listen to music a lot, and this is why I'm always short of songs to listen to. But, thanks to Spotify Blend, which updates the songs every single day based on my and my friend's music preferences, This way, I never get bored and always have something exciting to listen to.
Free to Use
What I liked the most about the Spotify blend is that it's completely free to use. There aren't any extra charges that I have to pay to listen to any type of song. This is amazing.
How To Make a Spotify Blend Playlist?
Embark on a musical adventure like no other with the enchanting world of crafting Spotify Blend playlists. Picture weaving together the melodies that resonate with your soul, those of your dear friends, family, and even treasured artists. If you're eager to dive into this harmonious journey, look no further. Our easy-to-follow guide is here to walk you through the process, allowing you to effortlessly infuse your music collection with the essence of shared rhythms. Let's delve into the magic of Spotify Blend and create something extraordinary together.
Firstly, we'll explore two methods to craft blends on Spotify, connecting you with family and friends through the power of music. Once we've covered that, we'll delve into the intriguing process of creating blends with your favorite artists, adding a whole new dimension to your musical experience.
Creating Blend Playlist & Link for Your Family and Friends:
You can share Spotify Blend link with your friends & family in two ways:
In the first method, we guide you through the steps: from accessing the app or website, finding 'Blend,' and clicking 'Create a Blend,' to sharing an invite link. This ensures each member receives a unique Spotify blend card, ready to be shared on social platforms.
In the second method, it's just as simple. Whether on your device, explore "Made for You" and discover "Made for Us."
Method 1: Spotify Blend Via Feature in APP
Step 1: Access Spotify App or Website:
Open the Spotify app on your android or IOS device or visit the Spotify website using your preferred browser.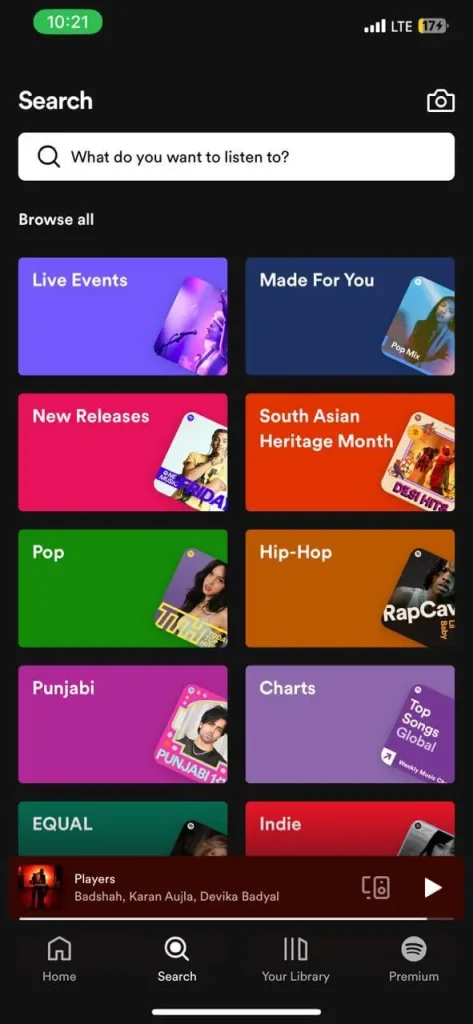 Step 2: Locate 'Blend':
Navigate through the app or website's interface to find the 'Blend' feature. This is where the magic of sharing music with loved ones begins.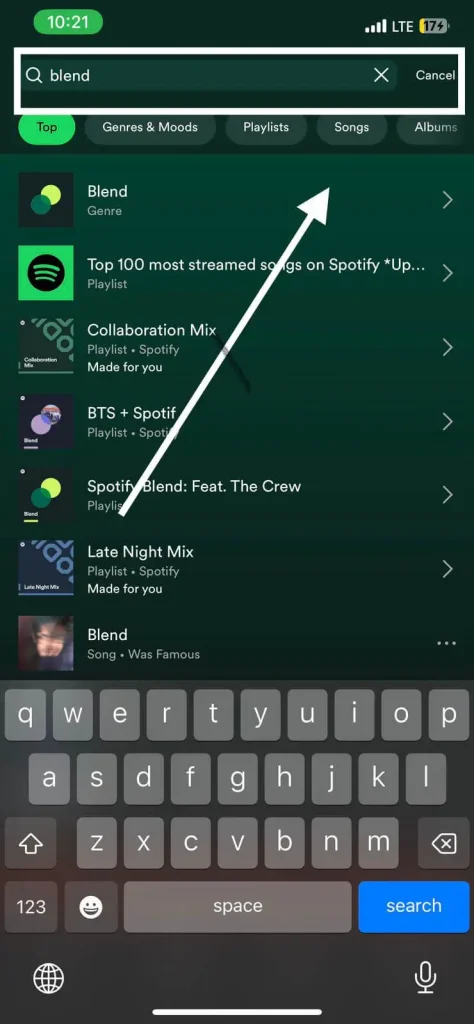 Step 3: Click 'Blend' and Select 'Create a Blend:
Once you've found the 'Blend' section, click on it. Within the Blend interface, you'll see an option to 'Create a Blend.' Click on this to initiate the process.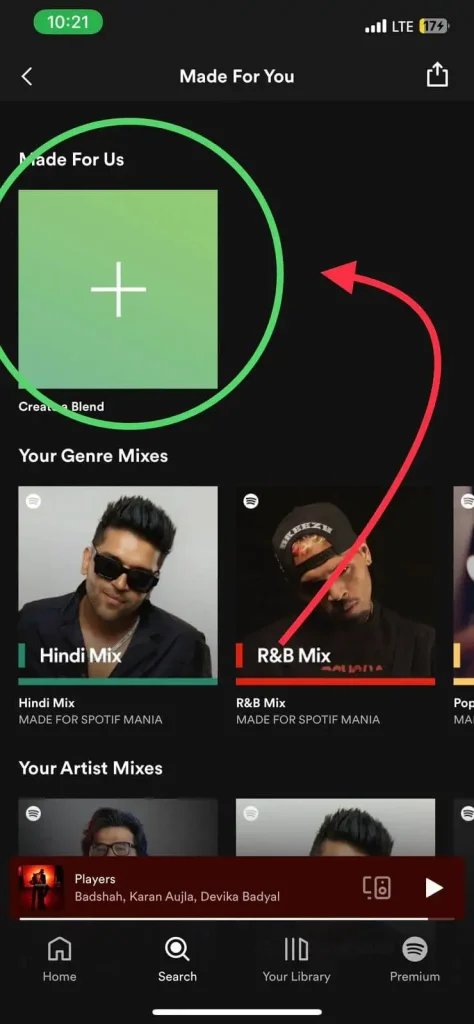 Step 4: Invite Your Loved Ones:
Within the Blend creation process, you'll find the 'Invite' button. Click on it to start sharing the musical journey with your family and friends.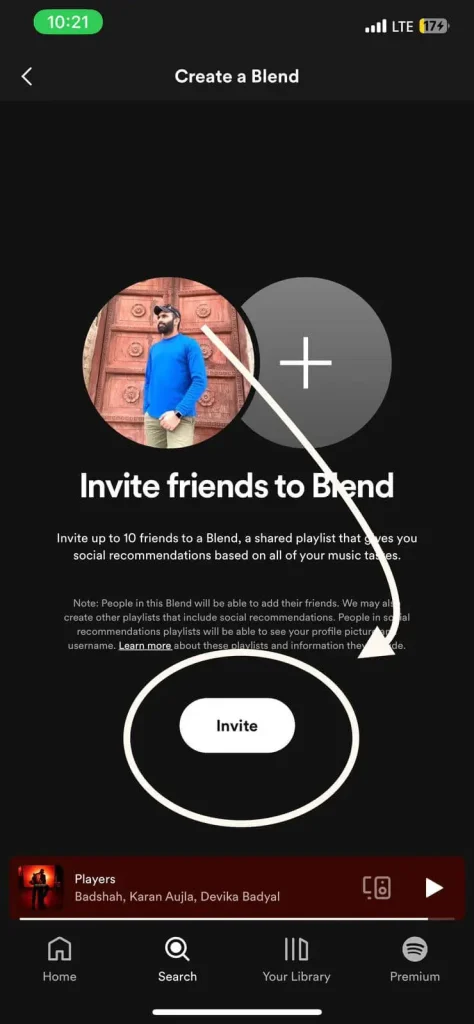 Step 5: Share the Invite Link:
Upon clicking 'Invite,' you'll receive a link that you can share. This link allows your friends and family to join your Spotify Blend.
That's how you can create a Spotify blend with ease. When you follow these steps, your blend and link of blend will be created, and each member of the blend will be provided with a Spotify blend card that they can use to use the blend. Also, they can use that card on Instagram, Facebook, Twitter, etc.
Method 2: Blending through "Made for You"
Step 1: Device Versatility:
Access Spotify from any device you prefer – be it your Iphone, Android, tablet, iPad or computer.
Step 2: Navigate to "Made for You":
On Spotify's interface, navigate to the search page and locate the "Made for You" section.
Step 3: Discover "Made for Us":
Within the "Made for You" section, you'll find "Made for Us." Click on this option to proceed.
Step 4: Create a New Blend:
Once in the "Made for Us" section, take the opportunity to create a new blend. This is where your musical journey takes shape.
Step 5: Share the Blend Link:
After crafting your blend, you'll be provided with a Spotify blend link. Share this link with your friends or family to spread the musical fusion you've curated.
Remember one thing: if you want to add any new members to the group, then the group's name will be changed accordingly. You'll find the blend in your "Made for You" section and under your Playlist library if you want to access the blend.
Creating a Spotify Blend With Your Favourite Artist:
I was blown away when I got to know that my Spotify blend also allows me to create my blend with my favourite artists, such as BTS, Thee Stallion, Mimi Web, and many others. Yes, you heard that right. But not all of the artists are on Shopify that you can create your blend with. Some artists do use Spotify, while others don't.
Some artists who even use this feature have basically yet to activate the Artist Pick Option on their Spotify. Thus, you'll only be able to create your blend with the following list, which is given by Spotify itself, for other artist see our guide on how to make Spotify Blend with Artist
Click on any of those artists' names that you want to create your Spotify blend with, and then follow the below-mentioned steps.
How to Make Spotify Blend with Artist:
Spotify Blend is a joy, but there could come a time when you long for your solo rhythm once more. Stepping away from a Spotify Blend is as simple as finding your favorite song. It's a breeze, and it opens up a world of musical exploration that's uniquely your own. In the upcoming part, we'll walk you through the easy-peasy steps to bid farewell to a Spotify Blend, giving you the freedom to dance to your own tune once again.
Follow these steps to make blend with your artists:
Step 1 : Access Spotify:
Start by opening Spotify using either your mobile phone or a web browser on your computer.
Step 2:cSearch for Your Favorite Artists:
Navigate to the search bar and find the profiles of your most beloved artists.
Step 3: Explore 'Artist's Pick' or 'Popular' Section:
Within the artist's profile, look for sections labeled 'Artist's Pick' or 'Popular.'
Step 4: Discover the Blend Invite Link:
In these sections, you'll come across a unique Spotify Blend invite link designed for the artist.
Step 5 : Click to Create a Blend:
Click on this link to initiate the creation of a harmonious Blend that seamlessly blends your musical taste with that of your favorite artist.
And there you have it – just a few simple steps, and you're back to your musical solo. It's like saying goodbye to a duet and embracing the spotlight on your own stage. So, enjoy your personal beats and rhythms as you continue your musical journey with Spotify!
FAQs:
Conclusion
Spotify Blend is a feature on Spotify that allows you to create a shared playlist with your friends. Spotify automatically creates a playlist based on the musical tastes of the people added to it. You can add up to 10 people to a single blend. Once a Playlist is created and you add any person to it, the name of the blend will be changed.