Spotify Blend Color Meaning 🎶🔍! All Info About colors of Taste Match 🎨✨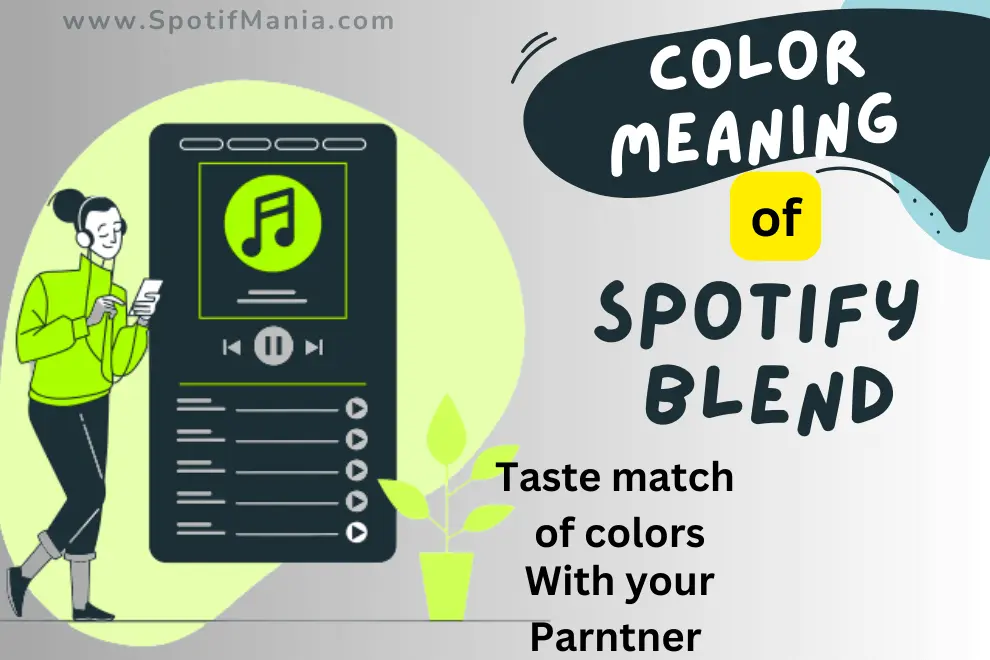 Spotify Blend is the best feature because it allows users to make a shared playlist with their friends. It helps the user discover new tastes in music every day based on the music tastes of all of the people added to the specific blend.
However, many people wonder about one thing: what does Spotify Blend Colour mean? What does colour have to do with Spotify blend, and what role does it play? You might be wondering about these questions.
Therefore, in this article, I'll be telling you about the Spotify blend color meaning and what each color does in the Spotify blend.
What's a Spotify Blend?
The Spotify Blend is an amazing feature that was launched in a beta version in June 2021. And it was officially launched on August 31, 2021. Spotify Blend allows Spotify users to make a shared playlist with up to 10 of their friends.
The songs in the lists are organized based on the playlist members' tastes to create a unique musical experience for all. The playlist is updated daily to help each member discover the new and best music they are interested in. Some user might facing issue regarding updating of Blend to fix Blending issue read our Guide
With the help of Spotify Blend, you never get bored as you get to listen to new music every time. However, some color dots are shown next to the songs you play in the Spotify blend. So What's Spotify's blend colors meaning? Let's find out.
What's Spotify Blend Colour Meaning?
You get to see a palette of different colours in Spotify blends in the form of dots next to the song you're listening to, and it leaves you wondering what those colours mean. Well, there is a colour palette on Spotify Blend that consists of a total of six colours.
And each colour presents different types of music and is shown as a dot next to the music you're listening to. The music types that these colours represent are energetic, valance, happy, and danceable. Let's discuss each colour in the Spotify blend and the type of music that it presents.
Red
If you can see red dots next to the songs you're listening to in your Spotify blend, you're listening to a piece of energetic and passionate music. Passionate music like Pop, rock, and electronic music are all included in the red colour.
Yellow
Yellow is The third colour you often see in your Spotify blend. So, what does that represent? It represents folk, country, and pop music. If you like listening to any of these types of music or any other sub-categorized type of these types of music, then don't wonder if you find a yellow dot next to the song.
Orange
If you're like me and like listening to positive and upbeat music, and you also listen to that in your Spotify playlist, then you'd see an orange dot next to the song. Because the orange colour in the Spotify blend represents upbeat and positive music such as Hip-hop, dance, and pop.
Purple
The purple colour palette offers a mix of lively and relaxed melodies. They strike a perfect balance between danceable rhythms and subdued energies. They're also full of emotional undertones, a mixture of catchy enthusiasm and contemplative musings. Find tracks that make you want to groove a little while also fostering quiet contemplation.
Green
Songs associated with a green colour palette tend to embrace a gentle, tranquil sound. They often incorporate acoustic guitars strumming softly, pianos playing tender melodies, and strings creating an atmosphere of serenity. Lyrics frequently revolve around themes of nature, love, or inner peace.
A few examples are Leonard Cohen's powerful "Hallelujah," John Lennon's introspective "Imagine," and Louis Armstrong's warm "What a Wonderful World." These compositions offer a sense of calm, like a verdant landscape.
Blue
A blue colour palette is associated with mellowness and subtlety in the songs. In this category, lyrics often explore themes of introspection, romance, and the profound aspects of life. Imagine acoustic guitars weaving delicate melodies, pianos gently painting the musical canvas, and strings adding layers of serenity.A few examples are Leonard Cohen's powerful "Hallelujah," John Lennon's introspective "Imagine," and Louis Armstrong's warm "What a Wonderful World." These compositions offer a sense of calm, like a verdant landscape.
Spotify blends colours and their meanings. I guess now you'd easily be able to point out what type of music you're currently listening to by looking at the colour of the dot. Isn't it? But do you know what the benefits of the Spotify blend colours are?
Benefits of Spotify Colour Blend:
Don't consider Spotify's colour blend a useful thing. They provide you with a lot of benefits from Spotify's colour blend. Let's take a look at each of them.
Using Primary Colours for Consistency:
By using vibrant colours like red, blue and yellow, Spotify keeps things simple. As a result, regardless of your navigation within the application, these colours seamlessly lead you without causing any confusion. They're consistent throughout the app, making it feel familiar.
Creating Order with Contrasting Colours:
You'll sort out what's important with this sharp contrast, so Spotify chooses colours intentionally. Like dark text on a light background, Spotify picks colours that aren't accidental. Using these contrasting colours, you'll find that perfect track in no time.
Adding Emotion with Accent Colors:
I love Spotify's bright and lively accent colours. They're like sprinkles on ice cream. They add a blast of excitement. They're often used for buttons or highlights. They're not just visually appealing, but they also make using the app more fun.
These are all of the benefits of using Spotify Blend colour pallets on Spotify. However, how will you get the Spotify colour blend palette on your Spotify? Let's find out.
How To Get A Spotify Blend Color Palette?
After learning about the colours and their meanings in the colour palette of the Spotify blend, many of you must be willing to learn how to get it on your Spotify. That's why I'm going to walk you through it.
Start by visiting the Spotify website.
Look around for the developer options section.
Inside that developer area, find where they keep the colour themes.
Choose the colour theme that tickles your fancy.
Once you've made your pick, give that download button a click.
That'll hand you a file – it's your special Spotify colour palette.
You're all set to put that palette to work in your projects or personal designs.
That's how you can get the Spotify blend colour palette on your Spotify. But what if you don't like the colour and want to change it?
Is It Even Possible To Change The Spotify Blend Colour?
Do you want to change the Spotify blend colors? Well, till now, Spotify Blend has not any color customizability feature.  The playlist's danceability, valence, and energy determine the colour. Spotify Blend's algorithm calculates these values, and you cannot change them manually.
However, you can create a new Blend playlist with different friends, creating a different colour scheme based on your shared songs. The type of music you listen to also affects the playlist's colour.
Upbeat tracks lean towards red and orange hues, while chill songs tend to give off green and blue vibes. In short, you can't directly change the colour, but you can influence it by curating your playlist differently and exploring various musical styles.
FAQs:
Conclusion
What's Spotify Blend's colour meaning? A colour palette on Spotify consists of six different colours: Red, blue, yellow, Green, orange, and purple. Different colours represent music types. 

Such a red colour represents a passionate and energetic type of music. And just like other colors, they also represent other types of music, such as energetic, happy, cheerful, and valance.