A complete information & solution to Spotify Blend Not Updating/Working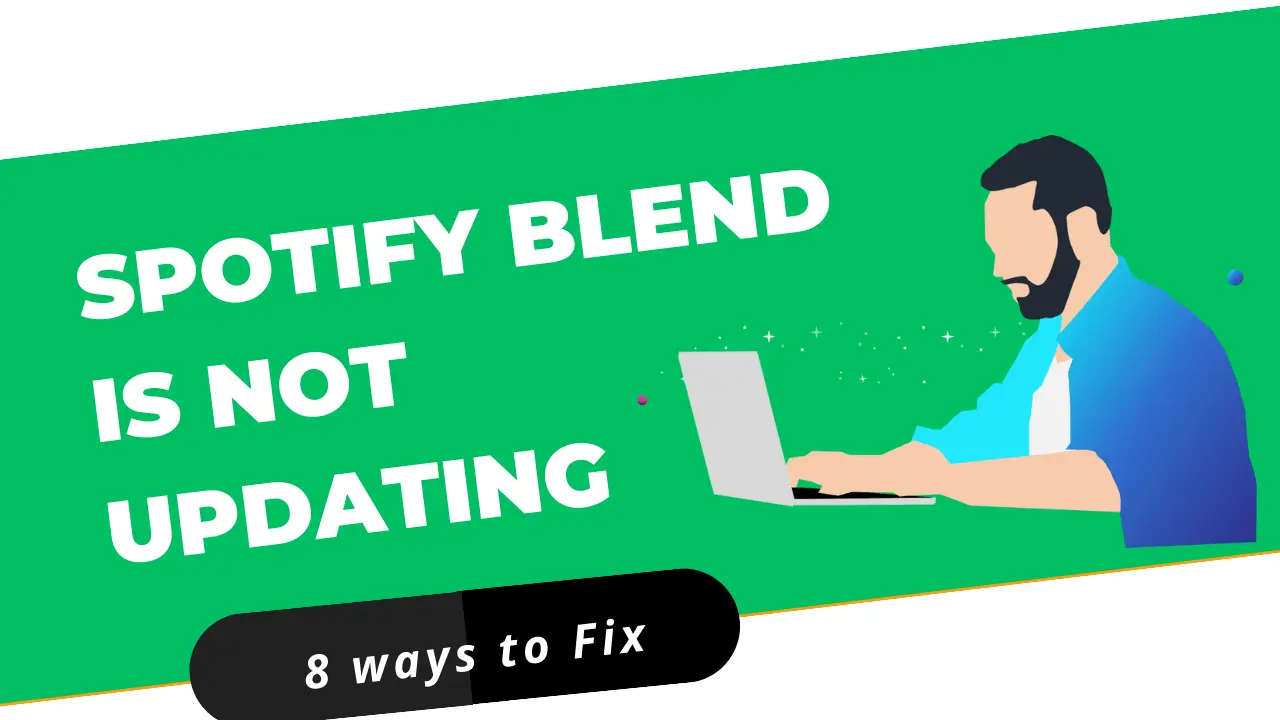 Spotify has made listening to music more fun. Now, you can create a shared Spotify blend with 10 of your friends or even the artists you like completely for free.
This feature of Spotify keeps updating your playlist every day so that you and your friend can get the best mix of music every day. However, sometimes you might have found Spotify Blend not updating issue.
Why isn't it getting updated? What's the reason? You're going to learn about all of that in this article.
Reasons Behind Spotify Blend Not Updating:
Why has your Spotify blend stopped getting updated? What may have stopped its updates despite Spotify's promise to update the blend daily? I know questions like these must be hitting your mind. Well, when your Spotify playlist doesn't update, it's because of the following reasons:
Lack of Listening to New Music:
As you know, in Spotify Blend, songs in your playlist are added based on your friends' and your music tastes. The type of music you listen to, old or new, gives the platform instructions on what type of songs your Spotify blend should have. If you keep listening to the same songs, Spotify won't know what new songs it should update in the playlist, and hence, it may not even update the blend.
Lack of Engagement:
Other than the type of music you listen to, Spotify also observes what songs you and your friends like and comments on. When you don't interact with the new music, it gives an indication to the Spotify blend algorithms that you're just okay with the existing songs, also, when you don't interact with other artists' songs and decide to stick to only some selective artists, that might also result in your Spotify blend playlist not getting updated.
Subtle Changes and Song Order:
If you keep listening to songs without making any adjustments or changes to the playlist, then it may also stop your Spotify playlist from getting updated. Spotify also keeps noting what changes you make to the playlist and in what order you adjust the songs, and then it updates the playlist accordingly.
These are all the reasons why your Spotify playlist might need to be getting updated. But now the question is: how do we solve this issue? Let's find out.
How To Solve Spotify Blend Not Working?
After knowing the reasons, we're now going to learn how to solve the Spotify Blend not working issue. There are many tway that you can follow to solve this issue. Let's get to the ways now.
1. Check your Internet Connection
I don't turn on my phone's internet connection when I'm listening to Spotify songs. I prefer using Spotify offline. If you're also like me, please ensure your internet connection is turned on because Spotify Blend is updated when the internet connection is available.
Since the updates are done on a daily basis, I highly suggest you turn on your phone's data every single day in the daytime so that if the update comes, it gets easily installed. Other than that, check if the internet connection is stable. If it's too slow, then it might also trouble Spotify in updating your Spotify blend.
2. Update Spotify App:
If you've been using your Spotify app without updating it, then it may be the issue causing Spotify to not update your blend. So, update your Spotify app right now by following the below-mentioned steps.
Open the Apple App Store or Google Play Store.
Search for Spotify and tap on the app.
To update Spotify, tap the Update button.
If you can't see any update button, it means, your Spotify app is already up to date.
3. Check If The Spotify Server Is Having any Issues:
A lot of times, the problem that causes Spotify blend to not update is with the Spotify servers, not with our internet connection or something else. So, make sure you check if the servers at Spotify are down. If they are down, wait until they get well. There is nothing else you can do.
However, how will you check if the Spotify servers are down? You can check them by following the below-mentioned steps:
Go to the DownDetector website.
Put Spotify in the search box.
Make sure Spotify's servers are functioning correctly by checking the results.
4. Restart the APP
Try Spotify Blend again after restarting your phone. It might update the next time you open Spotify. Power down your phone, leave it for a few seconds, then power it back up.
5. Clear the Spotify Cache:
Spotify's data is saved on your phone as a cache to maintain the speed of its system and to prevent user internet data loss. However, when the cache is created, the latest things usually reach the Spotify app late or sometimes don't even reach. Thus, make sure you clear the cache of your Spotify app to ensure that all of the updates are coming directly to the app.
Go To Spotify.
Click on the Settings icon.
Go to the Storage section on Android.
You'll also find it in the Storage section on iOS.
On Android, tap Delete Cache, and on iOS, tap Clear Cache.
Once you confirm, you'll be able to delete your cache.
If it doesn't update your app, you can trying doing it again.
6. Turn off the VPN:
As you all know, Spotify isn't available in all countries. Therefore, some people use VPNs to change their location to the country where Spotify is available so they can use it. That's a good way, though, but, if you've bought a premium subscription to Spotify, it will recognize your country with the payment method you used, whether you paid in dollars or euros, and then decide where you're located.
So, if you're using a VPN and have a paid subscription, the Spotify app won't update your app in any way. In fact, it may also stop you from using the app at all. So, ensure that you turn off the VPN before using the app.
7. Sign out & Sign in Again:
If updating the Spotify app didn't help you, try signing it out and then signing in to force the Spotify team to update your app. You can follow the below-given steps to sign out of Spotify.
Download Spotify and open it.
Click Settings.
You can log out by scrolling down to the bottom.
You'll have to tap Log Out again to confirm.
After some time, log in again to see if your Spotify Blend has been updated.
I have a vivid memory of a time when my cousin was caught in the grip of a maddening Spotify Blend issue. This confounding problem lingered for more than three aggravating weeks. Despite his best efforts to tackle the problem using the seven methods we had previously explored, the issue remained steadfast, an unwelcome companion casting a cloud of perplexity and disappointment over his music-sharing endeavors.
In a moment of realization, he turned to me for help, and I felt an unwavering determination to unravel this conundrum for him. It became my personal mission to find a solution that actually worked.
8. Try Creating A New Spotify Blend:
Because the blend will be new, updates will be frequent. But, then, ensure you interact with new music and listen to as many new songs as possible so that the Spotify team can update your blend in a better way and on a daily basis.
Open Spotify & go to the Search tab.
Type "Blend" in the search bar and tap "Blend genre".
In the "Made For Us" section, tap Create a Blend.
Tap Invite to create a Spotify Blend link so a friend can share the playlist with you.
Share the link with your friend and have them tap on it to join the Blend.
You'll see a new playlist called "Your Blend" in your playlists once your friend joins. It'll automatically update with new songs based on your listening habits.
FAQs:
Conclusion
Why is my Spotify Blend not updating? It happens because of lack of listening to new music, interaction with new music, a lack of engagement, initial recommendations and evolution, subtle changes, and song order. But now you know how you can fix this issue.