Top 10 Best Audiobooks on Spotify You Can't Miss! 🎧🔥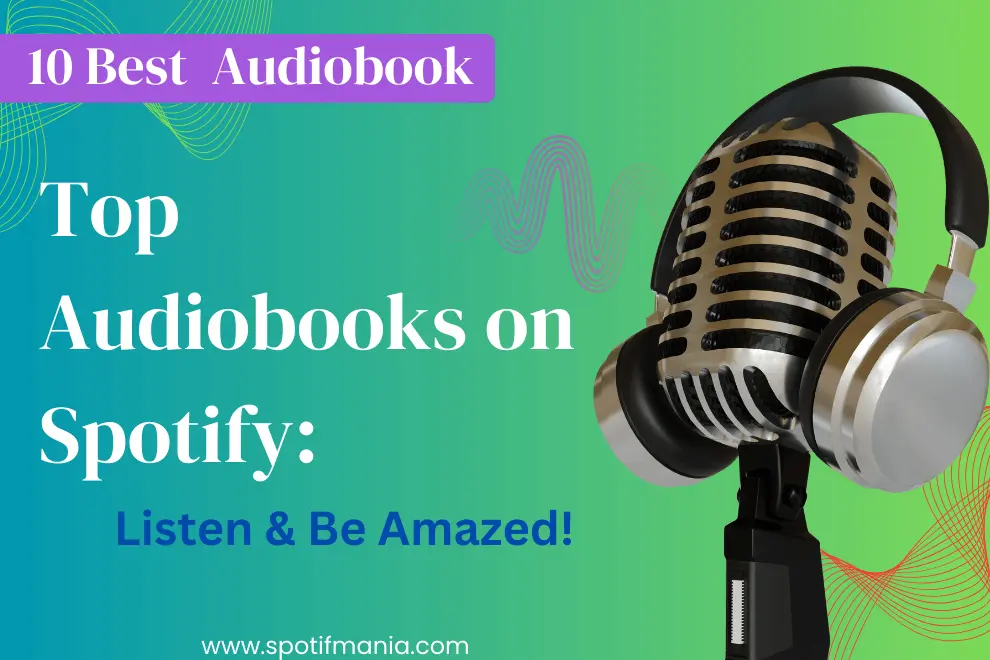 I am very excited to introduce you to the fantastic world of the best audiobooks on Spotify, as I have quite a vast variety of audiobooks in my collection, Fantasy Audiobooks, Business audiobooks When you have instant access to a wealth of exciting tales, you may lose yourself in a world of fantasy and adventure wherever you are, at home or on the road. Spotify has everything you could want, whether you're in the mood for swoony love story, a tense mystery, or a motivational autobiography.
If you want to see the impact of storytelling in a fresh light, as an expert I urge you to make use of this fantastic platform. Put on some headphones, settle in for a relaxing listen, and prepare to get swept away by the enchantment of the best audiobooks on Spotify.
List of Best Free Audiobooks on Spotify
1. Becoming
As an audiobook expert, I feel confident recommending Michelle Obama's "Becoming." From her childhood on the South Side of Chicago through her tenure as First Lady of the United States, Obama's life story is fascinatingly recounted in her biography. Listening to Obama talk openly and honestly about her struggles and successes is both uplifting and familiar.
Obama writes extensively about how her upbringing and experiences in school have informed her outlook on life and her career as a public servant. She hopes that her words will encourage readers to follow their passions and make a difference in the world.
The narration by Obama himself is what sets this audiobook apart. Her story is already compelling, but her warm and engaging voice adds another level of realism to it. "Becoming" is a must-listen audiobook for anyone interested in politics, self-improvement, or just a feel-good story.
2. The Harry Potter
The "Harry Potter" books by J.K. Rowling are fantastic. Harry Potter is a young orphan who, throughout the course of this well-known series of seven books, discovers that he is a wizard and goes on to attend Hogwarts School of Witchcraft and Wizardry. The stories draw readers into a fantastical world full of wonder and adventure with their detailed world-building, multifaceted characters, and evocative descriptions.
Rowling's skillful handling of the universal themes of love, friendship, and sacrifice is a major factor in the success of the Harry Potter series. Her stories fascinate readers of all ages with their vividness and originality.
Jim Dale's narration of the audiobook version brings Harry Potter's enchanted world to life and is a joy for fans of the series. Dale's narration is lively and enthusiastic, and he switches between people without losing any of their distinctive personalities or voices.
To a generation of readers and enthusiasts, "The Harry Potter" series is more than just a brilliant novel; it is a cultural phenomenon. The audiobook edition is a wonderful way to relive the enchantment of Harry Potter, whether you're a longtime fan or just discovering the series for the first time.
3. The Girl on the Train
The Girl in the Train by Paula Hawkins is an enjoyable series. Following Rachel, a disturbed woman who becomes engaged in a missing person's case that reveals dark truths about her and those close to her, the reader is taken on a thrilling trip in this suspenseful thriller.
The novel is well-written, and the complex plot will have you reading to the very end. Hawkins brilliantly interweaves many viewpoints and historical periods, increasing the story's depth and complexity while also heightening the reader's sense of unease and suspense.
The protagonist, Rachel, is complex and human because of her battles with addiction and her own issues. The story's supporting cast is just as well-realized as the protagonists, with their own secrets and goals revealed gradually throughout the narrative.
Clare Corbett, Louise Brealey, and India Fisher do an amazing job bringing the characters and plot to life in the audiobook edition. Each narrator does an excellent job of embodying their characters, giving their readings a great deal of nuance and feeling.
If you like suspense books, "The Girl on the Train" is a must-read. Excellent storytelling keeps the reader wondering right up to the satisfying conclusion. The audiobook is a great method to enjoy the story because of the excellent narrator, which amplifies the plot's tension and excitement.
4. The Alchemist
Paulo Coelho's "The Alchemist" is an excellent book. A young shepherd named Santiago sets out on a quest to fulfill his ambitions and learns profound truths about himself and the cosmos along the way in this uplifting fable.
The book is a literary classic, with a strong storyline supported by Coelho's exquisite prose and allegorical style. Santiago's travels are full of excitement and discovery as he meets interesting people and experiences new situations that push him to develop as a person.
Following one's dreams, appreciating the present moment, and realizing everything is connected are just a few of the book's timeless and universal themes. Coelho's message is uplifting and motivating; he encourages readers to give in to their deepest yearnings and go after them with everything they've got.
Jeremy Irons's performance as narrator in the audiobook version is riveting and brings the plot to life. Irons has a deep, resonant tone that effectively captures the book's tone and ideas.
5. The Handmaid's Tale
Margaret Atwood's The Handmaid's Tale is an excellent book. This dystopian tale depicts a harrowing future in which women have no say in politics or society and are instead used as breeding machines for the elite.
Offred, a handmaid, is the protagonist of this novel since she is the concubine of a powerful government official. Atwood's evocative and frightening descriptions of this harsh and terrible world leave the reader feeling frightened and hopeless long after they have put the book down.
Offred is unflinchingly determined to restore her freedom, despite the impossibilities and horrors that stand in her way.
The audiobook adaptation of "The Handmaid's Tale," told by Claire Danes, is an outstanding work of narration that vividly brings the story to life. Danes' narrator's voice is eerie and fascinating, effectively conveying the book's tone and putting the listener in the middle of a horrific nightmare.
6. The Hunger Games
The Hunger Games, Catching Fire, and Mockingjay are the three fantastic books that Suzanne Collins has written. In this thrilling dystopian novel, children are bred and reared to compete in a televised conflict event known as the Hunger Games, where they are forced to battle to death.
Katniss Everdeen, a young lady with a strong will and resourcefulness, is the story's protagonist. She offers to replace her younger sister for the Hunger Games. Katniss grows into a formidable and inspirational character by competing in the Games and then becoming a symbol of resistance against the repressive government that rules her planet.
Narrated by actress Carolyn McCormick, the audiobook adaptations of "The Hunger Games" series are excellent performances that do justice to the material. McCormick's narration does a fantastic job of conveying the drama and emotion of the novel, allowing listeners to quickly and easily enter the fictional country of Panem.
7. Born a Crime
Trevor Noah's "Born a Crime" is an excellent book. Comedian Trevor Noah, born to a mixed-race mother and a white father at a time when it was illegal to do so, provides a fresh and intimate viewpoint on apartheid in South Africa in his memoir.
Growing up poor and dealing with continual bigotry and abuse, as Noah does, is described in a way that is both tragic and uplifting. Noah discusses his story of perseverance and humor on the way to becoming a stand-up comedian and TV personality, despite the many obstacles he had to overcome along the way.
The audiobook "Born a Crime," read by the author, is a remarkable performance that does justice to the story's wit, poignancy, and complexity. The memoir gains a sense of genuineness and closeness from Noah's narration as if the reader were having a chat with the author.
8. 1984
The book "1984" by George Orwell is amazing. This timeless dystopian novel's warnings on the perils of dictatorship and centralized power are as timely as ever.
The novel takes place in a dystopian future where the government monitors and regulates every aspect of its residents' life. Winston Smith, the protagonist, is a member of the ruling party who is actually a secret rebel who longs for independence and individualism.
Orwell portrays a scary and repressive universe that is both terrifying and all too familiar through his descriptive words and compelling imagery. His investigation into the potency of language and truth is particularly pertinent in the current political climate, and his depiction of the government's use of propaganda, surveillance, and mind-control tactics is terrifying and thought-provoking.
The audiobook adaptation of "1984", narrated by the incomparable Simon Prebble, is a spellbinding performance that does the book justice. Prebble's performance captures the drama and pathos of the story, making for an exciting and memorable listen.
9. The Martian
Andy Weir's "The Martian" is an exciting work of science fiction about an astronaut named Mark Watney who is left behind on Mars when a space mission goes wrong. Mark is the only member of his crew still on the planet, therefore he must use everything he has learned and done to survive so far.
The novel is a compelling account of human fortitude in the face of insurmountable adversity, and Weir's meticulous descriptions of the science and technology involved in Mark's survival provide the story with an air of realism and credibility. Mark's sense of humor provides a welcome relief from the otherwise tense and suspenseful plot.
Fans of science fiction, adventure, and survival stories will like "The Martian" for its fresh and compelling take on the human spirit and its ability to persevere in the face of adversity.
10. The Nightingale
Two sisters, Vianne and Isabelle, are the focus of "The Nightingale," a novel by Kristin Hannah set in Nazi-occupied France during World War II. As the war separates them from their parents and siblings, the sisters must learn to navigate a world full of danger and fear.
In this heartfelt and compelling story, Hannah expertly interweaves ideas of love, family, sacrifice, and perseverance. Readers are taken back to a turbulent time in history and given insight into the bravery and strength of the French resistance warriors through the eyes of Vianne and Isabelle.
Readers of "The Nightingale" will experience a range of emotions, from sadness to inspiration, thanks to the novel's stunning prose and engaging plot. Hannah's vivid imagery and potent writing make for an engrossing read that sticks with you long after you've put down the book. Fans of literary fiction and family tragedies will enjoy this book just as much as those interested in WWII history.
How to Listen to Audiobooks on Spotify for Free?
Find below steps to find free Audiobooks on Spotify
Step 1: Open Spotify on a Mobile or Desktop App
Step 2: Go to Search Bar
Step 3: Enter the name of the audiobook or author name or simply type "audiobooks"
Step 4: Find your desired audiobook and click on it
FAQs:
Conclusion:
In the world of audiobooks on Spotify, listeners of all ages and interests can find a wealth of interesting and enjoyable material. There is plenty of literature from which to choose, whether you want to lose yourself in a page-turning novel or learn something new from an insightful non-fiction book. It's no surprise that Spotify has grown so popular among audiobook fans, with its convenient features like the ability to download books for offline listening, browse curated playlists, and discover new and popular titles. Put on your headphones, relax, and allow the greatest audio novels on Spotify to take you away to a new world via the magic of words and stories.