To 20 Best Business Audiobooks on Spotify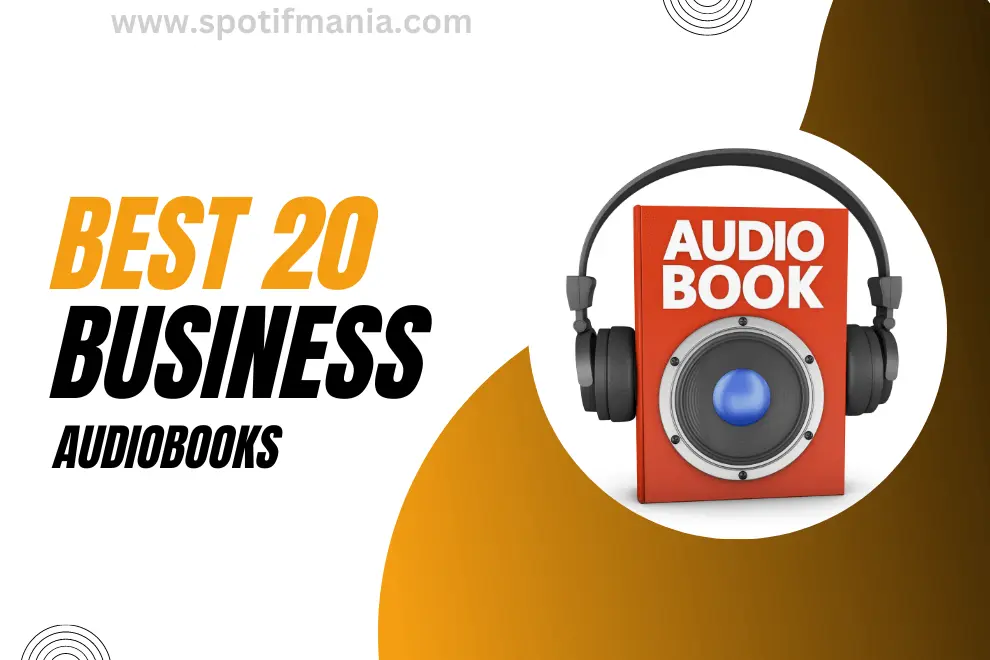 The Business Audiobooks on Spotify Can Help You Succeed! With our chosen choice of audiobooks on Spotify, you can immerse yourself in a world of information, motivation, and strategic thinking. Immerse yourself in the fascinating world of business by listening to these enlightening titles, which have been particularly selected to fire your entrepreneurial spirit and advance your career.
List of Best Business Audiobooks on Spotify
20 Best Business Audiobooks on Spotify
From ancient classics like 'Think and Grow Rich' to modern jewels like 'The Lean Startup,' we've curated a collection of the most influential business audiobooks available on Spotify. With our list, uncover the secrets of success, effective leadership, and creativity as shared by notable authors such as Napoleon Hill, Simon Sinek, and Malcolm Gladwell. Dive into real-life examples of triumph over adversity that will ignite inspiration within you, while experts like Robert Kiyosaki impart the art of financial wisdom. And if you're also interested in the realm of fantasy, we've got you covered with our handpicked selection of the best fantasy audiobooks.
1. Napoleon Hill's "Think and Grow Rich":
The self-help book "Think and Grow Rich" delves into success and money development principles. Napoleon Hill interviewed nearly 500 successful people, including Andrew Carnegie and Thomas Edison, to elicit similar characteristics and tactics. Hill emphasizes burning ambition, faith, and perseverance as critical success factors. He also proposes the concept of a "mastermind group," emphasizing the importance of surrounding oneself with like-minded people who can help and support one's aims.
2. Jim Collins's book "Good to Great":
"Good to Great" investigates the variables distinguishing successful businesses from mediocre competitors. Jim Collins and his research team conducted a thorough analysis examining many organizations' success across several decades. Disciplined leadership, a disciplined culture, a focus on employing the right people, and a dedication to continual development are among the fundamental traits identified in the book as contributing to long-term success. Collins emphasizes the necessity of identifying a company's distinct capabilities, dubbed the "Hedgehog Concept," and focusing all efforts on them. The book offers leaders practical insights and methods for transforming their organizations from good to great.
3. Eric Ries' "The Lean Startup":
"The Lean Startup" describes a way of creating and managing companies in an unpredictable and fast-changing environment. Eric Ries is a proponent of a scientific approach to entrepreneurship, emphasizing the value of quick experimentation, validated learning, and iterative development. The book delves into topics like the Minimum Viable Product (MVP) and the Build-Measure-Learn feedback cycle. Ries advises entrepreneurs to put learning ahead of traditional planning and embrace continual innovation. He emphasizes the importance of consumer input, making educated decisions utilizing data-driven insights, and modifying tactics based on real-world feedback.
4. Simon Sinek's "Start with Why":
"Start with Why" delves into the importance of purpose and the "why" behind personal and organizational success. According to Simon Sinek, successful leaders and organizations inspire action by beginning with a strong sense of purpose and effectively conveying it by emphasizing the "why" rather than the "what" or "how," leaders may instill meaning and inspire loyalty and commitment. The book emphasizes the importance of authentic leadership and presents numerous instances of great individuals and businesses that have embraced their "why" to achieve extraordinary results.
5. Norman Vincent Peale's "The Power of Positive Thinking":
Norman Vincent Peale promotes cultivating a good mindset and remaining optimistic in adversity. Peale teaches ways to reprogram negative thought patterns and build resilience. He also emphasizes faith and spirituality as sources of strength and motivation. Readers can improve their general well-being, strengthen relationships, and tap into their inner potential to achieve success by adopting a good mental attitude.
6. Michael E. Gerber's "The E-Myth Revisited":
"The E-Myth Revisited" debunks the myth of entrepreneurship and provides advice on how to start and run a successful small business. Gerber identifies major problems entrepreneurs face and provides a strategy for building a successful and sustainable firm. He presents the concept of the "entrepreneurial myth," which contends that most small business owners fail because they focus primarily on technical talents while failing to establish the essential systems and processes. The book emphasizes the significance of working on the business rather than in it, encouraging entrepreneurs to approach their endeavors strategically and methodically.
7. Timothy Ferriss' "The 4-Hour Workweek":
"The 4-Hour Workweek" questions conventional ideas about work and lifestyle design. Ferriss promotes lifestyle entrepreneurship, in which people use technology and automation to gain greater freedom and flexibility. The book provides ideas for task outsourcing and delegation, time and productivity optimization, and developing passive revenue streams. Ferriss invites readers to develop their own definitions of success and live a balanced lifestyle corresponding to their objectives and values. The book offers practical advice and resources for breaking free from the 9-to-5 grind and creating a life of greater freedom and fulfillment.
8. Ben Horowitz's "The Hard Thing About Hard Things":
"The Hard Thing About Hard Things" is an insightful and honest look at the challenges of starting and running a business. Ben Horowitz, a renowned businessman and venture capitalist, shares the wisdom he has gained through his trials and tribulations. The book dives into handling uncertainty, dealing with hardship, team building and leadership, and maintaining a good organizational culture. As a leader, Horowitz emphasizes the value of tenacity, resilience, and accepting responsibility. It offers practical guidance and real-world experience relevant to entrepreneurs and executives dealing with the complexities and uncertainties of business.
9. Clayton M. Christensen's "The Innovator's Dilemma":
Clayton Christensen defines disruptive technology and explains how it can disrupt existing markets and industries. The book addresses the difficulty that successful organizations face when focusing on sustaining innovation while failing to adapt to disruptive changes. Christensen offers ideas and case examples to assist organizations in understanding and navigating this quandary. He emphasizes the significance of being open to disruptive opportunities, investing in emerging technology, and creating independent divisions or subsidiaries to foster creativity unrestricted by existing processes and structures.
10. Malcolm Gladwell's "The Tipping Point" 
"The Tipping Point" investigates the elements contributing to the rapid spread of ideas, trends, and behaviors. Malcolm Gladwell investigates the concept of the tipping point, or the point at which a tiny change or event has a huge and often unexpected consequence. The book delves into the roles of connectors (people with wide networks), mavens (knowledgeable people who share information), and salesmen (persuasive communicators) in reaching a tipping point. Gladwell examines real-world examples and case studies to show how social epidemics emerge and how individuals and organizations may use this knowledge to effect change and affect results.
11. Malcolm Gladwell, "Outliers":
"Outliers" delves into the characteristics contributing to exceptional success and performance. Malcolm Gladwell questions the idea that individual talent and hard work are the only drivers of success, instead emphasizing the importance of environmental factors such as cultural background, timing, and chances. The book dives into the "10,000-hour rule," which suggests that proficiency in any profession necessitates extensive practice and intentional effort. Gladwell uses engaging examples and case studies to show how circumstances such as birth date, cultural legacy, and community support can substantially impact one's chances of achieving extraordinary success.
12. Charles Duhigg's "The Power of Habit":
"The Power of Habit" dives into the science of habits and how they affect individual and organizational behavior. Charles Duhigg investigates habit formation and transformation, exposing the neurobiological patterns and psychological mechanisms that underpin habitual behavior. The book emphasizes the importance of habit loops and the roles of cues, routines, and incentives in behavior modification. Duhigg offers practical ideas and tactics for using the power of habits to boost productivity, personal development, and organizational performance. He also delves into keystone habits and how changing a single important habit can result in broader good changes in many facets of life.
13. Stephen R. Covey's "The 7 Habits of Highly Effective People":
"The 7 Habits of Highly Effective People" takes a comprehensive approach to personal and professional success. Stephen R. Covey presents a framework emphasizing principles-centered life and proactive behavior.  Covey emphasizes the need for character development, integrity, and collaboration as key success factors. The book offers readers practical advice on time management, communication skills, and developing healthy relationships, allowing them to connect their actions with their ideals and attain personal and professional fulfillment.
14. Sun Tzu's "The Art of War":
"The Art of War" is a timeless classic that examines military and competitive success ideas and tactics. Although Sun Tzu's concepts were originally centered on a battle, they have been applied to various sectors, including business and leadership. The book emphasizes the significance of meticulous preparation, strategic thinking, and understanding conflict dynamics. Sun Tzu emphasizes principles like knowing oneself and one's adversary, using deception and adjusting to changing circumstances.
15. Robert Kiyosaki's book "Rich Dad, Poor Dad":
"Rich Dad, Poor Dad" questions commonly held notions about wealth and financial success. Robert Kiyosaki discusses his personal experiences and the lessons he received from his two fathers: one who was well educated but suffered financially (poor dad) and another who possessed financial intelligence (rich dad). Kiyosaki emphasizes the significance of investing, earning passive income, and creating assets to achieve financial independence. The book encourages readers to change their thinking from employee to entrepreneur or investor.
16. Thomas J. Stanley's "Millionaire Next Door":
"The Millionaire Next Door" debunks prevalent wealth myths and shows the behaviors and characteristics of self-made millionaires. Thomas J. Stanley did considerable research to discover the common characteristics and behaviors of wealthy people. The significance of austerity, disciplined saving, and living below one's means is emphasized in the book. Stanley stresses the importance of hard effort, financial independence, and long-term planning. He offers practical wealth-building concepts and tactics, such as the importance of entrepreneurship, intelligent investing selections, and creating a strong work ethic. The book is intended to guide anyone who wants to attain financial success by adopting the mindset and behaviors of self-made billionaires.
17. Timothy Ferriss' "The 4-Hour Body":
"The 4-Hour Body" delves into unusual health, fitness, and enhancement techniques. Timothy Ferriss presents a variety of tactics, approaches, and experiments to improve readers' physical performance, body composition, and overall well-being. Nutrition, exercise, sleep, and sexual performance are among the themes covered in the book. Ferriss questions conventional fitness beliefs and offers alternate approaches for achieving desired results more effectively. He places a premium on self-experimentation, data tracking, and optimization. "The 4-Hour Body" allows individuals to alter their bodies and optimize their health without using traditional, time-consuming approaches with practical information and actionable ideas.
18. Jeff Olson's "The Slight Edge":
"The Slight Edge" delves into the importance of everyday decisions and minor acts in achieving long-term success. Jeff Olson introduces the concept of the subtle edge, which relates to the compounding effect of consistent, favorable habits over time. Personal development, goal-setting, and tenacity are all emphasized in the book. Olson demonstrates how seemingly little choices and behaviors taken consistently can lead to major outcomes. He emphasizes accepting responsibility for one's life and making small, positive choices daily to establish a positive trajectory. "The Slight Edge" provides readers with practical tactics and insights to help them establish empowered habits and mindsets that will enable them to achieve personal and professional success.
19. Darren Hardy's "The Compound Effect":
"The Compound Effect" delves into the power of little, consistent activities to effect big and long-term change. Darren Hardy emphasizes the long-term impact of daily decisions and habits. The book emphasizes the significance of making deliberate decisions that match long-term goals and ideals. Hardy offers practical advice on various topics, such as personal development, relationships, health, and finances. He advises readers to keep a long-term perspective, practice self-discipline, and regularly act toward their goals. Readers can accomplish exceptional results by harnessing the power of the compound effect and making gradual improvements in their lives.
20. Bob Burg and John David Mann's "The Go-Giver":
"The Go-Giver" is a strong story emphasizing the need to give, create value, and develop meaningful relationships to succeed. Bob Burg and John David Mann recount the narrative of Joe, a young professional who learns crucial lessons from Pindar, a successful businessman. "The Go-Giver" questions the standard definition of success as simply focused on self-interest and emphasizes the power of a giving mindset. It emphasizes serving others, adding value, and establishing trust. The book provides ideas and strategies for transforming personal and professional relationships and achieving long-term success.
Conclusion
Our chosen collection of business audiobooks on Spotify opens up a world of important knowledge, motivation, and success tactics. Whether you want to improve your entrepreneurial skills, become a better leader, or learn about personal development, these audiobooks provide a wealth of knowledge from renowned authors and specialists. You can shift your attitude, fuel your passion, and push your professional success by immersing yourself in these engaging storylines. Accept the ease of audio and allow these business audiobooks on Spotify to accompany you on your path to success. Empower yourself with the knowledge, techniques, and insights each audiobook presents to pave the way for a more prosperous and happier future.