How to Fix Spotify No Internet Connection Error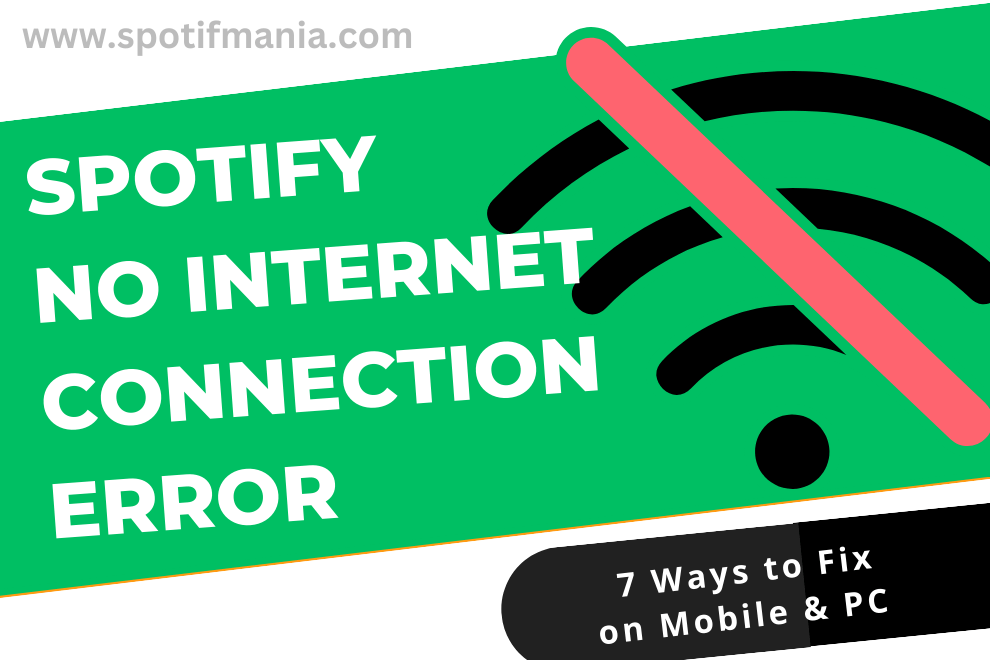 How often has the phrase "No Internet Connection Available" appeared when you were in the middle of a Spotify playlist? It's annoying and can make you feel cut off from your music collection. However, there is no need to panic; this typical problem can be fixed and you may go back to jamming in no time. So, let's dive into Spotify and find out how to stop Spotify no internet connection error.
How to stop Spotify no internet connection error on android/IPhone
No Internet Connection
The first step is to activate Wi-Fi or mobile data on your device and ensure that it can connect to the internet. If you are experiencing this issue, it is recommended that you verify that your internet connection is both robust and stable.
Force the Spotify app and Restart
The Spotify app's inability to connect to the internet could be the result of a momentary problem. You can try to fix the problem by closing the app and opening it again. On Android, you may close Spotify by swiping up from the bottom of the screen, and then Force to stop by following easy steps
Find Spotify app.
Long-press icon.
Tap 'i' or "App info."
Press "Force stop".
Enable Offline Mode in Spotify App
if you are facing Internet error on your Apple, Samsung or any other device make sure you are using Spotify with enable offline mode to check offline mode follow these steps
Open Spotify app.
Tap Home or Your Library.
Tap Settings (gear icon).
Scroll down to Playback.
Toggle Offline Mode on/off.
Get rid of app's cache:
If the problem persists, it could be due to cached data or corrupted files. your issue on Spotify may be fix to delete the temporary files with these easy steps.
Select 'Apps & Application" from your phone settings to Delete app Data
Choose Spotify from available option
Select "Storage & Cache"
Select Clear Cache
Inspect the power-saving options:
Certain Android smartphones feature battery saver modes that can reduce the power some apps use. This occasionally prevents the Spotify app from establishing a network connection. Make sure that Spotify is not disabled by any battery saver options by going to "Battery" in your phone's settings. Turning off power saving mode is one possible solution to this problem.
Disable VPN and proxy:
Spotify's ability to connect to the internet may be hindered by the use of a VPN or proxy server on your Android smartphone. In order to determine if removing your VPN or proxy settings is the cause of the issue, try doing so.
If you have already attempted these steps and they have not worked, you can uninstall and reinstall Spotify or contact Spotify's support staff for further assistance.
How to stop Spotify no internet connection error on PC or Mac
Experiencing the "No Internet Connection" error on Spotify can be frustrating, especially when you're eager to enjoy your favorite tracks. Worries not, as we've compiled a list of seven effective solutions to help you resolve this issue on your PC or Mac. With these handy tips, you'll be back to seamless music streaming in no time. If you're also facing issues with playback restrictions, don't forget to check out our guide on how to fix Spotify Playback Restricted problems.
Verify your connection to the Internet:
Verify that your laptop, desktop computer or Mac has a stable internet connection (either Wi-Fi or an Ethernet cable) and that it can access the internet. To achieve this, open an application that communicates with the internet, like a web browser. Try power cycling your modem or router if you're experiencing intermittent or weak connectivity.
Remove all app data:
The "no internet connection" problem in the Spotify app can occasionally be resolved by clearing the app's cache in your Spotify Desktop. To begin editing,
Open Spotify
click on three dots in the top left corner
Select Edit from available list
Select preferences
Scroll down and stop at Storage
Select "Clear Cache" to get rid of any data that could be source of issue
Restart Spotify's application
Right-click the Spotify icon in the system tray, then pick "Quit" from the menu that appears. Then try opening the app again to see if the problem still exists. If Spotify still won't launch, try restarting your computer.
Verify your firewall configurations:
The Spotify might not be able to connect to the internet on your computer because of the firewall. To fix this Issue Follow these easy steps
search & open control Panel in search bar at the bottom of your laptop
Click on "windows Defender Firewall"
Click on the "Allow an App" from the left side of screen
A pop up will appear find the Spotify and Check the Spotify Box
Then Apply change setting and press "Ok" to close the popup
Change your DNS Setting
Changing DNS settings can sometimes help resolve internet connection issues with apps like Spotify. To change your DNS settings on a Windows system, follow these steps:
Open Control Panel.
Click Network and Sharing Center.
Select Change Adapter Settings.
Right-click active Network Adapter, choose Properties.
Click Internet Protocol version 4(TCP/IPv4), select Properties.
Choose Use the following DNS server addresses.
Enter 8.8.8.8 (Preferred) and 8.8.4.4 (Alternate) DNS servers.
Click OK and test Spotify connection.
Spotify app update:
Make sure you're using the most up-to-date version of the Spotify app by downloading it from the Spotify website. If you want to see if there are any updates available from within the app, tap the menu button (three dots) in the upper left corner.
Turn off VPN and proxy settings:
Spotify's internet connectivity may be disrupted by a virtual private network (VPN) or proxy server that you have installed on your computer. In order to determine if removing your VPN or proxy settings is the cause of the issue, try doing so. Disabling your computer's VPN and proxy settings will accomplish this.
FAQs;
Conclusion:
It's annoying when the Spotify app says "No internet connection," but there are a few things you can do to solve, how to stop Spotify no internet connection error. You can try deleting the app's cache, checking your internet connection, restarting the programme, or updating the app to see if that helps. If you've tried everything below and you're still having trouble, reach out to Spotify's customer service.