Unveiling the 5 Coolest Spotify Easter Eggs: Hidden Gems for Music Lovers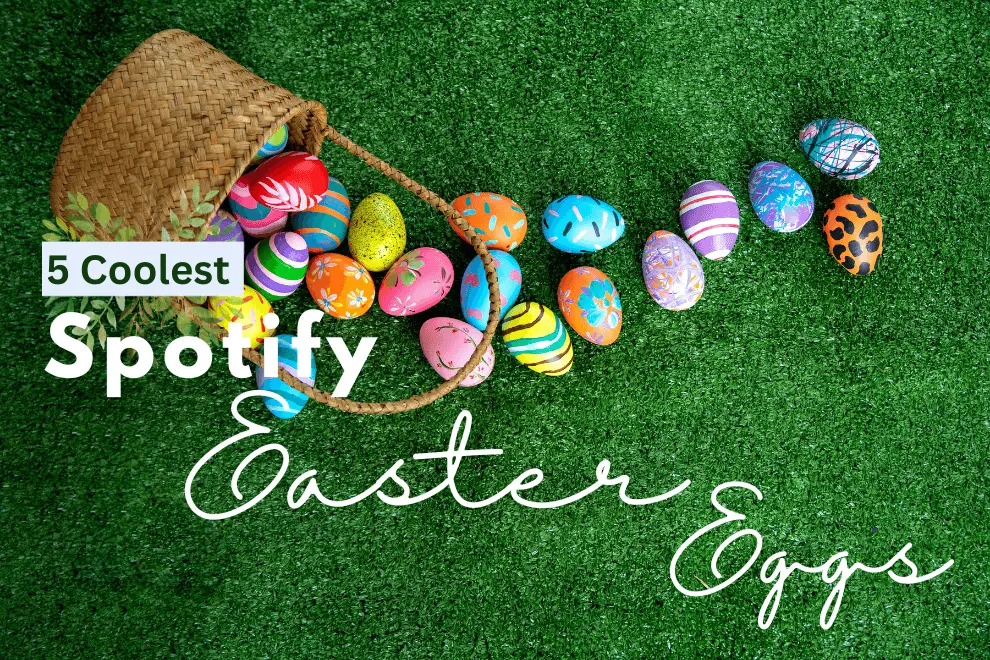 Have you ever heard of "Easter eggs" in music? They're like little secrets hidden within songs or music platforms that you might not know exist. Spotify may look like a music streaming platform but it has some hidden features for its users. Aside from hidden features and updates, Spotify offers Easter eggs for users' amusement. There are only five Spotify Easter eggs in past years .
Spotify Easter Eggs
Instant Answer:
Star Wars Easter Egs
Winter Christmas Easter Egg
Stranger Thing Easter Egg
Pride Easter Egg
Nyan Cat Easter Egg
What are Easter Eggs in music streaming platforms?
Easter eggs refer to hidden features, messages, or surprises intentionally embedded within the software. As they are hidden in plain sight, it's like an element of surprise for the users. They pop up through exploration or experimentation keeping the user engaged. Easter eggs can take various forms, such as secret commands, hidden games, interactive elements, or exclusive content. People look forward to easter eggs on music platforms like Spotify. They add an element of delight and discovery, it's like seeking out hidden gems within the platform.
In the context of music platforms like Spotify, Easter eggs have gained popularity. Users are always on the edge for the possibility of discovering something extraordinary. It's akin to a treasure hunt, where users actively seek out and explore the platform in hopes of stumbling upon these hidden surprises. Discovering an Easter egg on Spotify can lead to finding unreleased tracks and rare recordings. Additionally, it can provide personalized music recommendations.
List Of 5 Easter Eggs On Spotify
Spotify hasn't updated many Easter eggs but the under-mentioned are all it has shown in previous years. Out of all, you can only try Star War Easter Egg on desktop Spotify. That is because Spotify has removed all others and they come only for a specific period.
1. Star Wars Easter Egg
As you know Star Wars have taken the Internet by storm, and Spotify has given a hidden trick for fans. In this, the Star Wars soundtrack progress bar changes to three different lightsaber designs. You can activate it even today by playing songs from the Star Wars playlist. There was another fun code "THX1138" for a small period. It allowed the lightsaber feature to be enabled on any playlist. Star Wars soundtrack still has this function. Try it today on your Desktop Spotify!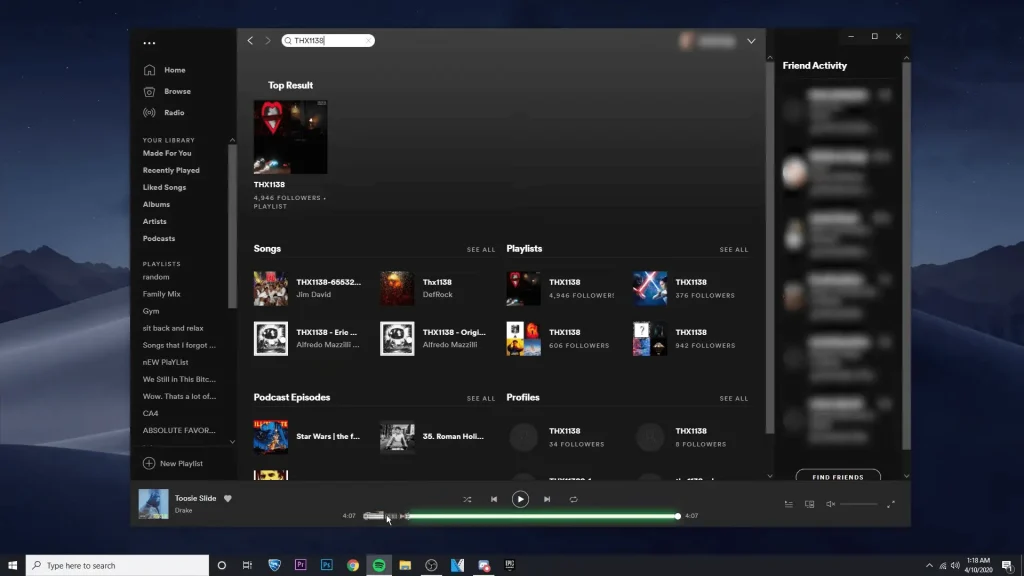 2. Winter Christmas Easter Egg
The Winter Christmas Spotify Easter Egg induced the festive vibe onto your Spotify screen. What happened was that the progress bar of any Christmas song turned into a candy cane. Along with that, the snowflakes drifted down on your screen. Not many people on the internet seemed to have stumbled upon it, so it's no longer available.
3. Stranger Things Mode
The Netflix TV show Stranger Things has separate playlists on Spotify. For a short period, Spotify had Stranger Things mode. It isn't available anymore but the Flashlights scene from Upside Down came popping while you listened to music without touching the screen. It went away in a split second but it was a spine-tingling surprise on Spotify.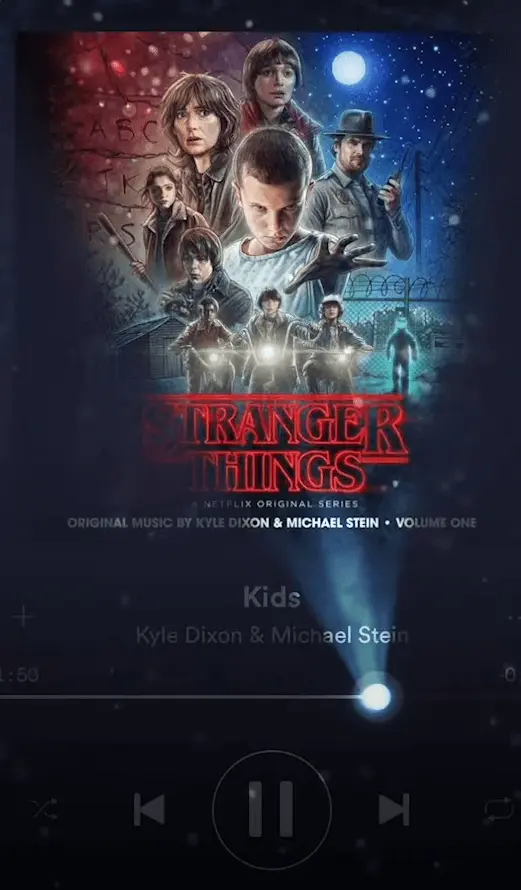 4. Pride Easter Egg
In the Star War Easter Egg, the lightsaber progress bar showed up. Similarly, by playing the "Pride Classics" playlist on Spotify, a rainbow slider showed up. It even had different Pride logos displayed. Sadly, the rainbow volume slider Easter egg is no longer available on Spotify. However, there's always a chance that similar surprises may make a comeback in the future.
5. Nyan Cat Easter Egg
Listening to the Nyan Cat song on Spotify enabled the Nyan Cat-themed progress bar. This shot-lived Easter egg is no more present but maybe similar Spotify Easter eggs will come in the future.
Importance of Spotify Easter Eggs
Spotify's past endeavors in the realm of Easter eggs seem to be limited. But we can hope that Spotify will invest more effort in crafting Easter eggs in the near future. Keep your eyes open when using Spotify to be the first to find a hidden gem in it. That being said, here are some purposes of Easter eggs in Spotify:
Fun discoveries for users
Positive surprises induce dopamine in our brains which makes the users delighted. These hidden Easter eggs make Spotify fun and increase the sense of enjoyment for the users.
Genre-specific easter eggs
Imagine having an Easter egg that has a reference to your favorite TV show! These kinds of surprises add a layer of personalization and engagement to the platform. For example, the Spotify Stranger Things Easter egg.
Event-related easter eggs
A vibrant festival mood during an event like Christmas, Holi, Eid, or Easter requires a specific Easter egg for celebration. The moments during this festive period can be associated with platforms for memorable experiences.
We humans are social and we live through social interaction or through a sense of community. Easter eggs can generate buzz and excitement among Spotify users. People can share their discoveries on social media or discuss them with friends.
Having an attachment with an app is the best way to keep users. Spotify can enhance user loyalty and strengthen its relationship with its audience. By using Easter eggs, Spotify ensures a users-base that is loyal.
Lastly, the best part about Easter Eggs is that they set Spotify apart from other music streaming platforms. We all love elements of surprise, creativity, and exploration. Through an enhanced user experience, we are left wanting more and eagerly staying tuned with high expectations.
FAQs:
Conclusion
All in all, Spotify is a music streaming platform that also provides Easter eggs and cool hacks to enhance the user's experience. Although there are only a few Easter eggs available, they offer a fun surprise for users who stumble upon them. In the future, we can see more easter eggs as Spotify can enrich the user experience through them. Also, Spotify Easter Eggs foster engagement and create a more memorable music streaming service. Make sure to try out the Star Wars Easter Egg on your desktop version of Spotify and stay tuned for more!