How to Fix Spotify Group Session Not Working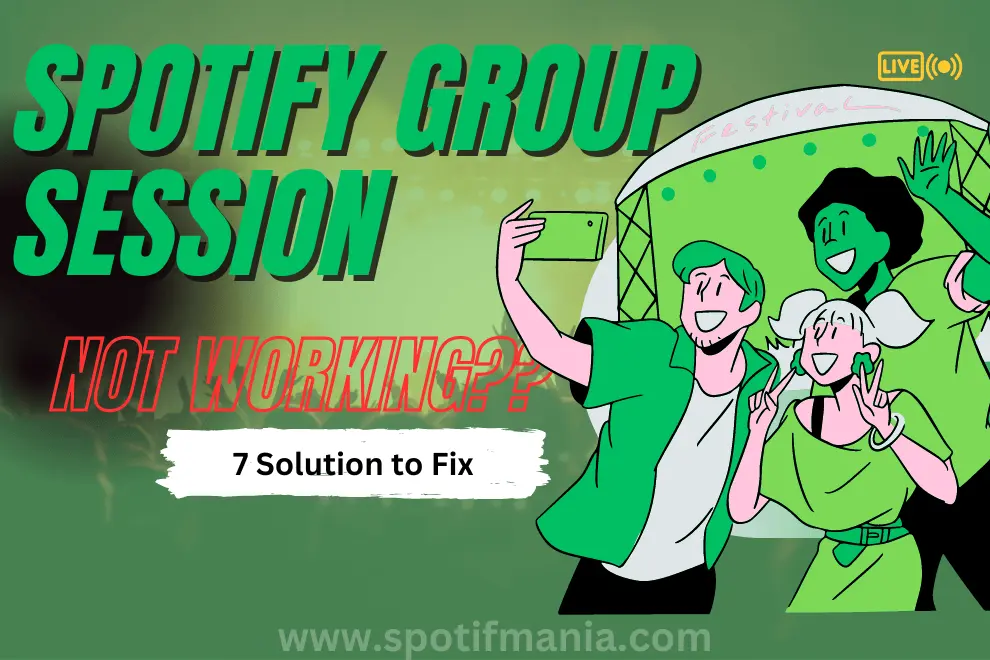 Imagine: You and your friends can't wait to use Spotify together, but when you open the app, nothing seems to work. If your Spotify group session not working, don't fret; this article will show you how to get it up and running again in no time. If your Spotify group session is interrupted by a technical problem or a network outage, don't worry; we've got you covered with easy fixes. Let's dive in right now!
What is Spotify Group Session?
Spotify Group Session is a function that enables people in different locations to share the same music or podcast in real time to start listening party with friends. It's a great way to have a group listen to music together, as everyone may pause and skip songs at any time.
The host of a Group Session must be a Spotify Premium subscriber and may invite up to four additional Premium subscribers to listen in. To invite others to participate in the session, the host creates a unique link or code that can be distributed digitally. After everyone is linked up, they can start loading up the queue with songs, playlists, or podcasts, and anyone in the session can start and stop the music.
With Group Sessions, you and your loved ones can share a common listening experience, no matter where in the world you may be. It's a great way to talk about music with friends while exploring new sounds and artists.
Why is Spotify Group Session Not Working
There are a few things you can try if Spotify Group Session not working for you:
Make sure everyone has access to Spotify Premium
The presenter and all participants in a Spotify Group Session must have a Spotify Premium subscription in order to use the feature. No one in the group will be allowed to participate in the session unless they have a Premium membership. Look for the Premium logo next to a user's name in the Spotify app to see if they have a Premium subscription.
Verify that you can connect to the web
A constant internet connection is necessary for the smooth operation of Spotify Group Session. The Group Session may not function properly if your internet connection or anyone else's in the group is slow. Be sure your wireless or cellular data connection is reliable. For those experiencing issues with their internet connection, consider exploring solutions to fix Spotify Internet Connection problems to ensure a seamless Group Session experience.
Start Spotify again
Try shutting the Spotify app entirely and then reloading it if the Group Session isn't functioning. If the app is experiencing any temporary problems, this should fix them. If you're using an iPhone or iPad, swipe up from the bottom to exit Spotify. To close Spotify on Android, tap the app switcher and swipe it to the left.
Clear Spotify cache
If you're having trouble with Group Session on Spotify, clearing the app's cache may help. On Android, tap the Menu button, then Settings, then Applications, then Spotify, then Storage, then Clear Cache. Go to General -> iPhone Storage -> Spotify -> Offload App in iOS. When you do this, the programme will purge any cached data and start again with new information the next time you launch it.
Listen Along Discord
When Spotify Group Sessions hit a snag, worry not! Discord's got your back with its awesome "Listen Along" feature. Connect your Spotify account and groove to the same beats with your friends. It's the perfect way to stay in sync and keep the music party going strong, no matter the distance. Let the good vibes flow on Discord Listen Along.
Try another device
Attempt joining or hosting the Group Session from a different device to see if it helps. You can use this to narrow down the problem to a specific gadget or to the Spotify app or service as a whole. If you are able to run Group Session on another device, it suggests that the issue is with the first device.
Updating Spotify
If you want to listen to music on your mobile device, you should have the most recent version of the Spotify app. Group sessions may not function properly with your current software. You can look for the Spotify app in the iTunes Store or the Google Play Store to see if there are any updates. Restart Group Session after installing any available updates.
Spotify Support
If you've tried the aforementioned steps and are still having trouble, you can always get in touch with Spotify's support team. They might be able to advise you on how to proceed with troubleshooting. Spotify has a "Contact Us" option at the bottom of their website for users to use to get in touch with customer service. Start a live chat with a Spotify agent or send a support ticket from that page.
FAQs
Conclusion
If you have Spotify Premium, you can invite up to seven of your friends on Spotify to listen to the same music or podcast at the same time, regardless of where they are located. It allows multiple users to participate in a single listening session, with each user having the ability to control playback and add items to the queue. If Group Session isn't functioning for you, try switching to a new device, verifying your internet connection, restarting the Spotify app, emptying the app cache, or upgrading the app.
If the problem persists, please contact Spotify's customer service. I think you'll agree that Group Session is a fantastic addition that greatly improves the social experience of listening to music and makes it more fun to show off your taste in music and podcasts to your friends and family.