Fix your Spotify Stops Playing When Screen is off Iphone?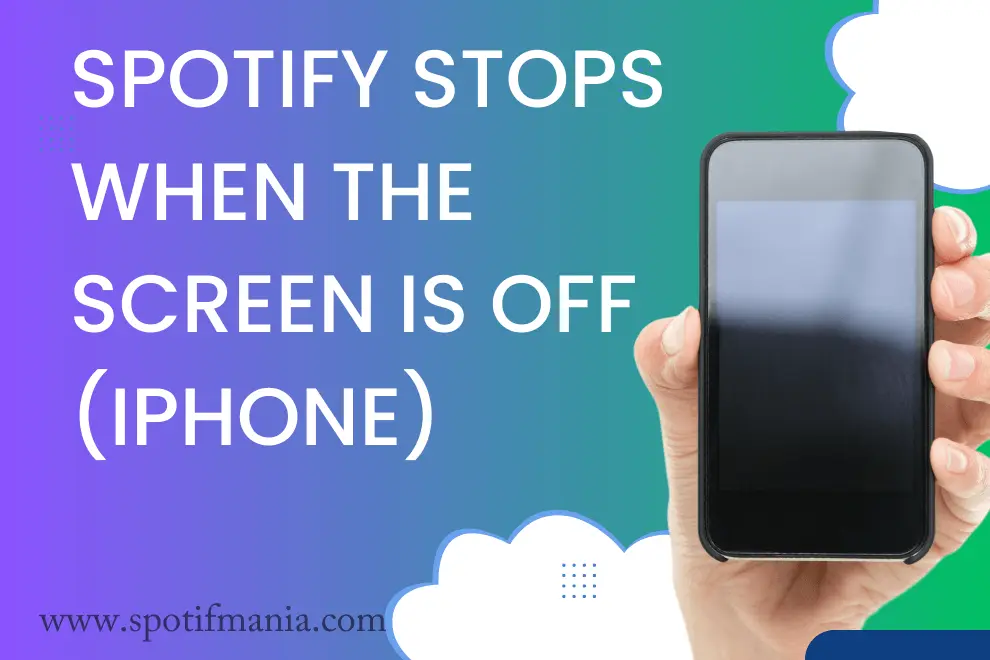 If you're an avid Spotify user on your iPhone, you may have encountered an issue where the music stops playing when your phone's screen turns off or goes into sleep mode. While listening to Spotify music in May 2023, I had this problem that kept irritating me. Why does Spotify stop playing when my screen turns off on my iPhone? I asked a couple of friends but they were looking for a solution to the same problem.
Yes, this can be frustrating, especially if you're in the middle of a long playlist or trying to enjoy your favorite album. Fortunately, I found out that it was by opening the settings in my iPhone, and in general settings I turned on the background app refresh button. And you know what, it was solved.
Spotify Turns off When Iphone Locks?
if you Your are finding how to keep Spotify playing when iphone is locked Luckily there are several tips and tricks after.
Instant Answer:
if your Spotify stops playing when screen is off on Iphone try these solutions:
Disable Low Power Mode.
Disable Battery Optimization for Spotify.
Turn off Auto-Lock or set it to "Never."
Enable Background App Refresh for Spotify.
Use Offline Mode to download songs and playlists.
Update your Spotify app.
Check for software updates for your iPhone.
Restart your iPhone.
Why Spotify stops playing when screen is off on Iphone?
Before we dive into the solutions, let's take a moment to understand why Spotify turning off when iphone locks. When your Phone's screen goes black, it enters a low-power mode to conserve battery life. This mode can interfere with some apps' ability to run in the background, including Spotify. As a result, when your phone goes into sleep mode, Spotify may stop playing.
Solutions to Fix Spotify Stopping When the Screen is Off on iPhone
1. Disable Low Power Mode
When your Spotify stops playing when screen is off, the first solution is to disable the low-power mode on your iPhone. Low Power Mode is a feature that reduces power consumption by disabling certain features and limiting performance. This mode can interfere with Spotify's ability to run in the background. Here's how to disable Low Power Mode:
Go to Settings.
Tap on Battery.
Toggle off Low Power Mode.
2. Disable Battery Optimization
iOS 13 and later versions introduced a new feature called "Optimized Battery Charging." This feature learns from your daily charging routine so that it can wait to finish charging past 80% until you need to use your iPhone. However, this feature can interfere with Spotify's ability to run in the background. So, this might be reason to why Spotify stops playing when screen is off iphone. To disable battery optimization for Spotify, follow these steps:
Go to Settings.
Tap on Battery.
Scroll down to "Battery Usage by App."
Find Spotify and tap on it.
Tap on "Optimized Battery Charging" and toggle it off.
Make Sure you have enabled Optmized battery for significant location.
You can also turn of optmized Battery charging for smooth running of apps such as Spotify
Source: Support Apple.
3. Turn off Auto-Lock
One of my friends complained that my Spotify stops playing music after 10 seconds. Upon checking I realized he was having 10 seconds auto lock settings. Auto-Lock is a feature that automatically locks your iPhone's screen after a certain period of inactivity. This feature can interfere with Spotify's ability to run in the background. To get rid of Spotify pausing when screen locks, follow these steps:
Go to Settings.
 scroll and tap on Display & Brightness.
 Select Auto-Lock.
Select "Never."
4. Background App Refresh
This solution worked for me greatly, as I discussed before in May 2023 Spotify turns off when phone locks. Background App Refresh is a feature that allows apps to refresh their content in the background. Enabling this feature for spotify not playing in background. So If your Spotify stops when screen turns off, follow these steps:
Go to Settings.
Tap on General.
Tap on Background App Refresh.
Find Spotify and toggle it on.
5. Use Offline Mode
If none of the above solutions work & your Spotify still stops playing when screen is off iphone, you can try using Offline Mode. This mode allows you to download songs and playlists to your iPhone, so you can listen to them without an internet connection. To use Offline Mode, follow these steps:
Open Spotify on your iPhone.
Find the playlist or album you want to download.
Tap on the three dots next to the playlist or album.
Tap on "Download."
6. Clear the Cache
By clearing the cache on your iPhone, you can potentially resolve the problem and enjoy uninterrupted music streaming. Let's delve into this quick and effective fix to keep the music playing even when your screen is locked.
Open Setting of Spotify on the right top corner
Scroll down to find storage and click on it
Press the "Clear Cache" button.
7. Update Your Spotify App
Make sure you are using the latest version of Spotify which will fix bugs if there are any and also improves better optimization.
Open your iPhone App Store.
Check for updates or search Spotify.
Tap on the update option if there are any recent updates.
8. Check For Software Update
iPhones occasionally experience problems like this because they are utilizing an outdated version of the phone's exclusive software, and the only way to fix it is to update the phone to the most recent IOS version. Check for the recent software update by following the steps below:
Go to iPhone settings.
Tap on General.
Look for Software Update and Tap on it.
If there is an update available, tap on it and wait for the latest version of the Software to get installed.
9. Restart Your iPhone
If you have tried every aforementioned step and still your Spotify shuts off when phone lock locks, then you might have is to restart your iPhone. This simple technique often fixes numerous problems. If you are worried about getting your data removed then don't worry, restarting is a simple technique where basically you turn off your iPhone and turn it back on. This does not delete your data. Your data gets removed only when you reset your iPhone. 
10. Contact with Support
So you've gone through all the solutions I mentioned earlier, carefully tinkering with settings and trying out different methods, but it seems like your Spotify music keeps pausing when your iPhone screen turns off. Don't fret just yet! There's still one more avenue you can explore to get to the bottom of this issue. It's time to seek help from the experts themselves – Spotify Support.
They have a team of knowledgeable professionals who specialize in troubleshooting and resolving user concerns. Whether it's a bug in the app or a device-specific compatibility issue, they'll be equipped to guide you through the process and provide personalized assistance. you can contact Spotify support here:
FAQs:
Conclusion
If Spotify stops playing when your iPhone's screen turns off, it can be frustrating. However, there are several solutions you can try to fix the problem. Disabling Low Power Mode, disabling Battery Optimization, turning off Auto-Lock, enabling Background App Refresh, and using Offline Mode are some of the effective solutions to fix the issue and many others mentioned in this article. With these tips and tricks, you can continue to enjoy Spotify without a halt.