Why Spotify stops playing after 10 seconds How to fix it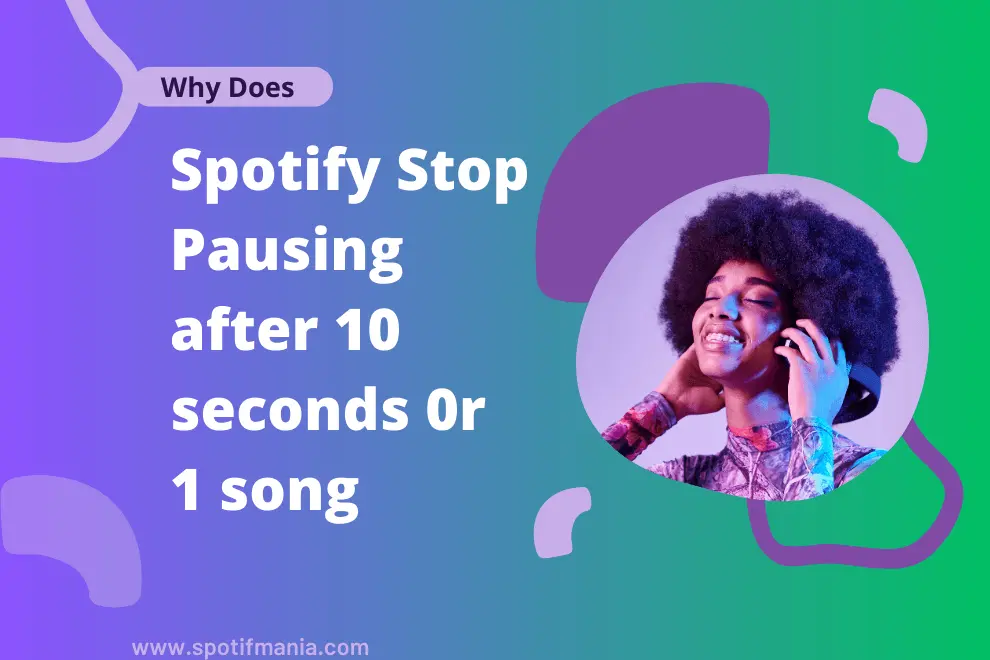 Nothing is more exasperating than an unexpected pause in streaming music when you are on a voyage of rhythmic odysseys. Imagine yourself in your favorite chair, putting on your headphones and waiting for the auditory magic that Spotify will offer. But to your disappointment, the songs stop after 9,10 or 30 seconds of euphonic ecstasy, leaving you irritated.
It can be incredibly frustrating and, at times, rather puzzling to understand why Spotify's 10-second pause occurs. There may be a few following reasons for this mysterious occurrence.
How to Fix Spotify Keep Stopping at 10 Seconds?
Instant Answer:
Firstly, ensure the installation of pending updates. Subsequently, disable the data saver mode, log out and log in back and clear the cache. If the problem persists, uninstall the Spotify app and start with a fresh installation.
Reasons Behind Spotify Pausing at 10 Seconds
Internet Connectivity
When the internet connection weakens, Spotify may stop working after one or two songs , causing irritating hindrances in the smooth stream of songs. This interruption usually occurs in remote areas where signal reception is not optimum and sudden dropdown in streaming becomes commonplace.
Spotify Servers are Down
At times, the streaming service's servers are experiencing downtime, affecting all users in your vicinity. In such cases, when the servers are down, everyone in the area encounters the same problem of Spotify.
Incompatible Software Version
Sometimes, when Spotify fails to play songs offline & online as well, it could be due to bugs in the app's current version. The outdated version of Spotify software causes glitches and bugs which leads to streaming disruption. This problem can be fixed by reinstalling the software.
Someone else is using your Account on another Device
If your account is logged in on another device, this could cause immediate cutting out from Spotify. This limitation arises from having different streaming session per account unless you upgrade your plan. You'll typically receive a message indicating that another device is currently using the account.
However, you can seize control and take it over by striking up the music on your device. However, it's important to notify the other user to avoid any ongoing Spotify skirmish. If the problem persists, consider upgrading your account for multi-device usage.
Spotify Cache
Cache might be issue for you inconvenience when Spotify keep pausing, Within your cache folder is a trove of temporary data, enhancing the speed performance of your app. However, frequent use can clog up this repository, clear lag-free listening, and other troublesome issues.
Expired Account
if Spotify Stops Playing after 2 songs then your payment method might be expired, or your account needs a renewal causing interruption and a halt in smooth streaming. Moreover, you were part of a family plan, but you have been excluded from it.
Outdated Device
If the firmware on your smartphone device is out-of-date, it might cause various problems with different programs, including Spotify. It's crucial to keep your firmware up to date to avoid Spotify Stops Randomly after 9 seconds.
How to Fix Spotify Stops Playing After 10 Seconds: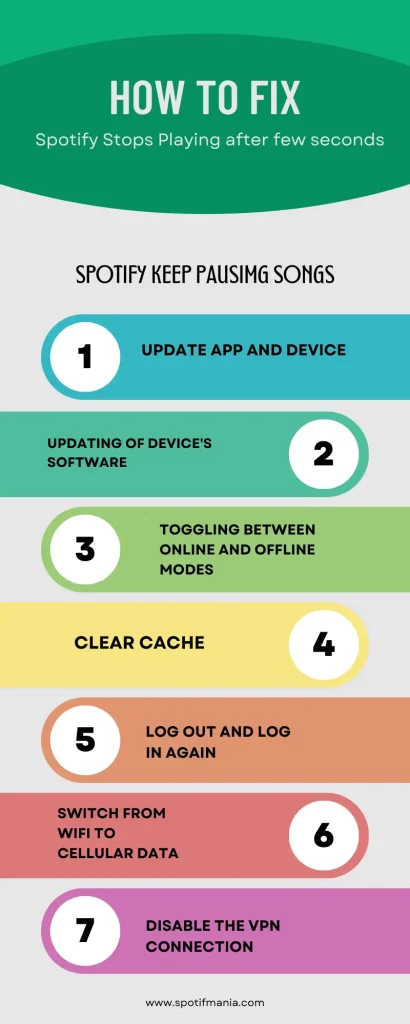 1. Update App and Device
There's a significant probability that updating the Spotify app will fix the issue of ceasing playback after only 10,20 or 30 seconds. The best part is that the update includes fixes bugs and improve overall functionality of app. The same is true for updating the operating system on your device. It can help make Spotify work more smoothly.
On Android & IOS
if you you are wondering for the answer of question "Why Spotify Stops at my android phone" Follow these easy steps to solve the problem
Launch the Apple App Store for iOS or the Google Play Store for Android.
Search for Spotify within the app store.
Once you find the Spotify app, tap on it.
Look for the "Update" button and tap it to initiate the app update process.
Allow the update to complete, bringing the Spotify app to the latest version.
2. Updating of Device's Software
In outdated software, compatibility conflicts with the smooth functionality of the app may exist. You can update your device using the following steps.
On Android
Follow these steps to solve the Spotify keep stopping in android issue
Open the device settings option.
Select the "System Updates" or "Software Updates" option.
If an update is available, install it by following the on-screen instructions.
Return to Spotify when the update has been applied, then try playing a song to see if the problem has been fixed.
On IOS
If you're using an iOS device and your Spotify keep Pausing in iphone, the process is quite similar. Just follow these steps
Open the Settings app on your iOS device.
Find and select the general option
Scroll down and select "Software Update."
if a new version is available, install it by following the on-screen instructions.
Once the update is installed, head back to Spotify and try to play a song again to check if the issue has been resolved.
On Windows
if you eager to find the answer of " Why Spotify keep pausing PC": Press the Windows key + I on your keyboard to access Settings on a Windows device. Once the Settings menu has appeared, select "Check for updates" under Windows Update. If any updates are found, download and install them accordingly.
On Mac
When you Spotify Stops in the mid of songs try these steps
For updating MacOs Ventura, start by selecting the Apple menu.
Choose "System Settings" from the dropdown menu that appears after that.
Locate the "Software Update" option under the "General" heading in the System Settings window. Go ahead and click it to start the installation procedure.
if you are running an older version of MacOS. Pick "System Preferences" by clicking on the Apple menu. Select the "Software Updates" option in the System Preferences window.
Important Point
Once the update is installed, it's time for a little reboot. Restart your device and observe if the issue you were experiencing has been resolved.
3. Toggling between online and offline Modes
One of the common solutions to this problem is to switch between online and offline modes because either of them may encounter glitches and bugs that ultimately baffle their functionality.
On Android and iOS
On both Android and iOS devices, perform the following actions to activate the offline mode:
Look for the gear icon and tap on it.
Scroll down until you come across the Playback section.
Within the Playback section, you'll find the switch for offline mode. Toggle it and check if the problem is resolved or not.
On Pc & Mac
Tap on three dots and look for the file option.
Afterward, go offline and ensure a checkmark is displayed beside that.
If you face any problem while using offline mode, switch back to online mode.
4. Clear Cache
Clearing the cache on Spotify can enhance the app's performance and often resolve the problem of random playback interruptions. Here's a guide on how to clear the cache on Spotify:
On Android and iOS
To clear the cache on Android and iOS,
Start by opening the Spotify app and tapping on the gear icon.
Scroll down to find the Storage section and select the clear cache option.
Confirm it by tapping on Clear cache again. Finally, close the app completely and reopen it to ensure the cache is cleared and the problem is resolved.
On Pc & Mac
Open the Spotify app on your device.
Look for the three dots icon at the app's top-left corner and tap on it.
Find and select the "Edit" option in the menu that appears.
Scroll down until you come across the "Storage" section.
Tap on "Clear cache" to initiate the cache-clearing process.
Confirm it by tapping "Clear cache" again.
5. Log Out and Log In Again
Try resolving the issue of Spotify halting at 10 seconds by logging out and then logging back in. You can move to other solutions if this method doesn't rectify the problem.
6. Switch from WiFi to cellular data
If you encounter a 10-second error on Spotify while connected to WiFi, consider switching to your mobile data as an alternative. By playing Spotify using your mobile data, you can determine if the issue is related to WiFi connectivity. If Spotify plays smoothly on mobile data, it suggests that the problem lies with your WiFi connection.
7. Make Sure you are not in the Power-Saving Mode
If your device has the power saving mode enabled and you observe that Spotify frequently freezes or pauses, specifically when running in the background, the active battery conservation feature might be the culprit. So, this problem can be fixed by disabling the power-saving mode.
8. Not having Enough RAM
The Spotify app can crash if your phone lacks enough RAM to run properly. This problem can be easily resolved by shutting down unnecessary apps to free up RAM and allow Spotify to operate without interruption.
9. Updating the VPN
Spotify recurrent pausing after few seconds can stem from VPN if you are using it and can be resolved by updating the VPN using the following method.
On Android and iOS
On Android and iOS
Follow these steps to get rid of Spotify pausing after few seconds
Go to Google play store and App Store, respectively
Tap on the app and select the update option.
After the successful update, start the VPN and connect to the server.
On Pc & Mac
Similarly, you can resolve of Spotify pausing on Pc by downloading and installing the updated version. Finally, start the application and connect to the server.
10. Disable the VPN connection
If the issue is still happening, you can try removing your VPN by taking the following actions to fix the issue with Spotify stopping after 10 seconds on one song.
On Android
The VPN can be turned off in Android by going to Settings.
After that, tap WiFi & Internet and select VPN to switch to the off position.
On IOS
If Spotify stops playing after a few seconds in your Iphone. The procedure is the same, Navigate to Settings, tap General, select VPN and turn the VPN switch off.
On Pc & Mac
If your Spotify keep pausing on your Pc & Mac >Tap the VPN application and select "Disconnect" from the menu. Depending on your VPN application, the particular procedures could change.
Once the VPN connection has been successfully turned off, you should be able to continue streaming Spotify without interruption.
FAQs:
Conclusion
In this article, the problem of Spotify pausing after few seconds or songs is discussed practical fixes are provided. By understanding and putting them into practice, we may turn this digital hiccup into a perfect musical trip. You can try these fixes and reclaim control over your uninterrupted Spotify experience.