Why Spotify logged me out? How to Get Back?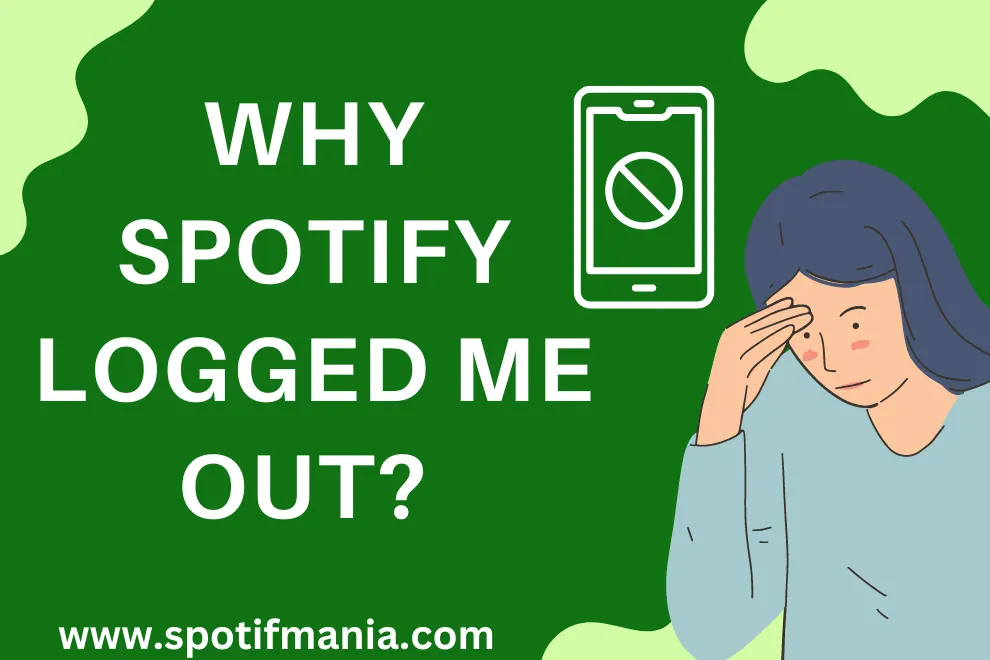 For many people, listening to music on Spotify is essential to their daily routine. Whether it's to help them focus at work, relax after a long day, or lift their mood. If Spotify suddenly logs them out and stops working, it can be incredibly frustrating and disrupt their daily routine.
Why Did Spotify Log me out?
We are here to teach you how to troubleshoot Spotify login issues and get back to enjoying your music as quickly as possible.
9 Reasons Why Spotify logged me out
Let's look closely at some common reasons why Spotify may log you out of your account.
Internet connection lost
It might be the reason for your log-out issue with Spotify. This problem mainly happens when you use Spotify while driving or in rural areas.
Password Changed
The second main reason is if you are using an account that logged in on multiple devices, someone could change the password that Spotify logged out of.
Premium Subscription Expired:
One common reason Spotify may log you out of your account is if your premium subscription has expired. It can be a problem for users who rely on premium features such as ad-free listening, offline playback, and higher audio quality. 
Unavailability in your Country
If Spotify is unavailable in your country, you may access it with a VPN. However, if your VPN is turned off, this could cause Spotify to log you out of your account, preventing you from accessing your favorite music and playlists.
Server Down
Another possible reason why Spotify may log you out of your account is if the main server for your location is down.
Hacking issue:
If your friends know your Spotify registered email, that might change that they are trying to hack your account.
Software issue
It may be due to a software glitch if you have been logged out of Spotify once or twice a year.
Not Having an Update version
It could be a reason for logging out of Spotify if you are using the old version of Spotify, which needs to be updated.
Problem with Compatible Devices
If You have integrated your Spotify with Chromecast, Alexa, Apple CarPlay or any gaming console, there might be a compatibility issue.
What to do if Spotify logs me out and I can not login back?
You could not log back into Spotify for several reasons, such as incorrect login credentials, connectivity issues, security measures, or a problem with your device or software.
We will explain different solutions in detail. After reading the solution, you can eliminate Spotify Log out problems.
The solution to Spotify Logged out issues:
If you are struggling with your Spotify account, don't worry; we've got you covered! Check out these helpful solutions to troubleshoot login issues and regain access to your favorite music streaming service.
Update Your Spotify APP:
If you're using an older version of the Spotify app on your smartphone, updating Spotify could solve your login problems. iPhone users can head to the App Store, while Android users can go to the Play Store to get the latest version.
Reinstall Your Spotify App:
If you still need help logging back into Spotify, the problem may lie with your app or device. In such cases, uninstalling and reinstalling the Spotify app from your device may help with smooth working of Spotify. This process can help remove corrupt or outdated files and give you a fresh start with the app.
Clear the Spotify App's Cache.
If you're experiencing login issues on Spotify and don't want to go through the hassle of uninstalling and reinstalling the app, clearing the Cache from the app's settings can be a quick and easy fix. Clearing the Cache can be done within seconds.
You can perform this action in three easy steps
Restart your Phone:
Sometimes a simple solution like restarting your phone can resolve login and offline working issues with Spotify. To restart your phone, press and hold the power button until the "power off" option appears. Tap "power off" and wait for your phone to shut down completely. Then, press and hold the power button again until your phone turns on.
Check up on the status of Spotify:
Sometimes the issue is worldwide, and If you're having trouble logging into Spotify and suspect it's widespread, there are a couple of ways to check.
Firstly, you can use the Downdetector tool to see the last 24 hours' worth of data and determine whether the Spotify server is currently down or up.
Alternatively, you can check Spotify's official Twitter Account, Spotify Status, which is particularly created to inform the platform's status to its user. In the past, when many users faced problems logging in and posting messages on different platforms, Spotify was quick to acknowledge the issue and inform users that it was working on a solution.
You can also get Info about Users' Interests from the Latest tweets of Spotify's Users.
Change the Spotify Password
If you suspect that someone else has gained access to your Spotify account and you're having trouble logging in, the first step is to change your password. Spotify would not allow you to change passwords through the app; you have to do it on any browser instead of the app.
You can not change your Password from mobile and desktop app
By following these Steps, You can easily change your password
Sign out from all Devices:
If you are using a shared account, it is advised to sign out from all devices to get rid of the log-out problems of Spotify.
Follow these simple Steps to get your account back to a normal state
Please See the Screenshot below for a better understanding
Remove the Third Party apps:
Disconnect them through the In-app setting if you have integrated third-party apps such as bass booster and Equalizer song downloader.
Follow these steps to remove the app
You can Get help from these screenshots
Log in through Browser:
If you still face the log-in issue after doing the above steps, try to sign in to on Spotify web player. You can sign in using browsers like chrome, Microsoft edge and Opera.
Spotify Community:
The Spotify Community is an online forum where Spotify users can share tips and discuss all things related to Spotify. It's a great resource for anyone who wants to get the most out of their Spotify experience.
Spotify Support:
Spotify has a dedicated support system, and I can vouch for its helpfulness, whether it's a software issue or something specific to your account. You can contact them via Spotify Support, and Spotify cares. They will guide you toward a solution. Their support staff is knowledgeable and accommodating, and they'll work with you to resolve the issue as quickly as possible.
Read more about Why Spotify logged me out again and again
FAQs:
Conclusion:
Spotify is a music streaming platform that people rely on for their daily dose of music. If you are logged out of your Spotify account suddenly, it can be frustrating and disrupt your routine. Common reasons for being logged out include expired premium subscriptions, changed passwords, loss of internet connectivity, server downtime, outdated software, and compatibility issues. If you can't log back in, you can try different solutions like updating the app, reinstalling the app, clearing the Cache, checking the status of Spotify, changing the password, or signing out of all devices.