11 ways to Fix Downloads in Spotify Premium Offline Not Working!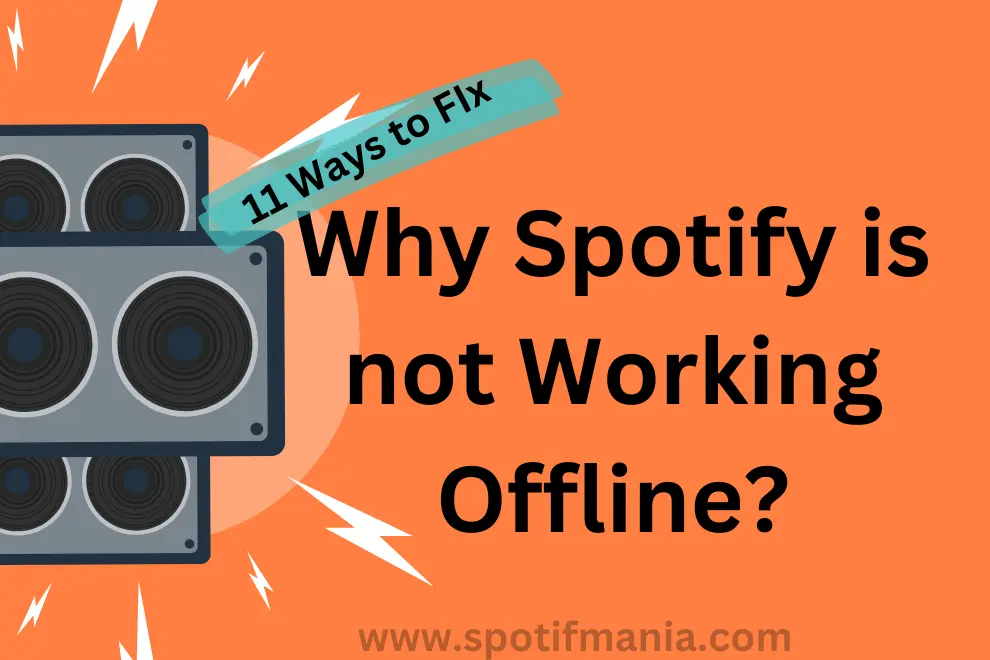 As a passionate music lover, Spotify has always been my go-to source for all things musical. The ease of access to countless pieces of music, whether online or offline, has made it an indispensable part of my everyday existence. However, I recently discovered a recurring problem that left me unhappy and disconnected: Spotify downloads not working offline abruptly stopped working. In this first-hand piece, I will describe the difficulties I encountered and the methods I took to remedy this unpleasant issue.
My Spotify Wasn't Working offline and This is How It Started
It all started in march 2023 when I woke up all energized and eager to begin my long-awaited road trip with my friends. I had thoughtfully assembled the perfect playlist for the journey, comprised of my absolute favorite songs from all kinds of genres. I had carefully downloaded the playlist for offline playback on Spotify. I also set the gapless playback to 1 second for on Spotify account the night before to guarantee continuous music played during the trip. I had no idea how quickly my hope would be shattered.
The First Shock:
As soon as I dashed into my car I immediately linked my phone to the music system. I discover that the offline mode choice had inexplicably gone and my Spotify is not working without internet. Panic began to set in as I hastily browsed the app's settings for a quick solution. My attempts were futile, and I was forced to suffer the long ride with no access to my thoughtfully picked music playlist.
Looking for Solutions:
My first priority when I got to my location was to tackle this frustrating dilemma. I looked to the various information accessible over the internet to recover my Spotify offline Mode. Countless forum posts and help sites proved that my difficulty was common. Several users reported similar issues with Spotify's offline mode and shared their identifying and fixing methods.
A Journey Of Troubleshooting: How I solved My Spotify to Work it Offline
With my newfound information, I embarked on a step-by-step troubleshooting journey to restore Spotify's offline downloads. I began with the most fundamental step: rebooting my phone. Unfortunately, no favorable findings were obtained. Undaunted, I proceeded to the following remedy, which included exiting and re-entering the Spotify app. My expectations were shattered once more when this strategy also proved ineffective.
As the hours passed, I plunged more into the rabbit hole of possible remedies. I emptied the app cache, removed and reinstalled Spotify, and I even updated the app to the most recent version. Each effort gave me a glimpse of optimism but ended in disappointment. My Spotify offline option seemed to have vanished into the void, leaving me left in a sonic blank.
Possible solutions of Fix Spotify Downloads Not Working Offline
Certainly! If you're having trouble with Spotify offline, consider the following solutions:
Examine Your Internet Connection:
A slow or inconsistent internet connection might sometimes prevent Spotify from validating your offline playing permissions. Before attempting to play offline material, be sure you have a steady internet connection.
Update Check:
Make sure you have the most recent version of the Spotify app loaded on your device. Updates are often released by developers to resolve issues and enhance overall efficiency.
Restart Your Device:
A simple restart can sometimes cure temporary bugs or conflicts in the system. Try restarting your device to see if it resolves the problem.
The Same solution worked for me when I was trip to Europe and Spotify Stopped every time after few seconds.
Clear Cache And Data:
Clearing the Spotify app's cache and data will help address some difficulties. Navigate to your device's settings, then to the Apps or Application Manager area, where you can select Spotify and remove its cache and data. Clearing cookies will log you out of the app, so you'll have to sign in again to check if downloads is working or not in Spotify premium.
Reinstall Spotify:
If clearing the cache and data doesn't work, you may try uninstalling and reinstalling the Spotify app from the official app store. This procedure can assist in the repair of any damaged data or settings and can boost your Spotify speed.
Activate Offline Mode:
Check the Spotify app settings to see if the Offline Mode option is active. If so, turn it off and on again. This step may occasionally refresh the offline functionality.
Temporarily Disable VPN or Proxy:
If you use a VPN or proxy service, consider temporarily deactivating it. These services can occasionally conflict with Spotify's offline capabilities.
Delete and Redownload Offline Content:
If you're having trouble listening to music or playlists while offline, consider deleting and redownloading them. Files can become corrupted at times, preventing them from being played offline. This problem can be resolved by removing and re-downloading the content.
Examine The Available Storage Space:
Make sure your device has enough storage capacity to save offline material. If your device is running out of storage space, consider deleting any unnecessary applications or data.
Check Status Of Your Account and Subscription
Check to see whether you have a current Spotify Premium membership. Premium subscribers have access to offline playback. Additionally, make sure you're connected into the right account for your Premium subscription.
Contact Spotify Customer Service:
If none of the methods above work, contact Spotify support for more assistance. They may give customized troubleshooting procedures as well as explore any potential account-specific issues.
Remember that these remedies may not work in every circumstance since technological challenges differ. It's critical to try out several techniques and, if necessary, contact Spotify support for more assistance.
These instructions are applicable to any device you use for downloading and enjoying songs on Spotify. However, the following steps and accompanying visuals have been captured from iOS, Android devices, macOS, and Windows PCs to provide you with a comprehensive guide.
The Spark Of Hope!
Just when I was about to quit and consign myself to a time with no offline music on Spotify, I came across a post with an intriguing statement. A user reported a similar issue and proposed a fix employing a lesser-known function buried deep inside the Spotify settings he also contributed how to overcome Spotify's playback limitations.
I was intrigued, so I followed the directions and found the secret "Storage" option in the app's settings menu. To my amazement, there was an option to enable or disable the offline mode. I eagerly turned it off and on again, holding my breath in expectation.
The victory!
Finally, the decisive moment arrived. I linked my phone to the car's audio system, accessed Spotify, and navigated to my favorite playlist. And there it was—offline mode was on! As the first chords of my favorite song filled the vehicle, I let out a victorious cheer. It was a hard-fought triumph, but all the more rewarding for it.
Personal Thoughts & Tips
Looking back on it, I learned a few important things. First and foremost, it is always a good idea to have backup plans in place in case technology fails us. When our favourite applications and devices aren't working properly, having alternatives may make a significant difference. Whether it's taking along a portable speaker or downloading some new podcasts.
Second, while dealing with technical challenges, it is critical to remain persistent. Navigating customer support channels and waiting for replies can be aggravating, but it's frequently the only way to have problems fixed. In my instance, it took many days of back-and-forth with Spotify support to ultimately address my issue, but the work was well worth it in the end.
Finally, keep in mind that technology is not flawless, and problems can develop even with the most popular and well-established programs. When things don't function as planned, it's natural to become annoyed, but it's crucial to maintain a cool mind and attempt to discover answers rather than becoming too frustrated.
FAQS:
Conclusion

My journey through the swamp of Spotify's offline mode glitch was undeniably aggravating. However, this all ended with a whole lot of learning and struggle with fruitful results which made my trip less frustrating for farther spots.