How to See old Spotify Wrapped 🕰️🔙 | Step-by-Step Guide🎶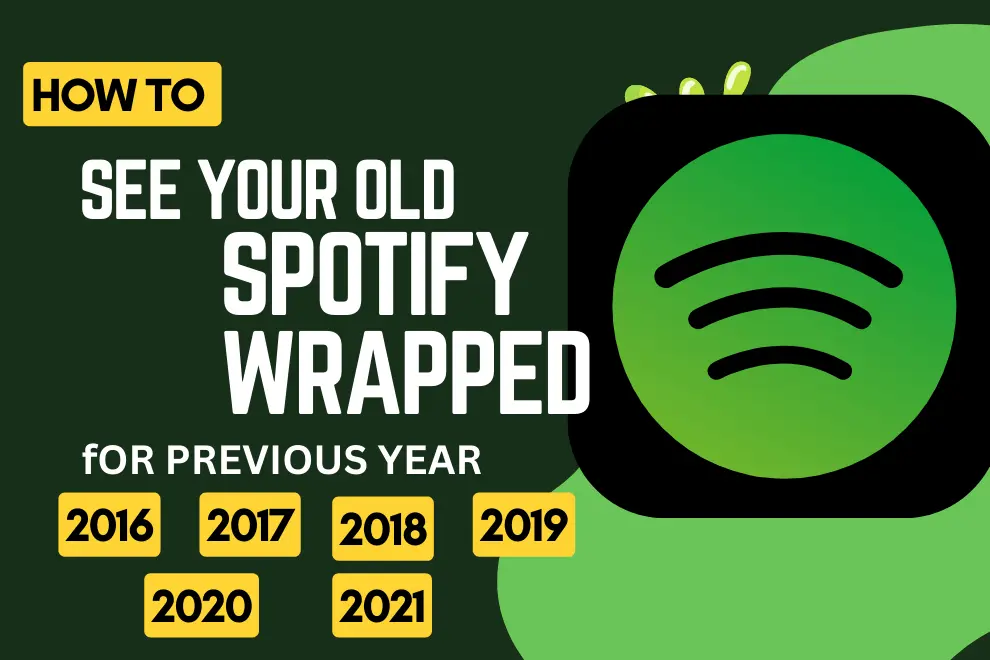 Have you ever thought of traveling back in time and listening to tunes you liked years ago? So, guess what? Spotify Wrapped enables me to do that! I get to watch my Wrapped tales and playlists with my top 100 songs of the year during the special Wrapped time. These playlists also include tracks that are like those I may have missed. 
It's like having your own personal music library! But wait a minute, there's a catch. I can't look at my Wrapped stories and cards after the Wrapped time is up(usually by the end of December or January). But don't worry, I've got great news: my Wrapped playlist is still there, and I can listen to it whenever I want.
The Wonder of Spotify Wrapped:
Before we get started, let's talk about what makes Spotify Wrapped so unique. It's like a musical report card for the year, showing you which songs and artists you listened to the most. It's kind of like looking at a photo album, but instead of pictures, you're remembering all the songs you loved. Just like flipping through the pages of a special book full of music memories! And, like a time machine, it transports you back to the tunes that made you dance, sing, and even cry.
How to see old Spotify wrapped :
You are probably thinking, "Wait, how can I see my old Spotify Wrapped?" That's when the journey begins to get exciting! Even though I can't see past Wrapped stories right in the Spotify app, there's a cool trick to find my old playlists.
If you encounter issues with your Spotify app, ensure both the app and your devices are updated. If updated, try clearing the cache to troubleshoot. If you can't locate Spotify Wrapped, check the Wrapped Playlist among last year's top songs.
Save the wrapped to your library: Capturing the Magic of Your Current Wrapped Playlists
Imagine, I'm all excited about music, and then boom! I open Spotify, and there it is – my very own Wrapped story for this year. It's like a special mix of songs that tells the story of my musical journey. And guess what? There are these super cool playlists with my favorite songs. But hold on a second; let's make sure I don't lose those playlists. To make sure I won't lose my wrapped playlist, follow the below steps:
Access the Spotify app and search for your Wrapped story for this year. It's like discovering a road map for your musical journey.
You'll find playlists that precisely match your tastes inside the Wrapped story.
Tap on the playlist that feels right for you. It's like opening a gift, only it's music!
Here comes the magic – do you see "Add to Your Library"? Tap it to save the wrapped to your library.
These playlists are now securely stored within your Spotify library, granting you the convenience of accessing and enjoying the music at your leisure.
Furthermore, you have the option to share your Wrapped stories on various social media platforms, fostering engagement and interaction with your network.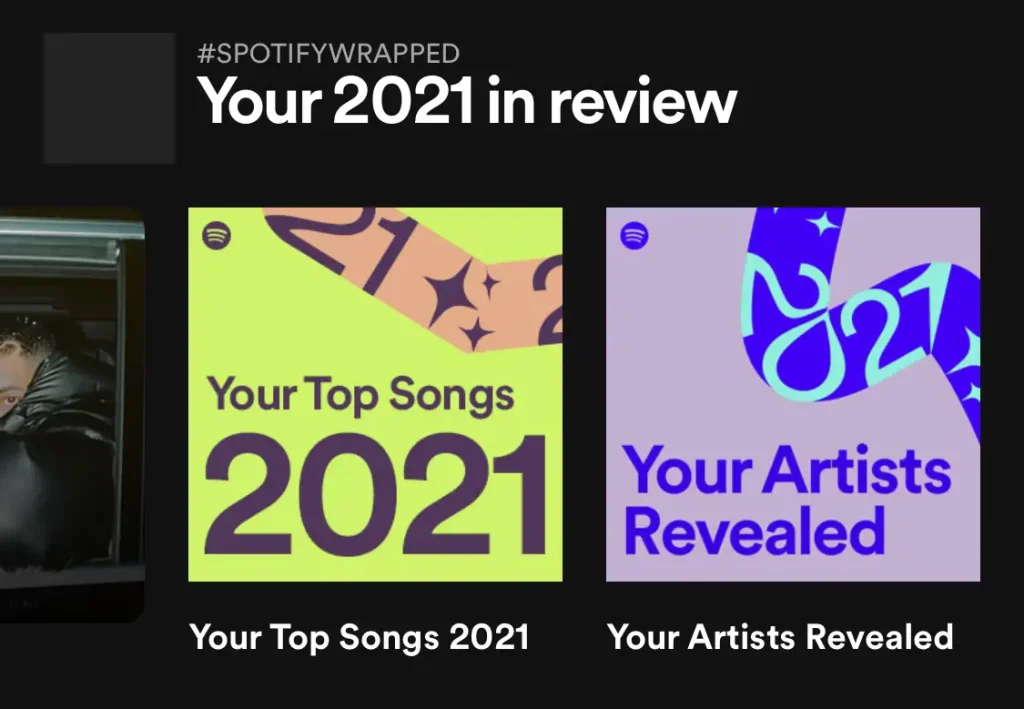 How to Check Out My Old Wrapped Playlists
The mysteries of spotify don't stop here. You can explore these amazing playlists by doing something simple.
Launch the Spotify application on your mobile device where you have it installed and logged in.
In the search field of the app, enter the following URL: https://open.spotify.com/genre/2022-page
Make sure to replace "year" with the specific year you're interested in, such as 2022, 2021, 2020, 2019, 2018, 2017, or 2016.
By following this link, you'll be directed to the Wrapped page for the chosen year, providing you with a personalized journey through your past year's listening preferences.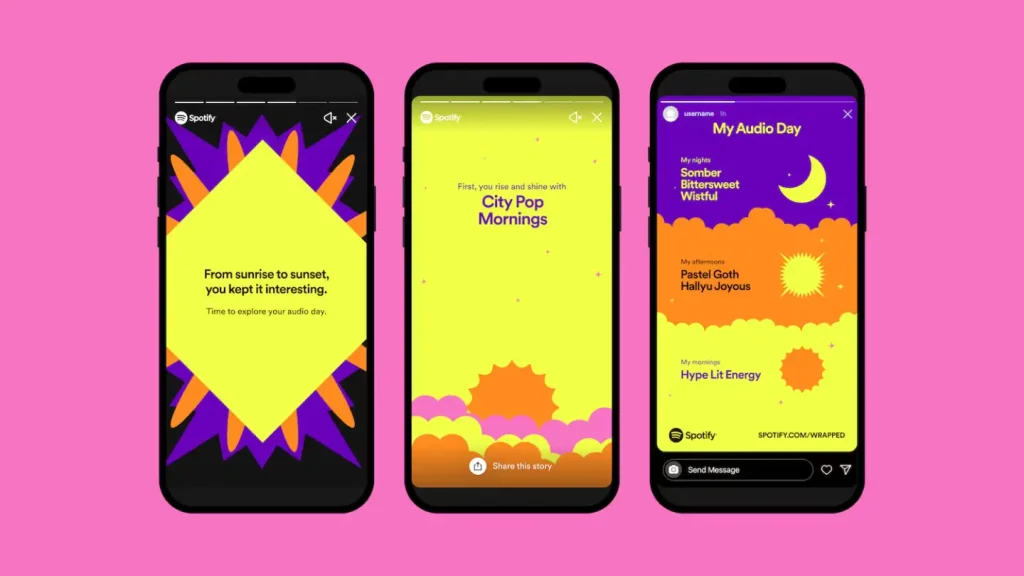 Please bear in mind that the functionality of such features might evolve as the Spotify platform continues to develop. If you encounter any difficulties, I recommend consulting official Spotify support for the most accurate guidance.
If you're not familiar with technical processes like opening links in a browser, don't worry. Just click on the link below, and you'll instantly access the data for the year you're interested in.
And guess what? If you want to know about the year 2016, you can find it when you click on Wrapped 2016. But there's even more – there's a playlist called "Your Decade Wrapped." It's like a super special playlist that has all of your favorite songs and podcasts from the cool 2010s. Imagine taking a trip through lots of years of music, and it's all in just one playlist.
How if Find My Old Wrapped Playlists: Travelling Through Time
Now, here's the thing – the Spotify app doesn't let me directly travel back in time to my old Wrapped stories. But wait, there's a cool trick that I tried which i also explained earlier:
I find those old playlists from back in the day:
I open a web browser on my trusted device – it can be my phone or my computer, that gadget I use to look things up on the internet.
Now I write this in the spot where I typically type web addresses: https://open.spotify.com/genre/2021-page (But, hey, if I'm curious about another year, I substitute out "2021" for that year, say 2020 or 2019).
I've just opened the door to a world of music from that specific year. If I see a playlist that makes me smile, I go ahead and click on it. And guess what? If I want to remember it forever, I just click the little heart icon. It's like capturing a special memory in a musical.
It's worth noting that Spotify's data collection for your musical preferences commences on January 1st and culminates on October 31st. This window captures the essence of your musical year, encapsulating the tracks that accompanied your moments and shaped your auditory landscape.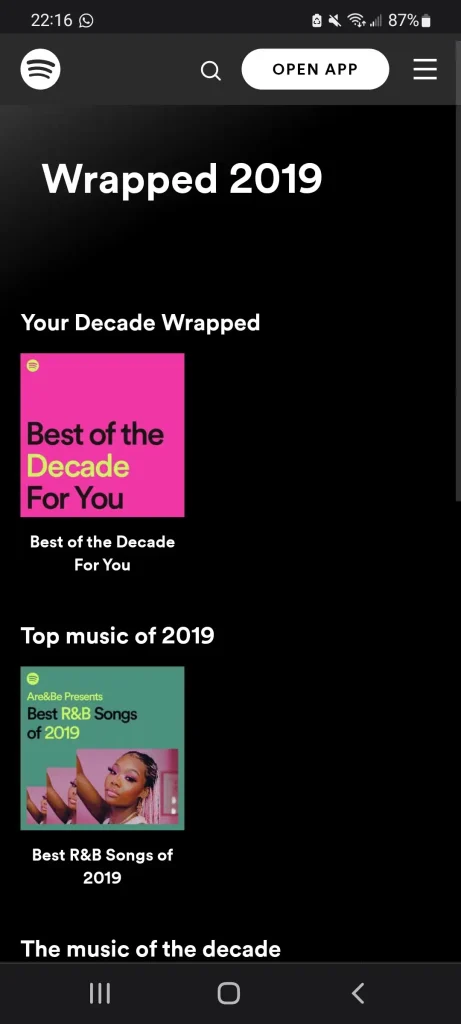 FAQ:
Conclusion
So, now you know all about Spotify Wrapped and its playlists! It's like having a special collection of songs waiting for you. Even though the Wrapped stories might disappear, these playlists stick around, filled with melodies you've enjoyed. 
All you do is log in, click those playlists, and suddenly you're listening to songs that made you move and sing along. It's a fun way to keep those music memories and enjoy your favorite tunes. So, press play, and let the music take you on a journey.