When Does Spotify Wrapped Come Out?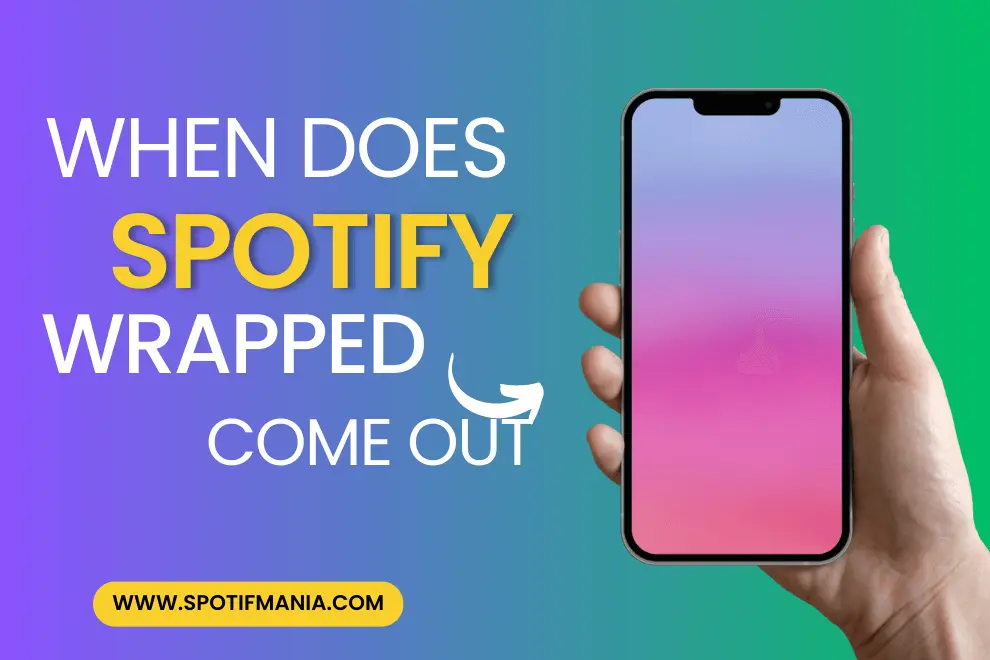 As the year concludes, music fans worldwide are looking forward to a special event: Spotify Wrapped. It's become a treasured year-end ritual for Spotify users, allowing them to reflect on their musical journey and receive unique insights into their listening habits. Let's get into the specifics of this much-anticipated adventure.
Instant Answer:
To be precise and clear: Spotify Wrapped is released in December, mostly in the 1st week of the month. I personally receive it in the first week of every December, but some of my friends told me that they also received it in the last week of November.
What is Spotify Wrapped?
Spotify Wrapped is a year-long celebration of your musical journey. It's like unwrapping a special present to uncover your favorite music, artists, and genres that shaped your experience.
Spotify typically starts tracking user data for the purpose of Spotify Wrapped from January 1st of the current year. This means that the listening habits, songs played, artists followed, and other relevant data from the beginning of the year are considered for generating the personalized Wrapped summary.
It records the moments from when the songs touched your heart and made you smile. You may share your Wrapped on social media to start conversations and connect with people who have similar musical tastes.
It's an opportunity to discover new music recommended by others and offer gratitude to the artists who have made the soundtrack to your life. So, embrace Spotify Wrapped's enchantment, appreciate the power of music, and let your musical journey inspire and connect with others.
How to find out Spotify Wrapped?
The answer varies from year to year, but Wrapped has traditionally been published at the end of each year, generally in early December. It's essential to note, though, that Spotify has not officially announced a specific release date for Wrapped, and they prefer to keep it under wraps until the very last minute, giving an air of surprise to the entire experience.
You can access your Spotify Wrapped in the latest version of the app. Go to the home screen of your app and find SPOTIFYWRAPPED, where you can see your 2023 in review. 
For many Spotify users, the buildup to Wrapped is like waiting for a gift on Christmas morning. Every day, we excitedly check our Spotify app, hoping to see the familiar notification or playlist icon that heralds the arrival of our personalized Wrapped experience. As time passes, the anticipation grows as we ponder what surprises and insights our musical journey may reveal this time.
Important to know that Spotify wrap is only available for IOS and Android phone users and the desktop and web version apps don't offer the wrap. Any freemium and premium users can avail of the benefits of Spotify Wrap as it is available for all.
If you have recently joined Spotify and haven't seen Spotify wrapped 2023, you must be awaiting for Spotify wrapped 2023, let me explain how it is displayed on the app and how will you see its slides in the coming wrap.
Features of Slides on Spotify Wrapped
Receiving Spotify wrapped 2022 was a wonderful experience for me as I got a list of my favorite and listened to songs, artists, albums, and music tracks. Also, I came to know how long I have listened to which music and artist. It helped me know what kind of music listener I am. Here is what I got in the slides of Spotify Wrap.
You can clearly see in pictures, what I received on my Spotify wrapped of last year. You may receive different layouts but the data and the wrap of songs, artists, tracks, and time spent is the same for all users.
Features Of Spotify Wrapped At a Glance:
Comprehensive Recap Of Our Musical Year
When Spotify Wrapped 2022 was released, users were given a lovely and complete overview of their musical year. The experience is more than just listing the best music and performers. It offers a wide range of facts, such as favorite genres, listening time, and even unique details, such as the first song you listened to in the year. Spotify Wrapped captures the spirit of our musical tastes and listening patterns, delivering a thorough review of our musical year.
The Algorithm's Power: Personalised Playlists And Data Insights
Spotify uses complex algorithms behind the scenes to produce personalized playlists and collect key information. These algorithms examine our listening habits, preferences, and interactions with Spotify's massive collection. They construct personalized playlists throughout the year, adapting music choices to our individual interests. These algorithms sift through massive amounts of data to offer a personalized, data-driven musical review when Spotify Wrapped is prepared.
Emotional Bonds: Music As A Soundtrack To Our Memories
Spotify Wrapped's capacity to elicit emotions and awaken memories is one of its most astounding features. Users may come across a song when browsing the Wrapped playlists that send them back to a beloved experience, whether it's a road trip, a particular occasion with loved ones, or a significant milestone. Spotify Wrapped becomes our life's soundtrack, rekindling emotions and helping us to relive those priceless moments.
The Big Day Has Arrived: A Mesmerising Visual Display Of Music Preferences
The long-awaited day has arrived when Spotify customers will be able to enjoy their Wrapped experience. When users use the Spotify app, they are welcomed by a visually appealing representation of their music selections. Wrapped offers colorful images, interactive components, and engaging animations to display facts in a visually appealing and readily accessible style. It's a visual feast that brings our musical life journey.
Social Media-Friendly Visuals & Personalised Cards for Sharing the Journey
Spotify understands the delight of sharing our musical experiences with others. They provide social media-friendly images and personalized cards that are readily shared on networks such as Instagram, Thread, Twitter, and Facebook. These graphics show our most popular artists, songs, and other relevant facts. Sharing our Wrapped experience encourages conversations, recommendations, and even pleasant disputes about our musical tastes, allowing us to interact with other music fans.
Wrapped in Simplicity: An Easy-to-Use Interface for Everyone
Despite the complicated algorithms and data processing that takes place behind the scenes, Spotify Wrapped displays our musical journey in a straightforward and user-friendly manner. The interface is meant to be simple and easy to use, allowing even the most inexperienced users to navigate their Wrapped experience with ease. Spotify keeps the focus on the joy of music and the human connections it fosters.
Individuality Celebrated: Diverse Musical Tastes on Display
Spotify Wrapped honors each user's uniqueness. It reminds us that our musical tastes are unique and should be celebrated. Wrapped shows our individual preferences, showcasing the artists, songs, and genres that characterized our year, despite being part of a large community of Spotify users. It serves as a reminder that our musical path reflects our personalities, interests, and experiences. Spotify is a worthwhile annual experience.
FAQs:
Conclusion
Finally, Spotify Wrapped is a much-anticipated and treasured year-end event for Spotify users. It delivers a thorough overview of our year in music, replete with personalized insights and compelling images, thanks to its mysterious release date and the excitement it causes. We can't help but enjoy Spotify Wrapped's ability to link us with our emotions, memories, and fellow music enthusiasts as we excitedly await its arrival each year. So, set your calendars, keep an eye on your Spotify app, and prepare to be immersed in the ecstasy of Spotify Wrapped when it makes its yearly premiere.