Why Spotify Wrapped Not Showing Up & How to Fix it!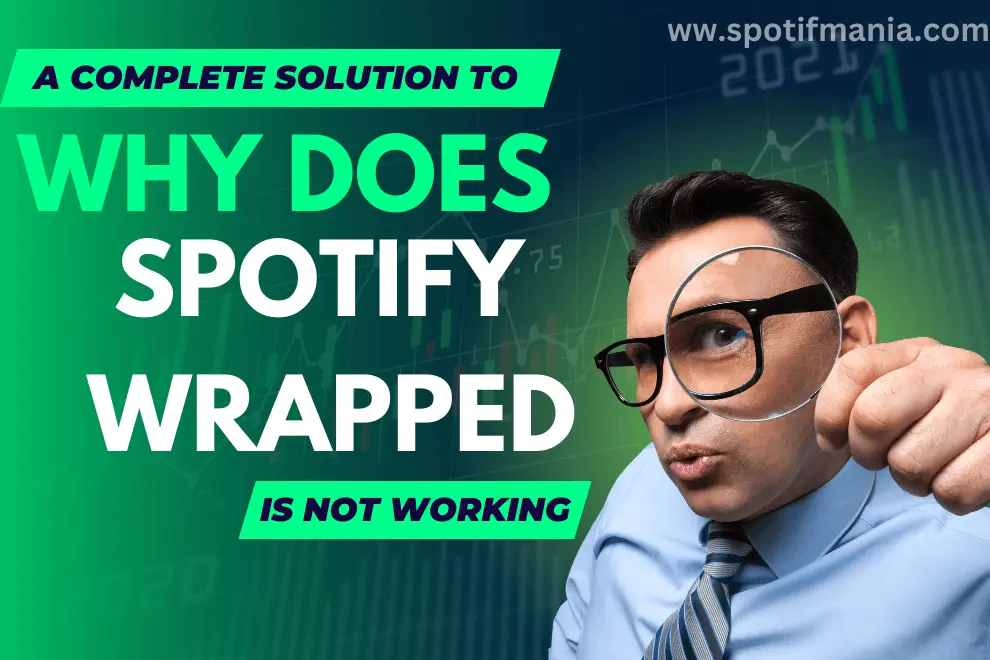 Spotify Wrapped season has come, much to everyone's delight. Music fans all across the world open their Spotify, hoping to discover a treasure mine of personalized music information. But what if Spotify Wrapped isn't available or not working? It might be a frustrating moment for users who are wondering why their Wrapped experience is missing. Let's look at some likely causes and what you may do if you find yourself stuck between the issues of Spotify wrapped.
I look forward to Spotify Wrapped all year because it's such a fun experience to share it with my friends and family. We love seeing each other's musical journey and how our tastes have evolved over time. But if you encounter an issue with Spotify Wrapped not working, don't worry! Usually, it's available on the home screen, but if not, you can still check your playlist of top songs for the year.
Instant Answer:
If your Spotify app is experiencing issues, you can first check if both the app and the devices you're using are running the latest upgraded versions. If your device has the most recent version of Spotify installed, try clearing the cache to potentially resolve the problem. However, if you still can't find your Spotify Wrapped, you should look for the Wrapped Playlist among the top songs of last year.
Why My Spotify wrapped Wont Load?
Yes, for the first year, I was unable to see my Spotify wrapped. I realized that there is something wrong that Spotify wrapped has not come up for me. And guess what? I wasn't listening to Spotify Online.
You need to listen to Spotify on its app like it records your listening habits. If you listen to it offline or in airplane mode, it does not compile enough data. At least it must have 30 tracks as a record before it Wraps up for you. Also, if you haven't listed to a track for at least 30 seconds and have not tried at least 5 different artists, it will not have enough data to compile from.
To qualify for the listening threshold of Spotify, be an online and avid listener and don't listen to Spotify in Airplane mode.
Common Reasons Why Your Spotify Wrapped 2022 Not Showing Up?
Now I will walk you through all the possible reasons that why your Spotify Wrapped is not working
Patience And Timing
Spotify Wrapped is usually released near the end of the year, usually in early December. If you find yourself looking for Wrapped before this time, you must be patient. Allow some time, since Spotify follows its own release timetable. Remember that the element of surprise and anticipation enhances the enjoyment of the encounter.
Recent Sign-up or Limited Data
If you've recently joined Spotify or haven't utilized the platform much this year, Spotify may not have enough data to build your Wrapped experience. Spotify creates personalized insights based on your listening history and preferences. In such circumstances, you may need to wait until you have gathered enough data to provide a relevant report.
Account Problems
Wrapped may not appear sometimes due to account-related concerns. This might be due to issues with your subscription, account status, or even technical difficulties. It is best to contact Spotify's customer service for assistance. They have the knowledge to assist you in identifying and resolving any account-related difficulties that may be preventing you from accessing Wrapped
Data Privacy Settings
In order to create personalized insights, Spotify Wrapped requires access to your listening history and preferences. It's possible that the essential permissions have been deactivated if you changed your data privacy settings inside the Spotify app. Check your settings to verify Spotify has the necessary access to your data. Wrapped may become apparent if these parameters are adjusted correctly.
Compatibility and App Issues:
Spotify Wrapped is compatible with a variety of platforms, including mobile devices Android and iPhones, and desktop PCs. However, depending on the operating system or device you're using, there may be compatibility concerns. Check that your Spotify app is up to date and meets the requirements of your device. Wrapped may also be unavailable due to app-related issues. To remedy any potential difficulties, consider refreshing the program, upgrading it to the newest version, or reinstalling it.
Things To consider Before inspection of Spotify Wrapped not Working:
If you have thoroughly examined all potential reasons and are still unable to determine why Spotify Wrapped is not functioning correctly on your Android and iPhone devices, ensure that you meet the following criteria:
Listen to Spotify music regularly while being online.
If you have blocked some artists, you can still see them in your Wrap if they make up your list.
You will receive your Spotify Statistics just by being online and a regular listener, even if you are freemium.
Make sure your Spotify app and the device are running their latest versions, if not, just update them as often as possible.
If you are already having an updated app and Spotify Wrap does not show, uninstall the app and then install it to stream the latest data on your app.
How to Fix Spotify Wrapped Not Showing Up
If you know the reason why Spotify Wrapped is not working on your mobile phone or PC, try to find the best possible solution to fix it. I tried all the suggested solutions for my younger brother, but for me, clearing the cache worked that time.
Examine Your Internet Connection and Device Settings
Make sure you have a steady and dependable Internet connection. Wrapped may not load correctly if the connection is poor or sporadic. Additionally, check your device settings to ensure that there are no restrictions or limits that may interfere with the Spotify app's performance.
Update The Spotify APP
To resolve the issue of Spotify Wrapped not working, one of the essential solutions is to update the Spotify app to its latest version on both your PC and mobile device. Outdated versions of the app may have bugs or compatibility issues that can affect the functionality of Spotify Wrapped.
If an update is available, download and install it. For mobile users, you can visit the Google Play Store (Android) or the App Store (iOS), For PC users, you can open the Microsoft Store install the new version of Spotify app.
Update Device Operating System
As I discussed before, if you are using a mobile device, check for any available operating system upgrades. Outdated operating systems, such as Spotify, can occasionally create compatibility concerns. Updating your device's operating system may help to resolve Spotify Wrapped not showing up.
Try A Different Browser or Device
Whether you're using a web browser to visit Spotify, try switching to a different browser to see whether Wrapped appears or still now working. Different browsers may have differing degrees of compatibility with specific functionalities. Alternatively, log in to Spotify on a different device, such as a smartphone or tablet, and check whether Wrapped appears.
Clear Cache of Spotify app & Browser:
If you're using Spotify app or in web browser , deleting the cache and cookies can help you overcome any temporary difficulties. Navigate to your Spotify's settings, find the option to clear browsing data. Refresh the app to see if Spotify wrapped is working fine or still not showing up.
If you are not familiar with technical procedures like clearing cache and need assistance, you can refer to the images below for a step-by-step guide on how to clear cache.
Contact Spotify Support
If you've tried all of the aforementioned alternatives and are still unable to access Spotify Wrapped, you should contact Spotify's customer service. They have specialist teams that may offer personalized support and further troubleshoot the issue. Contact them using the Spotify Support website or their social media outlets.
Remember that technical difficulties might arise, and the solution may necessitate the intervention of the Spotify support team. Keep a good attitude, continue exploring the music collection, and remember that there are plenty of other ways to appreciate and celebrate your love of music outside of the Wrapped experience.
if you want to Unlock the melodies of the past is a breeze. Ensure you're signed into your Spotify app and open an internet browser. Type this link: https://open.spotify.com/genre/2021-page. Now, the magic: tweak the year in the link to access Wrapped playlists from different years. Replace "2021" with your desired year like 2020, 2019, or earlier. This digital time-travel tool lets you relive your musical history effortlessly.
FAQs:
Conclusion
In conclusion, if Spotify Wrapped is not showing up, there are a few potential reasons and solutions to consider. Stay patient, as Wrapped is typically released towards the end of the year. Check your account settings, ensure a stable internet connection, and update your device, Android Phone or iPhone,  or app. If the issue persists, reach out to Spotify support for assistance. Remember, there's more to music than Wrapped explore Spotify's vast library, reflect on your favorite songs, and engage with fellow music lovers. Music is a personal journey, and Spotify Wrapped is just one part of it.