How To Share Spotify Wrapped | Sharing of Playlist & Stories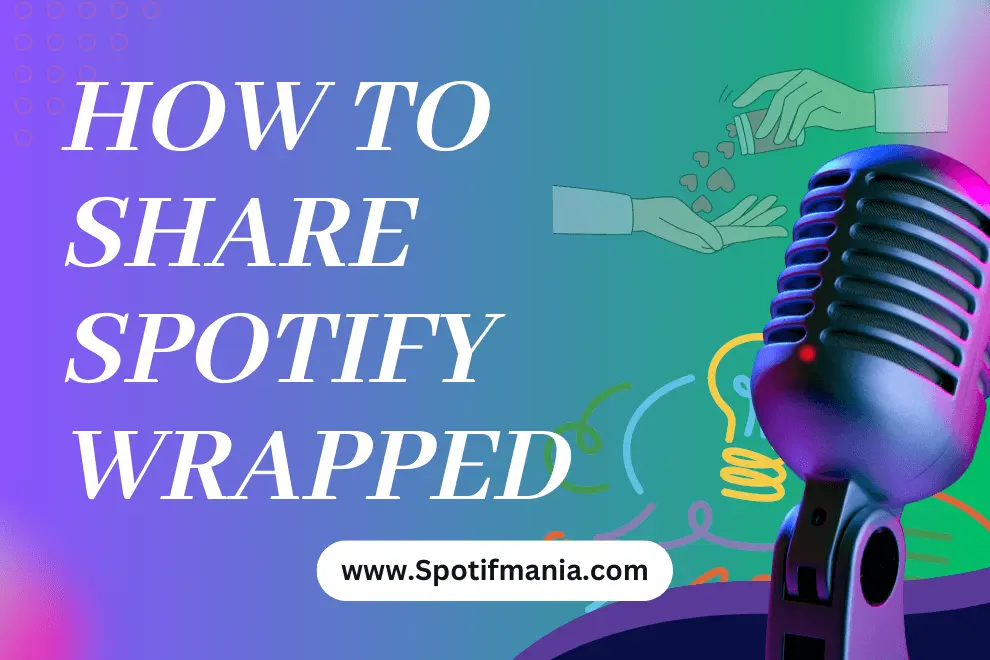 As the year draws to a close, Spotify users eagerly anticipate the release of Spotify Wrapped—a personalized music recap that highlights their most-listened songs, artists, genres, and more. It's a cherished moment for music lovers to reflect on their musical journey and share their unique tastes with friends, family, and the wider online community. In this comprehensive guide, we will explore the various ways you can share your Spotify Wrapped experience, adding a personal touch to your musical story.
Instant Answer:
You can share your Spotify Wrapped story by sending direct links or by posting images on social media. However, if your intent is to share specific songs or the entire Wrapped playlist, the process requires creating a new playlist and transferring the desired songs to it for seamless sharing.
What Is Spotify Wrapped?
Spotify Wrapped is a yearly service provided by the music streaming platform Spotify. It gives customers a personalized overview of their music listening habits and preferences throughout the course of the year. Spotify Wrapped provides information on a user's most streamed songs, top artists, favorite genres, overall listening time, and other interests. 
It aggregates data from the user's listening history from 1st of January and shows it in an aesthetically pleasing way, frequently complemented by fascinating statistics and personalized playlists. Spotify Wrapped is usually issued at the end of the year, allowing users to reflect on their musical journey and learn new things about their music preferences. It has grown in popularity with users frequently sharing their Wrapped experiences on social media to celebrate their love of music.
Why And How You Should Share Your Spotify Wrap 2022?
Sharing your Spotify Wrapped allows you to celebrate your musical journey, and connect with others. You can also discover new music, express your creativity, join a community and preserve memories, and inspire and be inspired. It's a way to share your love for music and engage with others who share the same passion, creating a meaningful and enjoyable experience for everyone involved.
If you've ever shared your Wrapped 2022 playlist on Spotify and found out your friends are seeing their own tunes instead of yours, it's because of the playlist's personal touch. No stress though! There's a way for you to let your buddies see your jams; this applies to playlists and Stories alike.
Numerous users are excited to share their Spotify Wrapped, but sometimes, troubleshooting issues can emerge. If you're encountering problems with Spotify Wrapped not appearing, consider clearing the cache, as it has proven effective for me too. Enjoy your music!
How To Share Playlist of Spotify Wrapped
As the year wraps up, who isn't buzzing about their Spotify Wrapped playlist, right? It's like a musical diary of our year. If you're itching to share those tunes with friends, whether they're on an iPhone, Android, or a computer, you're in luck! This nifty guide will help you spread the music love across all devices. Ready to dive in? Let's do this!
How to Share Spotify Wrapped on iOS
Spotify provides a creative interlude even if it is currently not feasible to replicate playlists directly on iOS. Take these actions:
Make a copy of your "Top Songs 2022" playlist on a PC or Mac.
On your PC or Mac, make a new playlist with the duplicated tracks.
Let people experience the harmony of your music by sharing this recently generated playlist from your iOS smartphone.
How to Share Sharing of Spotify Wrapped on Android
The sequence of steps for individuals using the Wrapped on Android smartphones is as follows:
Enchant yourself with your "Top Songs 2022" playlist's remarks.
Click the three-dot icon to unlock a world of musical possibilities.
As if leading a symphony, select "Add to other playlists" > "New Playlist," deftly incorporating all 101 songs into this new arrangement.
After you've finished your new musical masterpiece, experience the delight of sharing by giving your melodic journey to friends and family, merging hearts through the thrill of melody.
How to Share Wrapped of Spotify on PC/Mac
The steps for sharing Spotify Wrapped on a PC/Mac are as follows:
Enter your Spotify app and open the "Top Songs 2022" playlist.
Select all 101 tracks (Ctrl/Cmd+A) with a symphony of clicks, appreciating the memories of each music that colored your journey.
Make a copy by right-clicking and selecting "Add to a new playlist."
Now that you have your freshly crafted playlist in hand, it's time to share your musical trip with the world—share the harmonic creation with friends and family, watching as the rhythm of connection fills the air.
How to Share Spotify Wrapped Story
Eager to flaunt your Spotify Wrapped story with the world? It's super easy with your phone!
Let's break it down, step by step:
Fire up your Spotify app and tap on 'Home'.
Spot your 2021 Spotify Wrapped? Tap on it to relive your year in tunes.
Skip past the opening card, and on the following one, you'll see a 'Share' prompt at the bottom.
Now, it's your pick! Text it, post it on socials, or share however you fancy.
And just like that, you're spreading your top tunes and music memories with friends! 🎵📲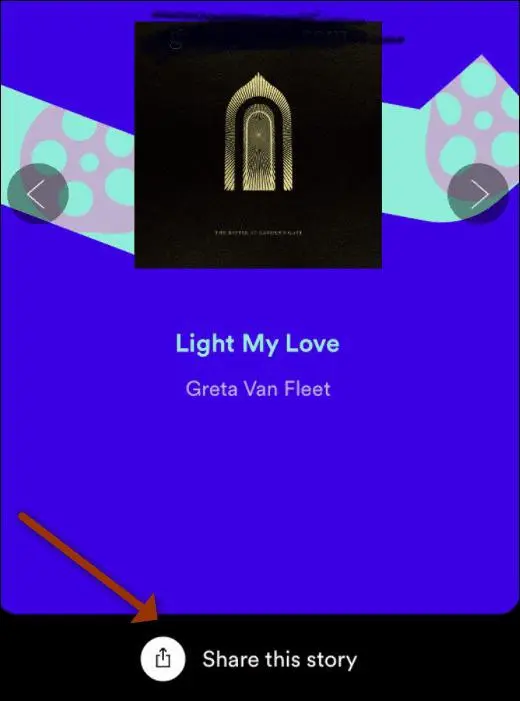 How to Use Spotify Wrapped to share on social media and use other content sharing strategies
By now you have learned how you can share your Spotify wrapped 2022 on different devices but here is a complete guide to the platforms where you can share your excitement of musical journey.
1. Social Media Platforms:
Sharing your Spotify Wrapped on social media is a great way to interact with people while also highlighting your musical journey. Here's how to accomplish it on some of the most often-used platforms:
 Instagram Stories
Within the Spotify app, use the "Share to Instagram Stories" function to publish an interactive narrative with your Wrapped highlights. To make it more personal, add stickers, GIFs, and text.
Twitter
Create a tweet with a snapshot of your Wrapped insights to share with your followers. To join the larger Spotify Wrapped conversation, write a clever remark, mention your favorite songs or artists, and even include relevant hashtags.

Facebook
Make a post on Facebook that describes your musical journey. You might write about your favorite discoveries, noteworthy situations, or how your taste has changed over the course of the year. Consider including the Wrapped playlist URL so that people may listen to your favorite songs.
TikTok
Use your imagination to create a TikTok film reflecting your Wrapped experience. Make it entertaining and shareable by using transitions, effects, and music. You may also interact with the TikTok music community by participating in popular Spotify Wrapped contests or trends.
2. Customizable Cards and Infographics:
Consider utilizing personalized cards and infographics to give a personal touch to your Spotify Wrapped sharing. Several internet sites make it possible to create visual representations of your Wrapped observations, making it simple to share a picture of your musical journey. These sites provide customizable themes with your favorite songs, artists, listening time, and other relevant information. Share these images with your friends on any medium of your choice, such as social media, blogs, or even email.
3. Playlist Collaboration:
Collaborative playlists are a wonderful way to interact with people while discovering new music. Make a collaborative playlist based on your Wrapped findings, and ask friends, family, or online communities to add their favorite songs from the year. It transforms into a communal area where everyone may participate and enjoy a shared musical experience.
4. Discussions and Recommendations:
While discussing your Wrapped experience online is wonderful, don't underestimate the value of in-person talks. Discuss your Wrapped observations with friends, family, and fellow music aficionados in person or via chat applications. Share your favorite music, artists, and albums, and solicit recommendations from others. It's an excellent opportunity to explore new songs and expand your musical horizons.
Personal Thought & Experience:
As a music fan, I anxiously await the opportunity to share my Spotify Wrapped with the rest of the world. Every year, I think back on my favorite music, my growing taste, and the experiences linked with each tune. To interact with my fans, I construct a personalized Instagram story replete with bespoke stickers and passionate notes. I frequently talk about my Wrapped experience with friends and family, exchanging recommendations and making joint playlists.
Sharing my Spotify Wrapped is about more than simply displaying my musical journey; it's about connecting with people who love music. It encourages new discoveries, provokes conversations, and fosters a feeling of community around the power of music.
FAQs:
Conclusion
Sharing your Spotify Wrapped is a way to celebrate your unique musical journey and connect with others who appreciate the joy of music. Whether through social media, personalized cards, collaborative playlists, or personal conversations, the act of sharing adds a personal touch to your Wrapped experience. It allows you to express your musical identity, inspire others, and create meaningful connections.
So, when your Spotify Wrapped 2023 arrives, take the time to curate your sharing strategy. Be creative, authentic, and enthusiastic as you share your top songs, artists, and memories with the world. Celebrate the beauty of music, and let your Spotify Wrapped be a testament to the melodies that have colored your year.