Is Spotify student worth it? Yes Can Save Big Bucks While Unlocking an Epic Music Experience: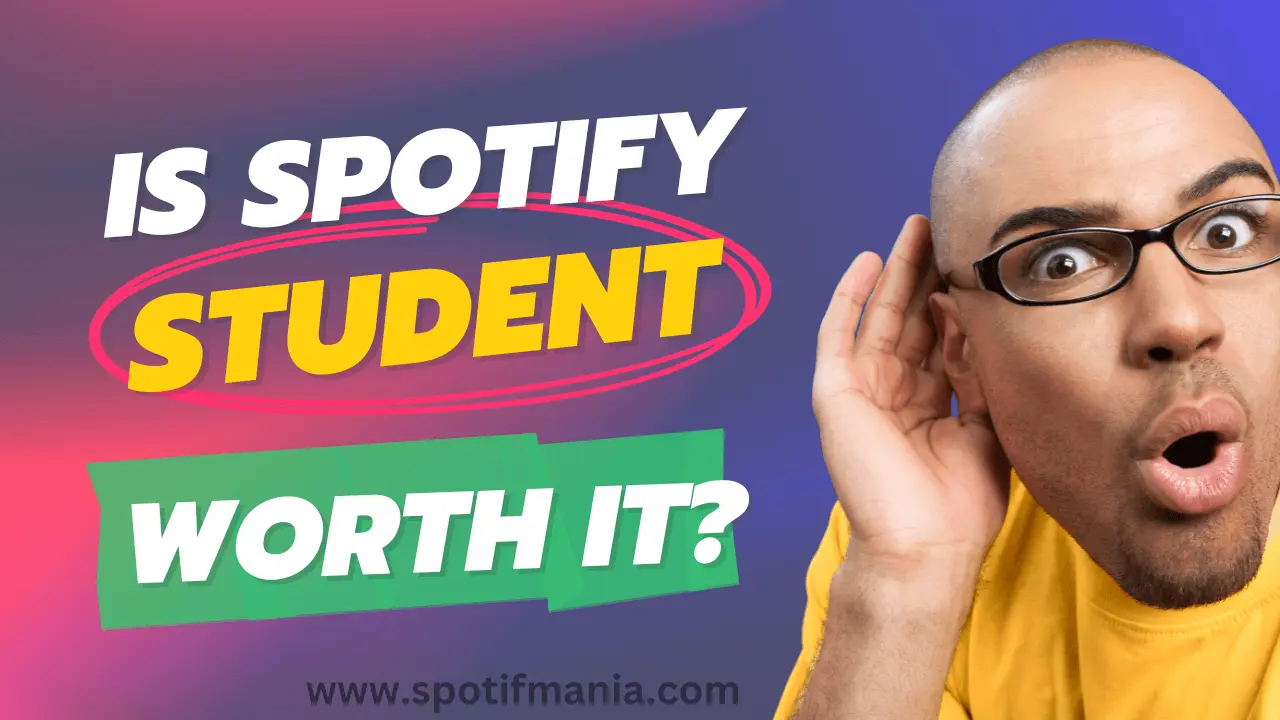 If you're a student who loves music and enjoys streaming it on the go, Spotify Student can be a fantastic deal that's worth it. Is Spotify student worth it? Yes, Spotify student is worth it. With a discounted subscription rate exclusively for students, Spotify offers a premium music streaming experience with various benefits to fit a student's lifestyle and budget. You must pay $4.99 for total access; the individual plan's half-price is $9.99.
Spotify Student provides access to an extensive library of over 70 million songs covering various genres, artists, and styles. Whether you're into pop, rock, hip-hop, electronic, or classical music, Spotify provides a rich and diverse catalogue. It is entirely worthwhile for students eligible for Spotify's student plan.
Features Of Spotify Premium Student
The premium subscription offers many additional features that enhance the listening experience on Spotify, giving users more control and flexibility over their music streaming. Is Spotify student worth it? The answer to this question resides in the essential features described below:
Ad Free Music
The premium subscription offers a notable benefit of uninterrupted, ad-free listening. Subscribers enjoy their favorite music and podcasts without any interruptions or commercials. In contrast, free users experience ads of 2-3 minutes duration approximately every hour.
Unlimited Skips
It is another essential feature for Premium users as they can skip many songs according to their choice, While free users can skip only six songs per hour.
High Audio Quality
Premium subscribers can listen to music in high-quality audio, up to 320kbps, providing a better listening experience. Only some tunes can deliver this degree of audio quality, it requires a lightning-fast internet connection to stream, and it can only be heard through expensive speakers or wired headphones.
Offline playback
Premium users can download their favourite songs, playlists, and podcasts for offline playback, perfect for situations without an internet connection.
Play any song
With the premium subscription, users can play any music they want on demand, whereas free users can only listen to songs on shuffle mode.
Personalized playlists
Premium subscribers can access customized playlists such as Daily Mixes, Release Radar, and Discover Weekly, which are based on their listening history.
Show Time
In some countries, Spotify Premium for Students comes with free access to Hulu and Showtime, popular streaming services for TV shows and movies.
Shuffle
The interesting point is that Spotify's tablet and desktop apps do not have this severely restricting feature, limiting free users to listen to mixed playlists and albums. Currently, 15 pre-selected playlists are available for free users to choose from and play at their leisure; everything else will shuffle.
Skipping and Replaying
Spotify's free edition users are restricted in how frequently they can skip and replay tracks, particularly six skips every hour. Additionally, repeating tracks or playlists will not be possible for Spotify mobile app users with free accounts.
What is the price of Spotify Premium?
The main topic of conversation is how much Spotify student premium costs. The typical monthly fee for a premium subscription is $9.99. There are more membership alternatives, such as the premium for family option, which costs $14.99 per month and gives up to 6 person access to their premium account. But if You are student you must pay $4.99 for total access for Spotify Student Premium which is totally justifiable & worthy.
Here's how the other main music streaming apps compare with Spotify Premium.
Apple Music
$9.99/month standard
Family (6 accounts) $14.99 per month
Student $4.99 per month
Tidal
$9.99/month Hi-Fi (traditional)
Hi-Fi Plus for $19.99 a month
$14.99/month Family of Hi-Fi (5 accounts)
$29.99/month Family + Hi-Fi (5 accounts)
$4.99/month Hi-Fi military/first responders
$5.99/month Hi-Fi + student $9.99/month
$11.99/month for Hi-Fi plus first responders and the military
YouTube Music
$9.99/month as a minimum
Family (6 accounts) $14.99 per month
Student $4.99 per month
Amazon Music Unlimited
$9.99/month as a minimum
The standard monthly cost of $8.99 with a Prime membership
Families pay $14.99 per month (only with Prime).
$0.99/month for students (with Prime for the first year, then $4.99)
Deezer
$9.99/month as a minimum
Monthly Hi-Fi plus family plans for $14.99
Student $4.99 per month
How to apply for Spotify Premium Student Plan?
Don't provide Spotify with any information if you are under 16; they will likely reject you. Only students 18 years old or older and at accredited colleges or universities in the United States or other permitted countries are eligible for Spotify discounts.
During the signup process, Spotify uses a third-party service called SheerID to confirm your eligibility.
Click on this link to access the Student Verification page.
Tap next to confirm that you are a student,
After providing your name and email address, enter the University Name area, enter the institution's name, and click Next.
"The school you have selected is already on our list," they advise if your school is already in the system.
Verify the necessary documents and submit them if necessary.
Spotify offers several different payment methods depending on the country, but generally, the following are the most commonly accepted methods
Credit Card: Visa, MasterCard, and American Express are usually accepted.
Debit Card: Just like credit cards, most debit cards are accepted.
PayPal: This digital payment method is widely accepted on Spotify.
Mobile Billing: Depending on your region and mobile carrier, you might be able to add your Spotify subscription to your phone bill.
Prepaid Cards: Spotify offers prepaid cards in some regions, which you can purchase and use for your account.
Gift Cards: Spotify gift cards can be used to pay for subscriptions.
Direct carrier billing: Some mobile providers allow charges to be added directly to your bill.
Certain digital wallets or online payment systems.
Kindly be aware that the range of available payment methods may fluctuate based on your geographical location and the specific type of subscription you wish to procure (be it individual, family, or student). Moreover, you maintain the privilege to alter your payment method at any subsequent point, catering to your evolving needs and preferences.
Which countries have a Spotify student plan?
The student plan was introduced in the US, UK, and Germany in 2014. More than 33 countries worldwide now offer the program after it was effectively implemented. When Spotify adds a new nation, this list will be updated. All nations are:
FAQs:
Conclusion
Spotify Student is definitely worth it for students who love music and want an enhanced listening experience. With a vast music library, access to podcasts, offline listening, ad-free streaming, and affordable pricing, it's a package that caters specifically to the needs of students. So, if you're a student looking for an immersive and cost-effective way to enjoy your favourite music, Spotify Student is an excellent choice to enhance your musical journey.