How to Renew Spotify Premium Student Discount! A complete Guide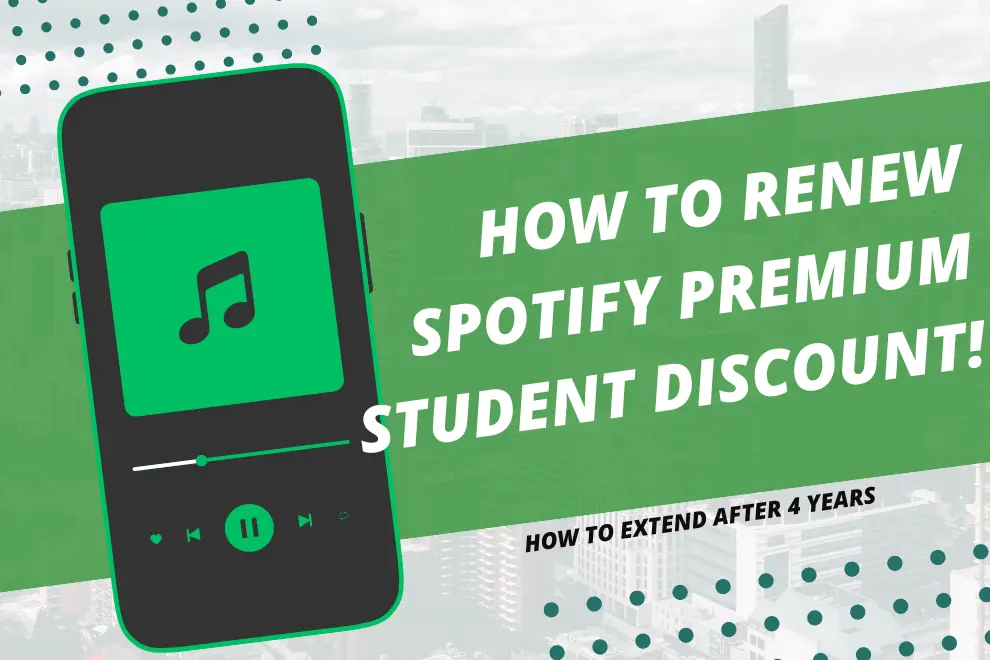 Spotify, a digital music streaming service with over 1 billion subscribers, provides access to millions of songs, podcasts, and other audio content from various artists and creators around the globe. However, the complete array of features is only accessible through paid premium subscriptions. Spotify has several subscription tiers to meet the varying demands of its users. If enrolled at a recognized institution or university, you may enjoy a 50% concession on your Spotify Premium membership with the special Spotify Premium Student discount plan.
How to Reverify Spotify Student Discount?
Instant Answer: Log in to your account>select 'Student Discount' from the settings tab>click 'Renew'>Follow the prompts to verify your personal and payment information>wait for confirmation of successful renewal.
Reasons to Renew Your Spotify Student Plan
If you sign up for Spotify's student plan and fail to reverify your student discount each year, your account will be upgraded to Spotify's regular premium plan at $9.99 monthly.
The Spotify Student subscription is valid for 12 months and automatically expires. You must renew your account every 12 months to continue availing of the student discount. You must submit a photo of your college ID to reverify your status. Once your renewal has been confirmed, you can resume enjoying the student discount.
it's important to acknowledge that issues can sometimes arise with Spotify's student plan, and re-verification is not always the root of the problem. While re-verification is an important part of maintaining eligibility for the student discount, there may be other issues that can cause problems with your Spotify student subscription.
How to Renew/ Reverify Spotify Student Subscription, Step-By-Step Guide
Normally, about 4 weeks before expiration, Spotify notifies you through email when your student discount expires and asks you to renew as soon as possible to avoid paying regular amount rather than the discounted rates.
Renewing the subscription is a straightforward process for most participants and can be completed directly on Spotify's website.
To initiate the renewal process, log into your account and navigate to the settings tab at the top right.
Select 'Student Discount' from the available options and click 'Renew'.
Upon clicking, you will be redirected to the Sheer ID platform, where you'll be prompted to input your personal information for verification. After completing the required details, click the 'Next' button.
Next, you will be asked to input your payment information.
Once that step is complete, you must verify your payment details and wait for confirmation of successful renewal.
Afterward, you have the option to choose whether or not you'd like to verify your student status before finalizing your checkout. All that remains after that is to check your payment information and wait for confirmation of a successful renewal.
In several territories, including Canada, Mexico, Germany, and the UK, subscription payments can conveniently be processed through renowned marketplaces such as the App Store or Google Play Store. In contrast, a number of regions may avail direct carrier billing options, utilizing services like Airtel Payments Bank. This service is particularly advantageous for users who prefer settling their dues via their monthly mobile balance, or through digital debit cards that align with these specific services. Moreover, in designated locales, PayPal serves as an accepted avenue for payment, facilitating seamless online subscription renewals. Importantly, it should be noted that the choice of payment method is not rigid and can be altered subsequently as per user preferences.
How To Extend Spotify Student after 4 Years?
The Spotify Student program's subsidized pricing will end after four years of participation. However, the price for Spotify Premium is still the same or even lower than what was previously available under the student plan.
You can renew your Spotify subscription after your 4-year student membership expires by doing the following:
After logging into an existing account, go to your profile page.
In the upper right corner of the page, click 'Settings.'
From the menu on the left side of the page, choose 'Subscription & Payment.'
You can now select a new subscription plan that best aligns with your requirements. Options include Spotify Premium and Family plans, which may offer better value after four years as a student member.
To finish payment for your selected plan, follow the on-screen instructions.
Once payment is confirmed, your account will be renewed and updated accordingly, enabling continued streaming pleasure!
How to Get Spotify Premium Student for More than Four Years?
In most countries, higher education takes around four years to complete, so Premium Student is also available for up to four years. Certainly, some students may stay in school longer, but regrettably, this policy has no exceptions, so that no one can keep a Spotify student subscription for more than four years. However, you can catch Spotify off guard and use other fantastic plans at reduced prices, such as Premium Family and Duo. So if you want to continue enjoying Spotify's premium features even after your Premium Student subscription expires, check out these options.
FAQs:
Conclusion
In conclusion, the Spotify Student Discount plan is an excellent opportunity for college and university students to access premium music streaming services at a highly discounted rate. By offering ad-free listening, exclusive deals and discounts, curated playlists, and special artist content, Spotify provides an unparalleled music streaming experience. Moreover, with the ease of syncing across multiple devices and data-saving options, students can enjoy their favorite tunes anywhere, anytime. The Spotify Student Discount plan is a fantastic value proposition for students who love music and want to save money.