Spotify Premium Student is not working. How to fix the issue?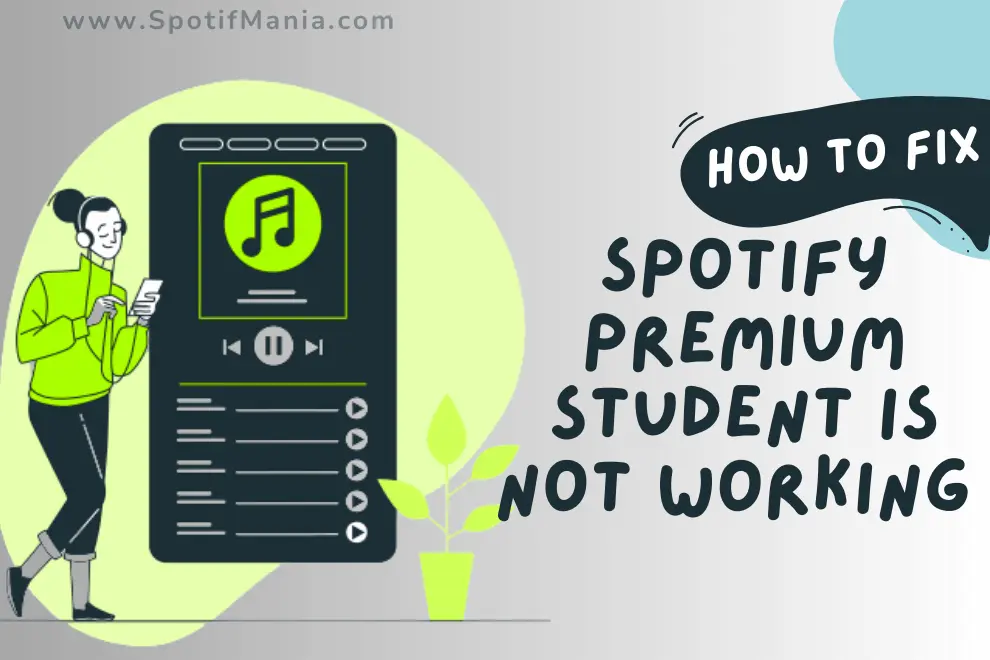 Do you have a Spotify Premium subscription but are having issues using it as a student? Why Spotify Premium Student is not working? In that case, you are not alone! This might be unpleasant, mainly if you depend on the service to stream podcasts, music, and other media.
Instant Answer
A Spotify Premium student account may stop working due to various reasons such as ineligibility, financial, technical, account-related problems, or subscription cancellation after a year. But don't worry! We've got you covered with our guide on how to renew your student discount and quickly get back to enjoying your favorite tunes on Spotify
Reasons why Spotify premium student is not working
You can face this error while enjoying the benefits of Spotify's premium student account. 
" Unfortunately, we couldn't confirm that you're a student. Please check your details and try again."
There are the following reasons why Spotify premium student does not work.
Not eligible:
Verify that you have an active student email address and are enrolled in an accredited institution or university. Additionally, ensure you are not enrolled in another Spotify Premium plan or have previously used the offer.
Invalid or outdated student identification
Students must provide their school ID or evidence of attendance to Spotify to confirm their enrollment status. Spotify may only be able to validate the student credentials if they are updated or accurate.
Problems with payments
Verify that your payment method is valid and has enough money. Alternatively, try a new payment option or contact your bank to fix any payment issues.
Problems with your account's functionality
If your Spotify account is not functioning properly then log out and again log in to your account. Still, your account is not working, use another browser or device.
Subscription cancel after a year
If your Spotify Premium student account subscription cancels after a year, you can renew your Spotify premium discount to continue enjoying unlimited music.
Account troubles
Try contacting Spotify's customer care team if you still have issues. Spotify's customer care team can help you to sort out your problem.
How to Fix Spotify Student is Not working:
Here are the solutions to the Spotify premium student's accounts problems.
Secure Network Connection
Make sure to check your connections and secure them as the first step in resolving a technical problem before moving on to troubleshooting any problem. The current situation is the same. If your Wi-Fi signals are weak, switch to a more secure network.
Sync Your Account With Your Device
After a successful subscription to your Spotify Premium student account, you have to sync your new account to your device. Doing this will ensure you have quick access to your premium account whenever your subscription is complete.
Restart your device to fix the problem
Try this hack to activate your Spotify premium account immediately. To check whether it functions or not, make sure to restart your device before logging into your account. I hope this was useful.
Verify Your Payment Status
Your payment may occasionally have yet to be entirely processed. Therefore, it is due to the same factor if your premium account is not functioning.

The Spotify app should first be opened.

Register with your account.
Click on "Account" to select "Your plan."
Here check the status of your subscription payment.
Verify whether it is activated or not.
Activate your subscription
Spotify Premium Student Verification
Spotify and the SheerID platform collaborated to validate student IDs. Try the form in your browser's private or incognito window if it isn't working. Try this page for Verification as well. SheerID support is also available if you need assistance as they administer the IDs. You must wait a few days after submitting your student ID and a student discount application for approval.
Why Spotify Premium Student Verification Not Working?
Students have recently faced problems related to their Verification. Many students discussed this problem on the Spotify forum. Spotify Premium for Students is unavailable in all areas or countries due to these restrictions. Students may be unable to confirm their enrollment if they attempt to sign up for the service from a location where it is not offered.
Spotify Premium Student Discount Not Working
According to the official Spotify account, Spotify has a partnership with SheerID, as it verifies the eligibility criteria of the students who want to get a student premium discount. SheerID is a third party. SheerID successfully verified your identity when you want to pay but not when utilizing the three-month sample period with no charges.
How Can I Fix Spotify Student Discount Issues?
In the case of a malfunctioning spotify premium student account, you have to solve the problem to return back to your Spotify playlist. This is because of the verification of your eligibility for the student premium account. Therefore, adhere to these guidelines to receive your Spotify student discount.
You must first visit the Spotify Student page and click Get Started.
Then sign in to Spotify with your existing account or create a new one by clicking the Sign Up button.
After that, you must enter your data. (For instance, your name, college, and birthdate.)
Click on Verify from the menu.
Due to their partnership with SheerID, Spotify will confirm your status as a student.
Before moving on to the payment option, try it in an incognito or private browser window if it isn't working.
You must input your billing information to finish the Student Discount registration procedure.
After that, Spotify will be ready for you.
What is SheerID?
A business that specializes in confirming student status is called SheerID. They will gather some primary personal data to verify your eligibility. Additionally, you might be asked to upload some eligibility-related documentation.
They take the security of your data incredibly seriously. Strict standards at SheerID always protect your information, and we never sell it.
SheerID student verification is not working
There are the following reasons why SheerID student verification does not work.
Expired Verification
SheerID verification is subject to expiration after a specific time. To continue receiving student discounts, you should re-verify your status as a student.
Ineligible for Verification
You may be unable to verify your student status if you are not currently enrolled in an educational institution or program that qualifies for SheerID verification since SheerID verification is only available to eligible students.
It's essential to get help from SheerID's customer support team if you still have student verification issues.
Invalid documents
SheerID could ask users to upload documentation showing they are a student, like a transcript or a student ID. The user might only be able to confirm their status as a student if the supporting documentation is valid or matches the verification requirements.
Limited availability
Certain student discounts might only be accessible to specific student populations during particular times of the year. After looking into these issues, users should contact SheerID customer service if they still have student verification problems. If the user is still experiencing issues with SheerID student verification after checking these possible reasons, they should contact SheerID customer support for assistance.
FAQS;
Conclusion
When your Spotify Premium student is not working, it's essential to verify account information and student status and seek assistance from Spotify support if the issue persists. Contact Spotify support to solve the issue. Spotify offers various support channels, including email and chat support.
Then verify account information, and ensure that the account information, including login credentials and payment method, is accurate and up-to-date. In the end, check the student's status. Confirm that the user is still enrolled as a student and eligible for the discount.