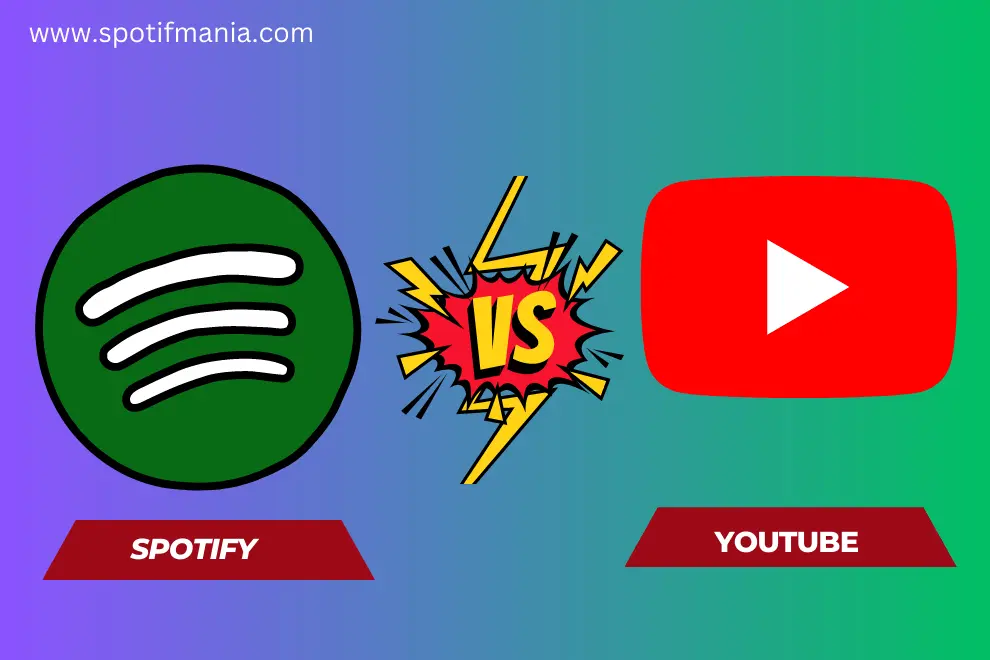 As the music streaming market grows more competitive, it's challenging to select between two mainstream leaders, Spotify and YouTube Music, which have massive influence and a large user base. These two services seem to have similar features, making it difficult to decide which is right for you.
So, let's compare the two and determine which one aligns better with your listening habits. After reading this comparison, you will be able to decide to choose between Spotify Music vs YouTube Music.
Overall Findings
Spotify stands out as one of the most flexible options available. With various plan options tailored to different lifestyles, high-quality audio, and advanced music discovery features, it's a great choice for music lovers. Its intuitive and user-friendly design makes it easy to navigate and use.
Quick Comparison between YouTube and Spotify
Let's have a quick look at Spotify vs YouTube Music
What is Spotify?
The music streaming service Spotify was founded by two Swedish entrepreneurs, Daniel Ek and Martin Lorentzon, who created the app in 2008. Within a few years, the platform had already amassed a significant following, with its first million subscribers being reached in 2011.
Today, Spotify remains one of the top choices for music enthusiasts worldwide, providing access to an extensive music library and unique features like personalized playlists, curated radio stations, and podcasts.
What is YouTube Music?
Google's music player, Google Play Music, was once a popular streaming option. However, the service is no longer available and has been replaced by YouTube Music, a music-only streaming platform. Users often turn to YouTube to listen to music, search for new songs, and create playlists, which prompted Google to launch a dedicated music service.
YouTube Music offers a comprehensive library of songs, personalized recommendations, curated playlists, and live performances by artists. Music enthusiasts worldwide can benefit from this platform, which provides an immersive and engaging music streaming experience.
Spotify Music vs YouTube Music:
Both Spotify and YouTube Music offer an extensive range of music with millions of tracks available for users. Though Spotify has slightly better audio quality, the difference is barely noticeable to most listeners, and some may even prefer the sound of certain songs on YouTube Music.
However, YouTube Music's free users cannot multitask while using the platform on their console, iOS, or Android devices. This limitation makes Spotify a better option for mobile users and gamers who don't want to upgrade to YouTube Music Premium. Moreover, Spotify is the clear winner in podcasts since YouTube Music doesn't support this medium.
Spotify Free Vs YouTube Free:
Both Spotify and YouTube offer free plans with ads and the option to upgrade to a Premium account. However, there are notable differences between the two platforms. YouTube Music provides more flexibility for free users, allowing them to stream music without too many restrictions, skip ads, and listen to music on shuffle mode, in a queue, or from a playlist.
On the other hand, Spotify limits free users to playback from specific playlists only and only allows 6 skips per hour. However, Spotify offers higher audio quality, better music discovery features, and an intuitive design that music lovers will appreciate.
One downside to YouTube Music is that the mobile app must remain open for uninterrupted listening, but this isn't an issue with the desktop app. Despite the differences, both platforms provide access to their entire content library, but how you listen to that content differs.
For your convenience, we have prepared a comparison table on Spotify Vs YouTube Music
| Features | YouTube Free | Spotify Free |
| --- | --- | --- |
| Library | Full Access | Full Access |
| Skips Adds | After 5 Sec | No |
| Songs Skips | Yes | Yes but limited |
| Background Play | No | Yes |
| Offline Streaming | NO | Yes |
| Playback modes | songs and video | No video mode |
| Audio Quality | Two Qualities | Four Qualities |
| Highest Audi Rate | 128 kbps | 160 kbps |
Pricing of Spotify and YouTube:
When it comes to pricing and basic premium features, both services are quite similar. The Premium plans for both YouTube Music and Spotify offer high-quality audio streaming, ad-free on-demand playback, full access to the entire content library, and the option to download songs for offline listening.
| Plans | Spotify Premium | YouTube Premium |
| --- | --- | --- |
| Basic Plan | 9.99 per month | 9.99 per month |
| Family Plan | 14.99$ per month | 14.99$ per month |
| Student Package | 4.99$ per month | 6.99$ per month |
| Annual Package | 129.48$ per annum | 119.99$ per annum |
Spotify or YouTube? Which one is Better?
Music streaming services have revolutionized the way we listen to and discover music. With so many options available, deciding which service to use cannot be easy. We are going to write a detailed comparison of Spotify vs YouTube music on the following factors:
Music Quality:

Spotify and YouTube Music provide high-quality audio for streaming, offer spatial Audio but Spotify edges out YouTube Music with maximum streaming quality of 320kbps. YouTube offers only 256 kbps of music quality.
Most casual listeners won't be able to tell the difference between 256kbps and 320kbps
Interestingly, Spotify's highest audio quality loads faster than YouTube Music's 256kbps quality, especially when comparing them with the same internet speed.
At around 50 Mbps of internet speed, we experimented; Spotify's tracks loaded almost suddenly, while YouTube took 2 seconds to load
Another difference between the two services is in their audio quality. While both offer high-quality streaming, YouTube Music caps its audio quality at 256kbps, while Spotify goes up to 320kbps
| Quality Levels | YouTube | Spotify |
| --- | --- | --- |
| Low | 48 Kbps | 24 kbps |
| Normal | 128 kbps | 96kbps |
| High | 256 kbps | 160 kbps |
| Very High | 256 kbps | 320 kbps |
Comparison Table of Spotify & YouTube Audio Quality
Valuable Advice
If you are having an low quality internet connection we advised you to go for Spotify music since Spotify music provide 24 kbps
Algorithms of Spotify vs YouTube
Music streaming apps like Spotify and YouTube Music offer an incredible selection of music from various genres and artists. However, music discovery is what sets them apart from each other.
Both Spotify and YouTube Music have personalized playlists created specifically for you, based on your listening history and preferences. These playlists are constantly updated to include new music that they think you'll enjoy.
Spotify has a unique feature called Tastebreakers playlist, which recommends songs from genres and artists you don't normally listen to.
This feature helps you discover new music you might not have found otherwise. Spotify's RADAR playlist is also excellent for discovering new, emerging talent.
Spotify uses three algorithms to predict which songs you'll like, while YouTube Music doesn't.
On the other hand, YouTube Music has improved personalized playlisting, which considers your listening history, likes, and skips. While YouTube Music's music discovery algorithm isn't bad, it doesn't compare to Spotify's hybrid discovery algorithm, which is more successful at pinpointing which songs and artists you'll most likely enjoy.
Conclusion
Spotify Is Winner. Spotify's algorithm for music discovery is more sophisticated and effective than that of YouTube Music. However, YouTube Music still has the potential to improve its algorithm and offer more effective music discovery for its listeners.

Sign-in Requirements
One key difference between Spotify and YouTube Music is the requirement to sign in before accessing the service.
YouTube Music allows users to play songs without signing in, and Spotify requires users to create an account or sign in with an existing account before they can start listening to music.
This difference in approach is large because Spotify is a subscription-based service that generates revenue from its paying users, while YouTube Music generates revenue primarily from advertising.
Conclusion
YouTube Music can be considered the winner in this feature comparison. YouTube Music has the edge over Spotify In terms of accessibility and reaches due to its ability to play songs without requiring users to sign in.
User Experience:
Regarding the user interface, both Spotify and YouTube Music use a dark theme with a simple grid layout to Organise playlists and albums.
Spotify's stationary navigation sidebar on the desktop app offers quick access to different functions and features regardless of the content's depth. In contrast, YouTube Music's desktop app has a simple 3-tab navigation bar, which is not as accessible as Spotify's sidebar.
Spotify's intuitive controls allow for easy drag-and-drop of songs between playlists, more sorting options, and the ability to search for songs within playlists, all of which are not available on YouTube Music.
Conclusion
Spotify stands out with its visually striking header images, appealing cover art, and playlist descriptions, making better use of the available space. Meanwhile, some sections of YouTube Music's interface look uninspired and unfinished.
Collection of Music:
In this comparison, we will explore the content available on two popular free streaming platforms, Spotify and YouTube. We'll highlight their unique features and partnerships, providing valuable insights to help you choose the best platform for your music streaming needs.
Content On Spotify:
Spotify has become one of the most popular music streaming platforms, with over 100 million tracks available as of February 2023 and up to 80,000 tracks added daily. This vast music collection caters to a diverse range of listeners, with something for everyone.
Spotify boasts over 4 billion playlists in their collection, which include a vast selection of mainstream music, ensuring that listeners can find their favorite songs.
The platform also excels in promoting independent artists, with an extensive Indie section that features Spotify-curated Indie playlists. With a quick search, users can access up to 100 Indie playlists, such as Indie Pop and Ultimate Indie, with one to two million followers each. Thematic playlists like Garden Indie and Indie Sunshine offer many songs with delightfully specific titles.
Content on Youtube:
In February 2023, Youtube Music achieved a remarkable feat by announcing it had amassed an incredible collection of 80 million official music releases in its library. This was made possible through a groundbreaking partnership with major music labels Universal Music Group, Sony Music Entertainment, and Warner Music Group, commonly known as VEVO.
However, while Youtube Music has a decent selection of Indie music playlists, it still has room for improvement. Users can find additional Indie playlists by typing "Indie" in the search bar; the collection is not as extensive as other streaming platforms like Spotify offer.
Overall, the partnership between Youtube Music and major music labels has enabled the platform to offer an impressive collection of official music releases, making it a strong competitor in the music streaming industry. While Youtube Music's Indie selection is not as extensive as other platforms, its unique feature of official music videos is a game-changer for music lovers.
Conclusion
In conclusion, it is a win-win situation; both Spotify and YouTube offer unique advantages for music streaming. The choice ultimately depends on individual preferences, whether access to official music videos or curated playlists.
Variety in Content:
One of the unique features of Youtube Music is its vast collection of rare versions and covers of songs, in addition to its impressive library of 70 million official releases.
The YouTube platform also hosts a diverse range of unofficial content, including remixes, mash-ups, and genre-bending versions of songs. This makes it a great choice for music enthusiasts looking for something new and unique to explore.
If you search despacito by luis fonsi on Spotify you will get the original track but on the contrary in youtube you will get many remixes, cover and live version along with original one.
While its Indie selection may not be as extensive as other platforms, Youtube Music's offering of rare and alternative versions of songs sets it apart from the competition.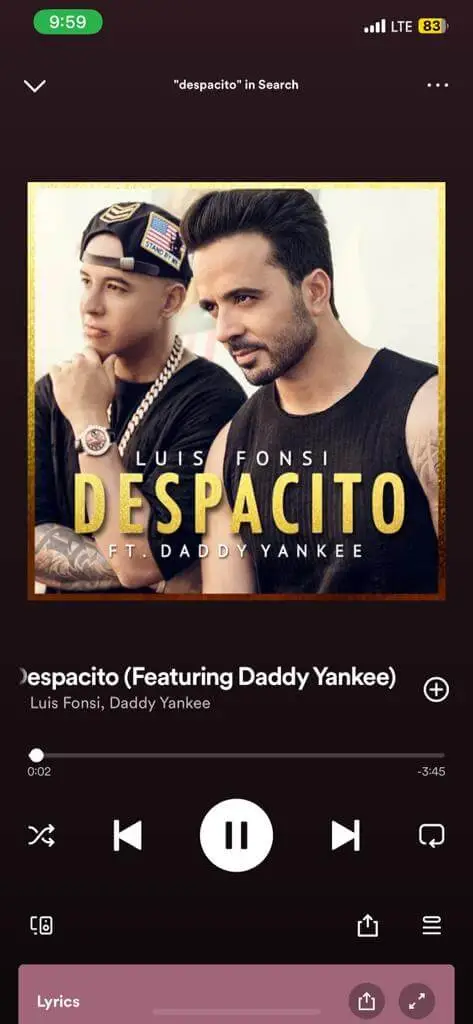 Conclusion
In this battle, YouTube stands out due to its diverse content, including rare versions, covers, and live versions, which makes it an excellent choice for music lovers seeking unique tracks.
Lyrics On Spotify & YouTube
Regarding music streaming services, Spotify and YouTube Music are two of the most popular choices. They both offer similar features, such as song lyrics that users can access while listening to music and the ability to cast music to other smart devices.
Conclusion
Spotify has a few advantages over Youtube Music. Its design and automated scrolling for song lyrics is better than what Youtube Music offers.
Availability by Country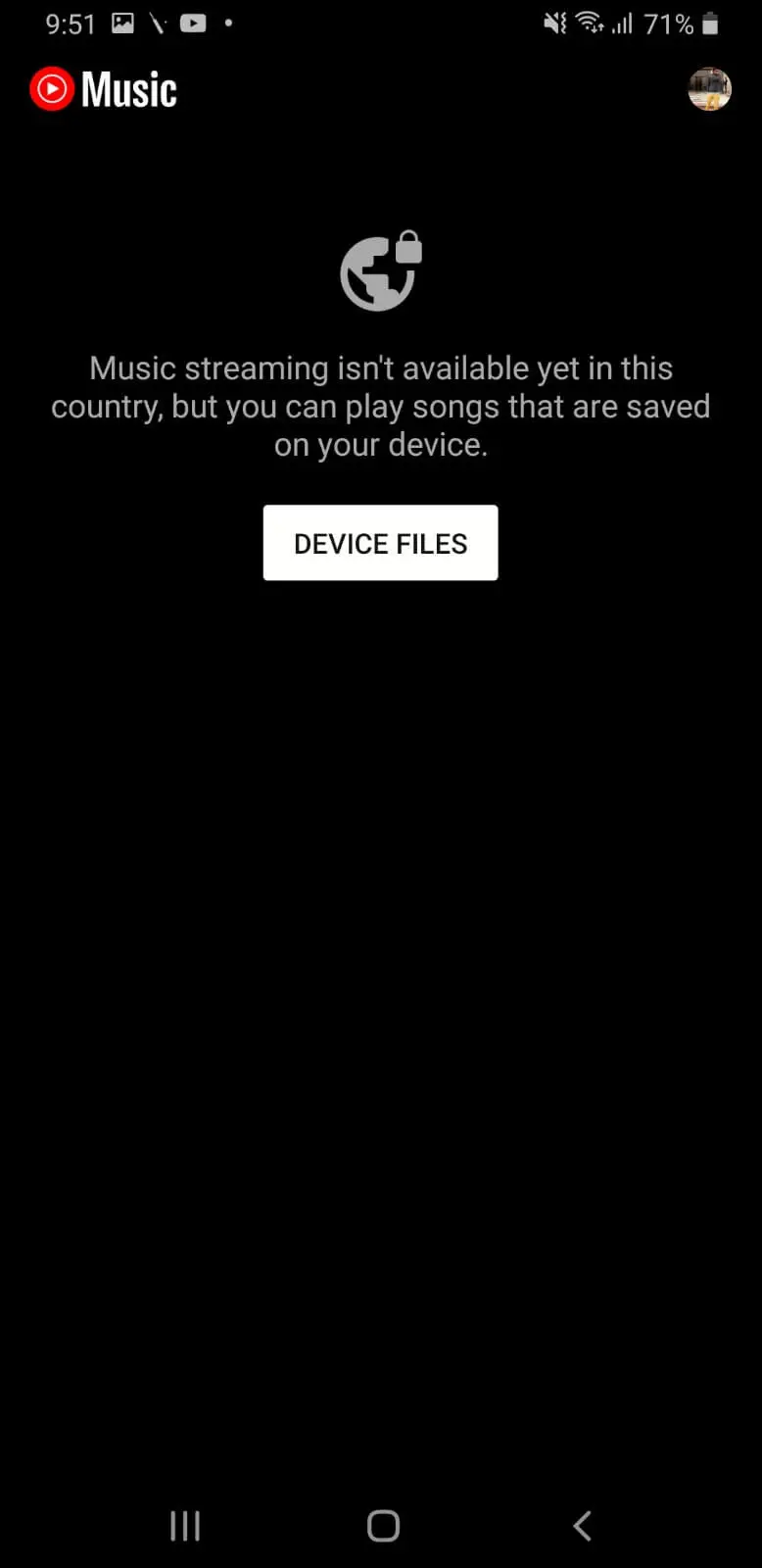 However, have you ever wondered which service is available in more countries? As of December 2022, Spotify was accessible in 180 countries, while YouTube Music had a smaller reach of over 100 countries.
Conclusion
Spotify's availability in 180 countries gives it a clear edge over YouTube Music's 95-country reach. So, Spotify take the lead in this battle.
More Feature:
Spotify offers the Storyline feature, giving users insight into how certain songs were created, while its seamless casting setup with Spotify Connect quickly detects all connected devices. On the other hand, unlike Spotify, Youtube Music can play locally stored files without any additional effort.
While Spotify's annual Wrapped series is fun, Youtube Music could benefit from a similar feature incorporating music videos. Overall, both platforms offer unique features that cater to different music preferences.
Additionally, Spotify's Storyline feature gives users insight into how certain songs were written and produced, which is a pretty cool feature.
Conclusion
Spotify Won this Battle because Spotify has Storyline and seamless casting with Spotify Connect, while Youtube Music plays locally stored files. Both offer unique features catering to different music preferences.
Consumption of Data:
While Finding the better between two big platforms, it's essential to consider these factors when comparing music streaming platforms.
One of the advantages of Spotify is that it can use for less data consumption. After enabling this mode, song quality will be decreased.
We experimented on the apple 13 Pro Max with a 20 Mbps data connection for 15 minutes to finalize the one platform.
Our findings revealed that Spotify consumed only eight Mb of data while Youtube Music consumed 11 Mb during the 15-minute test.
Our experiment analyzed the data consumption of Spotify and Youtube Music while playing music for 15 minutes using the auto quality setting at 128kbps. During the experiment, we noted that both applications displayed 3 non-skippable advertisements, each lasting 15 to 29 seconds.
It's important to note that data consumption can vary depending on the quality setting, length of music playback, and the number of non-skippable ads displayed.
Conclusion
Spotify is the winner since it is a more data-efficient option for individuals with limited data or slower internet connections. With its lower data consumption rate, users can enjoy high-quality music without compromising their data usage or internet speed.
FAQs:
Conclusion
Spotify is better than Youtube music since it has a better algorithm for discovering music and a visually appealing user interface, while YouTube Music offers a more diverse range of content. Spotify is also more data-efficient, making it a better option for users with limited data or slower internet connections.