Why is Spotify so slow? Reasons and Proven Helpful Strategies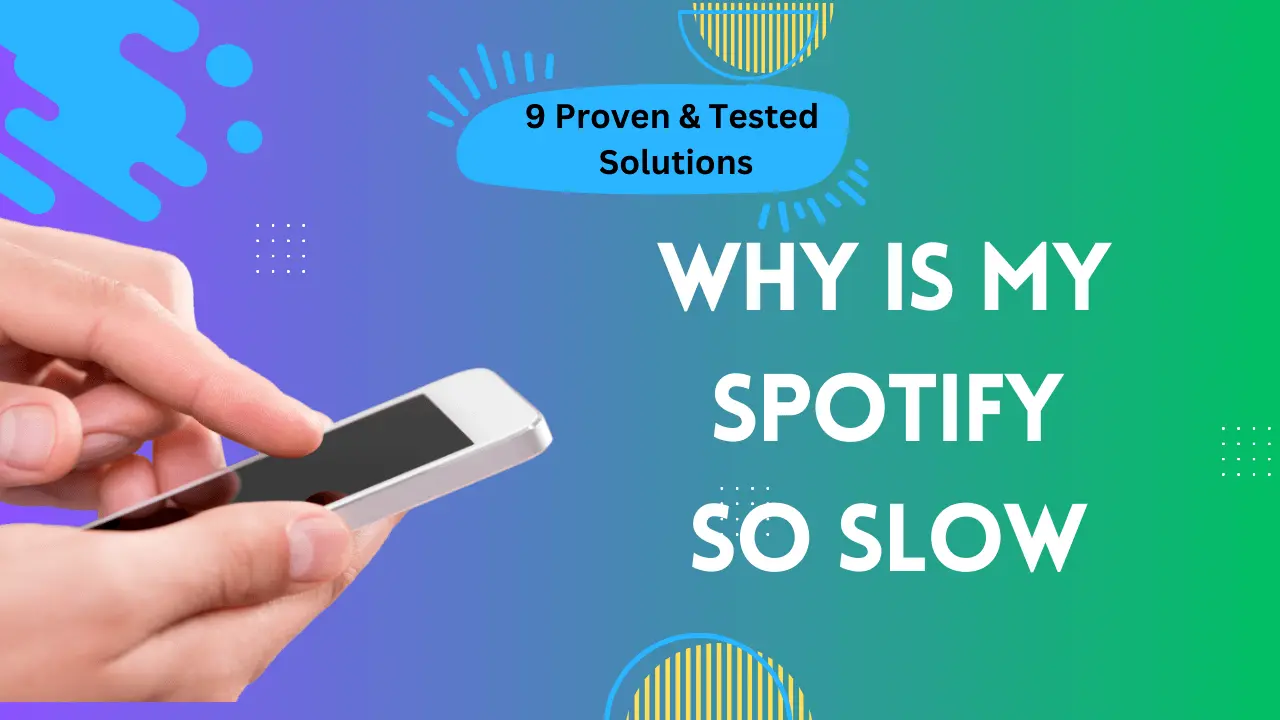 Spotify has evolved as a dominant player in the broad world of digital music streaming, winning the hearts of millions of music fans. However, it is not immune to periodic slowdowns, as is any complicated program. Many users have been frustrated by Spotify's slowness, leading them to wonder why the site may be so logy at times. Many of my friends and family members always ask me what to do when Spotify is slow? So In this post, I'll look at some of the most prevalent causes of Spotify's performance difficulties and offer suggestions on how you may improve your experience.
Why Spotify Takes Forever to Load?
Instant Answer:
Overburdened Servers
Issues with Connectivity
Storage and Cache
Outdated Application
Streaming Quality
Specifications for the Device and System
Geographic Location
Glitches or bugs:
8 Reasons That Can Cause Lagging And Slow Down Of Spotify on your Android & Iphone:
Certainly! These are a few possible reasons why your Spotify may be slow or has been lagging:
Overburdened Servers
The massive demand on Spotify's servers is one of the key causes of its intermittent lagging. Spotify, a prominent music streaming service with millions of active users, must manage large amounts of data traffic every day. During high usage periods, such as the release of new albums or popular playlists, servers might get overwhelmed, resulting in slower response times and buffering difficulties.
Issues with Connectivity
Spotify App of one of my friends takes forever to load, and we came to identify the issue is connectivity between the user's device and the Spotify servers. These problems can be caused by a variety of factors, including an unreliable internet connection, a poor Wi-Fi signal, or network congestion
Storage and Cache
Spotify stores recently played songs and playlists in cache memory, allowing for quicker access to regularly visited content. However, the cache can amass a significant quantity of data over time, resulting in increased storage utilization and takes forever to search on Spotify.
Outdated Application
Any program requires regular software upgrades to maintain maximum performance, security, and bug fixes. Similarly, obsolete Spotify app versions might contribute to poor performance and lagging.
Streaming Quality
If you are wondering why does Spotify take so long to download, No worries! High-quality streaming settings might tax your internet connection and device
Specifications for the Device and System
Spotify's speed and sometimes log-out issues also be affected by your device's hardware and software specs. Older or less powerful devices may struggle to manage the resource-intensive operations necessary for seamless music streaming.
Geographic Location
The geographical location and proximity to the Spotify server might have an influence on streaming speeds. Users who have located a long distance from the nearest server may suffer poorer performance.
Glitches or bugs
Spotify, like any program, may periodically face flaws or faults that impair its performance. you can check is Spotify working slow or fine on Downdetector.
How to possibly resolve the slowdown of your Spotify:
Spotify, the popular music streaming service, periodically has performance difficulties that might interfere with your listening enjoyment. Slowdowns and buffering delays are inconvenient, but the good news is that there are various solutions available. In this post, we'll look at some practical strategies for improving your Spotify experience and ensuring seamless listening. You'll be able to enjoy continuous music streaming and get the most out of your Spotify membership by tackling frequent reasons of slowdowns.
1. Clear the Cache
Spotify's cache can gather a large quantity of data over time, potentially hurting speed. Clearing the cache can increase responsiveness by freeing up storage space and allowing Spotify to establish a new cache. To do so, open the Spotify app's settings and seek the option to erase the cache. It's a simple action that can significantly improve the app's performance.
2. Remove Third Party Apps
If your Spotify app is working slow, it is possible that third-party apps connected to your Spotify account could be contributing to the performance issues. Third-party apps may consume additional system resources or cause conflicts with the Spotify app, leading to slower performance.
3. Signing out From All Devices
Signing out from all devices can help resolve any performance issues caused by conflicting sessions or resource usage. After signing out, you can log back in on the specific devices you want to use, and it may improve the speed and performance of your Spotify app.
4. Check Your Internet Connection
An adequate and secure internet connection is required for uninterrupted Spotify streaming. Begin by ensuring that your internet connection is operational. To enhance signal strength, walk closer to the router or try switching to a cable connection if you're using Wi-Fi. Check to see if any other devices or programs are using too much bandwidth and briefly suspend or reduce their use while streaming music on Spotify.
5. Updating Spotify
For best performance and bug fixes, regular software upgrades are required. Spotify versions that are out of date may contribute to delayed performance. Check your device's app store for updates or allow automatic updates to verify you're running the most recent version of the app. Updates frequently include speed improvements, fixes for known issues, and the introduction of new features.
6. Optimise System and Device Settings
Spotify's performance may be affected by the settings on your device. Begin by terminating any superfluous programs or processes that are running in the background. Resource-intensive actions might tax your device's capabilities and cause Spotify to lag. Additionally, confirm that your device has enough storage space. If it's running short on storage, delete any superfluous files or programs to make room for faster performance and get rid of Spotify pausing after few seconds.
7. Change the Streaming Quality
Higher-quality music streaming might place a burden on your internet connection and device resources. Consider lowering the bitrate in the Spotify app's streaming quality options or selecting the "Automatic" option. The Automatic option changes the quality according to the speed of your internet connection, guaranteeing seamless playback without buffering and help to fixing Offline Download Issues in Spotify Premium
8. Try VPN
Unfortunately, this is an issue that is beyond the control of individuals. To potentially enhance your connection speed, you might connect to a different network or use a VPN service.
9. Contact Spotify Support
If you've tried the remedies listed above and are still experiencing slowdowns, contacting Spotify's support team may be useful. They have specialized resources to deal with user difficulties and can offer personalized support. Contact Spotify support through their website or within the app for immediate assistance and direction.
Important Point
Remember that these are basic things that you may perform to potentially improve your Spotify experience and remove all kind of errors such as Code=30. However, slowdowns may occur on occasion owing to external circumstances beyond your control. Continue to be patient and enjoy your music!
FAQs:
Conclusion
Spotify's intermittent slowdowns can be remedied by using these easy yet effective fixes. You may improve your Spotify experience and enjoy uninterrupted music streaming by checking your internet connection. Also, cleaning Spotify's cache, upgrading the app, optimizing device settings, changing streaming quality, and contacting assistance when necessary may help. Remember that while these methods are intended to address typical causes of slowdowns, individual results may vary. You're taking proactive efforts toward addressing any performance difficulties and maximizing your enjoyment of Spotify's extensive music selection by investigating these factors.
Based on my personal experience I have shared all the possible solutions that can speed up your Spotify when you try to get rid of its slow speed.